Stories Of Abused Men In Louisiana
---
| EJF Home | Find Help | Help the EJF | Comments? | Get EJF newsletter | Newsletters |
| Domestic Violence Book | DV Site Map | DV bibliography | DV index |
| Chapter 10 — Domestic Violence Against Men In The United States |
| Next — Stories Of Abused Men In Maine |
| Back — Stories Of Abused Men In Kentucky |
---
Stories here are reproduced under the Fair Use exception of 17 USC § 107 for noncommercial, nonprofit, and educational use.
If you have, or know of a story about abused men that should be posted here please send it, or a link to comments@ejfi.org.
Index
Woman cuts plea deal in slaying of her husband
Alleged affair leads to murder-suicide in Addis
Grits burns on boyfriend lead to domestic battery booking of Boutte woman
Houma woman hits boyfriend in the face with frozen steak
---
Woman cuts plea deal in slaying of her husband
by Marlene Naanes, Advocate staff writer
© 2003 The Baton Rouge Advocate
Another murder of a husband that won't show up in the DV statistics .
Tuesday, July 8, 2003 — A woman who allegedly promised a man sex for life in exchange for killing her estranged husband in April 2001 to end a child custody dispute was sentenced to five years in prison Monday for her involvement in the murder.

State District Judge Richard Anderson sentenced Hattie B. Rennolds to five years after her attorney and the prosecution reached a plea agreement in the case. Rennolds' defense attorney, James Williams, said that he and the prosecutor, Chris Nevils, had problems with getting witnesses to court for a trial.
Rennolds, 36, was originally charged with second-degree murder, solicitation for murder, conspiracy to commit murder and accessory after the fact to murder in the slaying of 51-year-old Lane Fontana. If Rennolds had been convicted of second-degree murder, she would have faced a sentence of life in prison.
On Monday, Rennolds pled no contest to accessory after the fact and received the maximum sentence of five years in prison. She has already served about two years at East Baton Rouge Parish Prison, and Williams said he expects Rennolds to be released from prison in October on time for good behavior.
A no-contest plea means Rennolds doesn't agree with or oppose the facts of the case. It has the same effect as a guilty plea in criminal court, but can't be used as an admission of guilt in civil court.
Williams said Rennolds' "overriding concern" in taking the deal was to regain custody of her son, who was 4 at the time of the murder and who is now in the custody of Fontana's family members.
Rennolds allegedly solicited Jeffrey Maggio and several neighbors to kill Fontana, her estranged husband, in exchange for sex for life, police have said. She and Fontana were involved in a custody dispute of their son at the time.
In a custody application around the time of the murder, Fontana accused Rennolds of using controlled substances, but both of them had a history of drug use, prosecutors have said.
Maggio was convicted of second-degree murder in June 2002 and is serving a life sentence at Elayn Hunt Correctional Center in St. Gabriel in Iberville Parish.
Nevils, the prosecutor, dropped charges alleging Rennolds committed second-degree murder, solicitation of murder and conspiracy of murder. He said after court that he reached a plea agreement with Rennolds' attorney because he had problems with proof.
"(Maggio) gave a full confession, and she denied any involvement" in the murder, Nevils said.
Nevils said Maggio strangled Fontana on the Mississippi River levee, kept Fontana's body in Fontana's Plymouth Grand Fury, set the car afire and drove the burning car near Rennolds' apartment at 3101 Highland Road.
Fontana resided at the same apartment complex as Rennolds.
"He drove it on fire until the smoke got too bad," Nevils said. "It was a signal to show what he had done."
The car was in plain view of Rennolds' apartment.
"It was done in furtherance of their agreement," he said.
After Maggio left the car, he went to Rennolds' apartment, where he and Rennolds talked, Nevils said.
Rennolds then arranged for her friend to drive Maggio to another house.
Nevils said he is convinced of Rennolds' involvement in the murder.
However, Williams said Rennolds entered into a no contest plea agreement simply to get out of jail.
She has been in jail about two years awaiting trial, and both he and the prosecution had problems with getting witnesses to court, Williams said.
"Hattie is absolutely not guilty of all of these charges," he said.
Williams said that Rennolds did not ask Maggio or anyone else to kill her estranged husband, and the custody issue was going her way. Rennolds already had permanent custody of the child and Fontana "had no chance" of receiving custody because of personal "problems," Williams said.
Rennolds made an off-color remark about Fontana to some acquaintances, Williams said, and Maggio heard about her comment. The comment, which Williams declined to elaborate on, did not call for someone to harm Fontana, he said.
"Hattie got in trouble because, quite frankly, she made an off-the-cuff comment," Williams said.
Maggio said during his trial he was infatuated with Rennolds, Williams said.
"Through his sick mind" the comment became twisted into a solicitation for murder, he said.
"This guy did it and did it on his own," Williams said.
---
Alleged affair leads to murder-suicide in Addis
December 18, 2008 — Police are investigating the case of a mother killing her seven-year-old son and then took her own life Thursday.
Addis police now say the woman was upset about an alleged affair her husband had with another woman.
West Baton Rouge Parish sheriff's deputies say 34-year-old Lavinia Banks was upset with her husband and fed up with her marriage. She allegedly shot her seven-year old son, Darieyonne, dragged the little boy to the bathroom, and shot him again.
Investigators say she put the little boy's body in a tub full of water and then shot herself in the head. Paramedics were called to the home on Bradley Court in Addis at 5:30 PM after the father arrived at the home and saw blood in the hallway.
"The only thing that goes through my mind is what I would do if it were my child," says Addis Police Chief Rickey Anderson. "It's tough to deal with. To top it all off, the mother had laid out funeral clothes next to where she loaded the gun."
Officers had been to the home before and actually dealt with the woman just a few weeks ago. In fact, Chief Anderson had responded to that call. "It's frustrating," Anderson admits, "to go to a residence so many times and then something like this happens. That's why the domestic violence laws are so tough and that when we show up, we are bound to do something." [But time and again nothing is done where the woman is mentally disturbed and a danger to her children and husband or lover.]
---
Grits burns on boyfriend lead to domestic battery booking of Boutte woman
© by Matt Scallan, The Times-Picayune
December 9, 2009 — A Boutte woman who poured a huge pot of boiling grits onto her sleeping boyfriend last month was booked with second-degree battery Wednesday.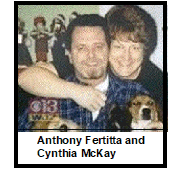 Carolyn Brown, 44, of Ponderosa Drive, caused second-degree burns on the man's face and arms, according to the St. Charles Parish Sheriff's Office.
The man told sheriff's deputies that he came home from work on November 7 th , got into an argument with Ms. Brown, told her that he was breaking up with her, then went to bed.
The man was treated for second-degree burns on his face and arm. Ms. Brown fled the home after the incident and later was arrested in the 1000 block of Paul Maillard Road.
Carolyn Brown was being held in the Nelson Coleman Correctional Facility in lieu of $40,000 bail.
---
Houma woman hits boyfriend in the face with frozen steak
February 7, 2011 — A woman who reportedly hit her boyfriend in the face with a frozen beefsteak Sunday afternoon was jailed by investigating Terrebonne sheriff's deputies.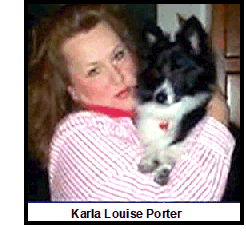 Edna Elizabeth Verdin, 47, 348 Robert St., Houma, is charged with aggravated battery.
Jerry Voisin, 51, told officers Verdin had already been drinking and was trying to cool a bottle of Tequila Rose when she became upset because she could not find room in the freezer.
In her frustration, Voisin said, Ms. Verdin took a frozen steak from the freezer and threw it at him, striking him in the face.
Officers said he was still bleeding from the right side of his face when they arrived at the scene about 6 PM.
Ms. Verdin was released from the Terrebonne Parish jail after posting bond.
---
| EJF Home | Find Help | Help the EJF | Comments? | Get EJF newsletter | Newsletters |
| Domestic Violence Book | DV Site Map | DV bibliography | DV index |
| Chapter 10 — Domestic Violence Against Men In The United States |
| Next — Stories Of Abused Men In Maine |
| Back — Stories Of Abused Men In Kentucky |
---
This site is supported and maintained by the Equal Justice Foundation.