Stories Of Abused Men In Michigan
---
| EJF Home | Find Help | Help the EJF | Comments? | Get EJF newsletter | Newsletters |
| Domestic Violence Book | DV Site Map | DV bibliography | DV index |
| Chapter 10 — Domestic Violence Against Men In The United States |
| Next — Stories Of Abused Men In Minnesota |
| Back — Stories Of Abused Men In Massachusetts |
---
Stories here are reproduced under the Fair Use exception of 17 USC § 107 for noncommercial, nonprofit, and educational use.
If you have, or know of a story about abused men that should be posted here please send it, or a link to comments@ejfi.org.
Stories
Woman masterminds arson for revenge against boyfriend in Detroit, kills three children instead
Spotlight on female abuser in Marquette: For 13 years he never hit her back
Woman convicted of intent to murder her fiance's son in Mount Clemens
Muskegon woman faces long list of charges after attacking boyfriend and police
Jury finds woman guilty of planned murder of 69-year-old lover in Alpena
Detroit woman sentenced after killing second boyfriend
Tempers flare, wife kills husband with axe in Farmington Hills
Lenore Walker testifies Nancy Seaman was a "battered woman"
Jury doesn't believe Nancy Seaman or Lenore Walker
Redfems comment on the vicious murder of a husband
Troy woman convicted of poisoning husband and his son
Woman accused of beating boyfriend with his wooden leg in Midland
Deafness invalidates confession after woman kills her boyfriend in Roseville
McBride's daughter ridicules dismissal of mother's confession
Southgate teen accused of hiring hit man to kill her dad ordered to stand trial
Flint man had applied for protection order against ex-girlfriend before he was murdered
Canton wife to be tried in fork attack on her husband in restaurant
Charges dropped in husband-wife hacking case
Lexington woman puts man in prison on false rape charges, files more false rape charges, and defrauds insurance company and citizens with false cancer claims
Jury convicts Sara Ylen in yet another false rape claim
Faking cancer for fun and profit
Jackson man stabbed during child custody dispute, mother arrested
---
Woman masterminds arson for revenge against boyfriend in Detroit, kills three children instead
© 1996 Detroit Free Press
November 16, 1996 — A woman accused of masterminding a revengeful arson that killed three children was arraigned Friday with three others in Recorder's Court.
Police say Paula Bailey, 31, paid two men $1000 to set fire to an east side house to get back at her former boyfriend, who was not there at the time. The October 6, 1996, fire killed sisters Queen Stedadman, 3, and Samantha Winters, 4, and their nephew, Antoine Brand, who died on his fifth birthday.
Also arraigned were Ms. Bailey's brother, Paul Bailey Jr., 24, and Todd Daniels and Eugene McKinney, both 26. All four have been charged with three counts of murder and seven counts of assault to commit murder. They are being held in the Wayne County Jail.
Recorder's Court Judge Helen Brown set a final conference for Dec. 13, when a trial date could be set.
---
Spotlight on female abuser in Marquette: For 13 years he never hit her back
© 1997 by Becky Beaupre, The Detroit News
For 13 years, Karen Gillhespy was the abuser.
Sunday, April 20, 1997 — She says she broke her husband's ribs, ripped entire patches of his hair out, scratched him, bit him, beat him with a baseball bat and kicked him.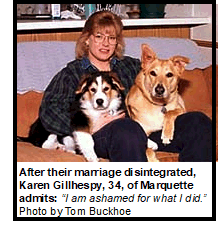 He never hit back — and he never filed charges.
But more shocking to Gillhespy are the reactions she encountered telling her story.
"They told me I was the victim," said Gillhespy, 34, of Marquette. "There's no way any of this was his fault...I knew the difference between being the victim and being the perpetrator. I am ashamed for what I did."
Gillhespy believes most people don't believe men can be victims. She knows they are wrong.
"I think it is just as serious as (violence against women) — you just don't hear about it," Gillhespy says. "Maybe more men would come forward if you did."
Gillhespy, who wed at 16, says she began beating her husband early in their 16-year marriage. Her former husband, reached by phone, declined to comment but confirmed that abuse took place.
At the time, Gillhespy was a crack user, heroin addict and alcoholic. She says she beat her husband in fits of rage, usually when she wanted money or the car.
"I told him he was no good, and that he was loser. I kicked him and threw things at him," she says. "I used him and used him and used him."
The turning point came in February 1993, when Gillhespy struck two pregnant women in Grand Rapids while driving drunk.
Gillhespy received 45 days in jail and was sent to a drug treatment program in Marquette. She has gotten a divorce, finished high school and stayed sober. In a year, she will receive a degree from Northern Michigan University.
And although Gillhespy now understands the issues that led her to violence, she says she accepts full responsibility for her actions.
Her strength, she says, comes from admitting that she had a problem — and from trying to help others accept that domestic violence goes both ways.
"I'm the other side of the coin," she says simply. "If you're abused, you're abused."
---
Woman convicted of intent to murder her fiance's son in Mount Clemens
February 25, 2004, Mount Clemens (AP) — A jury deliberated less than two hours before finding a Macomb County woman guilty of binding her live-in fiance's 2-year-old son's hands and smothering him with a pillow.
Tyler Korte has been in a permanent comatose state since the May 7, 2003 attack and has almost no chance of recovering, according to prosecutors and attorneys for Melissa Memmer.
The jury on Tuesday found Memmer, 23, of Shelby Township, guilty of assault with intent to murder and first-degree felony child abuse. She could face a maximum of life in prison at a sentencing hearing set for March 24.
Defense attorney Azhar Sheikh argued that Memmer snapped under the strain of her relationship with fiancee Anthony Korte, who allegedly restricted her ability to see her mother and otherwise controlled her. "Her actions are there. We don't dispute them. But I don't think they rise to the level of trying to kill Tyler," [The old familiar "abuse excuse." ]
The couple are the parents of an infant; Tyler is Anthony Korte's son from a previous relationship.
Memmer does not deserve sympathy, Assistant Prosecutor Irit Walters said:
"The idea that a person is having such a hard time or traumatic life that you should excuse what she did to another person — it just makes my blood boil. Bad things happen to people all the time, people have traumatic experiences. That does not justify committing crimes against other people."
---
Muskegon woman faces long list of charges after attacking boyfriend and police
© 2004 Muskegon Chronicle
Wednesday, March 10, 2004 — A 26-year-old woman who allegedly bit holes in the back seat of a police cruiser after her arrest February 28 on assault charges has been arraigned in 60 th District Court.
Michelle L. Zacharias, of 3590 Whitehall, is charged with malicious destruction of police property and resisting and obstructing police, both felonies. She also faces a misdemeanor domestic assault and battery charge.
Early the morning of February 28, Muskegon County Sheriff's deputies went to her home after her live-in boyfriend called. A police report said the intoxicated woman hit her boyfriend several times while he was calling 911 and also damaged furniture.
During the incident, she also allegedly assaulted one of the deputies who responded. She was handcuffed and placed in the back of a cruiser for the trip to the Muskegon County Jail.
On the way to jail, the deputy happened to look in the rear-view mirror and could see only her feet. He also heard what he described as a "muffled noise" coming from the back seat. He stopped the cruiser and discovered the woman was biting holes in the seat, his report said.
Bond of $5,500 posted earlier was continued, and Judge Michael J. Nolan set preliminary examination for 2:30 PM. March 17.
---
Jury finds woman guilty of planned murder of 69-year-old lover in Alpena
March 11, 2004, Alpena (AP) — A jury on Thursday convicted a 23-year-old woman of first-degree murder for her part in the stabbing death of her 69-year-old lover, who authorities say promised her what proved to be a phantom inheritance.
The Alpena County Circuit Court jury also convicted Melissa Bredow of conspiracy to commit murder, solicitation of murder and arson.
Bredow was convicted of planning the murder of Alpena resident James Orban of Alpena, who was stabbed to death by Bredow's 23-year-old husband-to-be, Jason Belanger. Authorities say she also played a role in burning his house and body to destroy evidence.
The prosecution said Bredow and Belanger plotted the killing of Orban in hopes of inheriting an estate that they believed to be worth about $2 million. Orban's actual holdings were no more than $100,000.
Authorities say Belanger killed Orban with a pocket knife on October 13, 2001, and set fire to Orban's house. He and Ms. Bredow married two days later, and he was arrested the day after the marriage.
First-degree murder caries a mandatory penalty of life in prison without possibility of parole. The jury took less than four hours to arrive at a verdict, The Alpena News reported.
"I believe justice was done today," said County Prosecutor Dennis Grenkowicz. "This was a cold-blood murder for money. The legal significance of the case is it's one of the first in which a spouse has testified against another spouse in a murder case."
In exchange for testifying, prosecutors have allowed Belanger to plead guilty to second-degree murder. It carries up to life in prison with the possibility of parole.
Defense attorney William Pfeifer said he was disappointed but respected the fact the jury had a tough decision to make.
A third defendant, Steven Colorite, 38, is scheduled for trial in April. He also is charged with conspiracy to commit murder.
---
Detroit woman sentenced after killing second boyfriend
May 4, 2004 — Stabbing boyfriends to death became a bad habit for a suburban Detroit woman, who has been sentenced to life for the second such killing in a decade.
The first time Kim Livous killed a boyfriend, she received probation for manslaughter.This time, she must serve at least 20 years in prison before becoming eligible for probation for second-degree murder.
"Hopefully, it will be the last time," said Oakland County Assistant Prosecutor Gregory Townsend.
---
Tempers flare, wife kills husband with axe in Farmington Hills
Abstracted in part from initial story by Marsha Low, Detroit Free Press
Trial details abstracted from other stories in The Detroit Free News
After brutally killing her husband woman taught her fourth-grade class and then cleaned up the murder scene
May 15, 2004 — The end came on the afternoon of Mother's Day, May 9, 2004. Nancy and Robert Seaman were celebrating at home in Farmington Hills with their older son when they began to argue.
The yelling grew so intense that their son left for his Downriver home. Within 10 minutes after their son left, Nancy Seaman was at the Commerce Township Home Depot purchasing an ax, said Farmington Hills police, who reconstructed the night and following days through evidence and interviews.
Police say Nancy Seaman, 52, then returned to the rambling Tudor in the Ramblewood subdivision. She walked into the kitchen and slammed the ax into her husband's head. Then she dragged her husband's body a short distance into the attached garage and began stabbing him with a knife, slit his throat, and smashing him with a sledgehammer, police said.
Robert Seaman, 57, was left with multiple stab wounds, a crushed skull, a fractured clavicle, and a slashed throat. An autopsy revealed Robert Seaman was struck at least 15 times with the hatchet and stabbed 21 times with a knife.
The next day Nancy Seaman taught her fourth-grade class. Administrators at Longacre Elementary School told detectives that the friendly and award-winning teacher appeared disheveled and out of sorts on Monday, according to Police Chief William Dwyer.
"In the classroom she displayed a friendliness. She had a close relationship with her students, and she was well-liked," Dwyer said.
"But then there was another side," he said. "She'd be outraged, violent. She threw things."
After the final school bell rang Monday afternoon, police said, Nancy Seaman returned to the Home Depot. Videotapes from the store and receipts found in her purse revealed bleach, a tarp, duct tape and products used to scrub her home were purchased with cash.
On Tuesday night, a relative filed a missing person's report for Robert Seaman. By Wednesday, an out-of-town relative called police suggesting foul play. On May 12, 2004, police went to the Seaman home. There police detectives found Robert Seaman's decomposing body wrapped in a tarp tightly coiled with duct tape in the back of the couple's black Ford Explorer. A knife was also discovered inside the tarp.
When she was arrested, Nancy Seaman, who had been telling friends and police for three days she had no idea where her husband was, told police "it was an accident...he was beating me." Employees at her husband's business, Put One in the Upper Deck, an indoor batting cage in Northville, told police she had a temper.
On May 14, 2004, Nancy Seaman, 52, stood before 47 th District Judge James Brady. Clad in a green sweatshirt, she pled not guilty to a charge of first-degree murder. Before a courtroom full of family, Seaman never once turned back to meet their eyes. She didn't stop to say good-bye to her child.
Nancy Seaman's attorney, Don Ferris, claimed that she had endured a lifetime of physical abuse from her husband, including hitting, kicking, and knifing.
In court, Ferris claimed Mrs. Seaman had suffered a broken hand and wrist because of previous abuse by her husband. At least once he claimed her husband had slashed her hand with a knife. Robert Seaman, Ferris said, made a habit of hitting and kicking his wife.
"Her sons will testify that she made repeated trips to the emergency room but never reported her husband," Ferris said. "Her son will say that when he goes to buy her blouses, he buys long sleeves because she always has bruises."
Friends and acquaintances told police detectives that Robert Seaman was cheating on his wife. But Oakland County Assistant Prosecutor Tom McAndrew said there is no evidence that Seaman mistreated his wife.
"There was no evidence of physical abuse to her," McAndrew said. "Her bruises could have been self-imposed. And she was trying to clean up and roll his body in a tarp. She lied to her son about where her husband was."
The Seamans were preparing to divorce. Nancy was living on the upper floor of their home, Robert on the first floor.
Both are native Michiganders. Robert attended a private college in the West and earned an engineering degree. It isn't known where Nancy attended school before she began teaching.
They married in 1973 and had two sons. The older is 26, married, works as an engineer and lives Downriver. The younger is 22 and set to graduate from Purdue University on Sunday.
Contact Marsha Low at 248-351-3299 or low@freepress.com.
Lenore Walker testifies Nancy Seaman was a "battered woman"
December 15, 2004, Pontiac — Lenore Walker, who coined the term "battered woman syndrome," said she was certain school teacher Nancy Seaman, on trial for hacking her husband to death with a hatchet, was a victim of abuse and acted in self-defense. But Dr. Walker was not allowed to tell a jury about her findings as Michigan law precludes experts from giving an opinion about whether someone suffers from the syndrome because it is not classified as a mental illness. Walker said she was surprised by the restriction that she claimed she has not encountered in the hundreds of trials in which she has testified in other states.
Instead, she testified about the syndrome in general, describing typical behavior for battered women. "A lot of what you want to explain by your own common sense doesn't make sense in a domestic violence situation, (because) fear takes over," Dr. Walker said.
"I wouldn't be here if I didn't think she was a battered woman who acted in self-defense," Walker said afterward. Dr. Walker was paid $3,500 for her court appearance and began studying battered women in 1974.
Dr. Walker said Nancy Seaman "spent a lifetime of covering up" the abuse that she claimed was typical behavior for battered women. She said women who don't fight back over many years might all of a sudden do so if the pattern of abuse changes. When a battered woman does fight back, there often is "overkill," Dr. Walker said, because she fears the batterer is not really dead and will come after her. Note that Mrs. Seaman hacked and stabbed her husband dozens of times.
However, Dr. Walker did not meet with Nancy Seaman, but based her conclusions on psychologist Michael Abramsky's report. Note that such hearsay is commonly admitted as evidence in domestic violence trials. Abramsky gave similar testimony and also was not permitted to give a specific opinion on Mrs. Seaman.
On cross-examination, Dr. Walker said battered woman syndrome alone — minus the self-defense component — was not a justification for killing.
Nancy Seaman claimed she suffered 30 years of on-and-off abuse before she killed her husband. One of her two sons backed up her story. The other testified he had never seen any abuse and did not believe her.
Lisa Ortlieb, an Oakland County assistant prosecutor who heads the domestic violence section at the prosecutor's office, has said she does not believe Nancy Seaman was abused. But even if there was abuse, Ms Ortlieb argues that self-defense could not have been involved. She says Nancy Seaman bought the hatchet on Mother's Day for the express purpose of killing her husband and killed him that evening. Mrs. Seaman claimed she bought the hatchet for yard work and did not kill him until the next morning after he attacked her.
Jury doesn't believe Nancy Seaman or Lenore Walker
Too many inconsistencies, too many hatchet blows.
December 14, 2004 —Nancy Seaman's own testimony, a version that an Oakland Circuit Court jury found had too many holes and was just too unbelievable to be true.
Those were some of the responses of seven jurors, explaining how they quickly reached a first-degree murder conviction for Nancy Seaman. Her battered-spouse defense — used only occasionally in courtrooms — drew wide public attention during a trial that was coincident with the trial of Scott Peterson for the murder of his wife in California.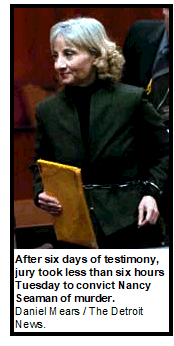 The jury heard six days of testimony but took less than six hours Tuesday, December 14 th , to return the verdict. Nancy Seaman will be sentenced January 24, 2005, to mandatory life in prison.
"To keep him wrapped up and bundled in a car...it went beyond an incident in a garage," said juror Tom Rachfal. "When she laid down on the (courtroom) floor to demonstrate what happened, it seemed it caught her off guard — like she was doing it for the first time."
Several jurors noted how Seaman neither exhibited the type of injuries characteristic of battered women and knew about support groups in the area. Jurors also said Nancy Seaman did not fit the psychological profile experts described of victims. In contrast, Mrs. Seaman had a college education, a good teaching job, and a car. She had options.
Several jurors said they knew Nancy Seaman had to take the witness stand in order to put forth a version of self-defense but, as one said, "Her testimony killed any chance she had."
"I think she was acting...her verbiage seemed forced," said one juror, Sherine Coury. Jurors viewed Mrs. Seaman's explanation of events as a "detailed cover-up" and too unbelievable.
Others felt the evidence of premeditated murder was overwhelming and that Nancy Seaman planned the killing from start to finish. Juror Michael Jerzierkski could not believe Mrs. Seaman's version on how she killed her husband by swinging the hatchet to get him off her, not knowing where she struck him. "The blows were deliberate and aimed and with quite a bit of force," Jerzierski said.
Wayne State University law professor Peter Henning said the jury could have found Seaman guilty of involuntary manslaughter but the panel wasn't buying Nancy Seaman's self-defense plea. "Given the circumstances of what she did after killing her husband — cleaning the scene and wrapping the body in a tarp — that's a sign that this was planned," Henning said, noting most battered women who kill their husbands confess right away to authorities.
"She didn't, which makes it much harder to establish the battering claim. I'm not saying she wasn't battered, but she just reached a point where she planned this murder. Her conduct after killing her husband doesn't look like someone reacting to a sudden threat. It looks like she planned to cover it up."
After reviewing the evidence, the jury really only had one choice, Detroit criminal attorney Richard Zuckerman said. "They apparently thought the evidence of premeditation was so overwhelming that first-degree murder was the only reasonable verdict," Zuckerman said. "I'm not surprised at all. The evidence looked more than sufficient for the verdict."
Redfems comment on the vicious murder of a husband
Note that even an admission that she brutally killed her husband or a jury finding is adequate to convince these radical ideologues that a woman deliberately committed cold-blooded, premeditated murder
According to the Detroit Free News the verdict saddened, but did not surprise, Sue Coats, executive director of Turning Point, a Macomb County group that works to end domestic abuse and sexual violence. "It's very difficult for a jury or the community to understand how somebody could kill somebody in a way that's so brutal," she said. " Typically, a victim of domestic violence feels so cornered, so trapped, so isolated, that when they strike back, the situation is one of gross overkill."
Coats said some lessons could still be taken from the trial. "What we can take from this is an understanding of how isolated battered women are. Even battered women who are working and living in Oakland County, where there are places she may have been able to reach out," Coats said.
Beth Morrison, executive director of HAVEN, a shelter for battered women in Pontiac, said,
"Each day, there are lots of domestic violence cases against women that may never make the papers or make it on to TV. It's unfortunate that because the defendant in this case was a woman that the case received so much attention."
Of course Ms. Morrison's statement completely ignores the national press furor that surrounded the Scott Peterson trial in California that was underway at the same time.
And of course in a few years Nancy Seaman will be applying for, and quite likely receiving a pardon from the next Michigan governor as a "battered woman" who was unjustly convicted by an unsympathetic jury. In today's society it is even conceivable that this woman would be permitted to go back to teaching elementary students.
---
Troy woman convicted of poisoning husband and his son
Abstracted in part from article by Amy Lee in The Detroit News
Thursday, December 23, 2004 — A 46-year-old Troy woman was charged with trying to kill her husband and son on October 26, 2004.
Troy police say Ms. Cannon ground up her anti-psychotic medication, clonazepam, and other painkillers in her blender and fed it to her husband and his 13-year-son in McDonald's milk shakes. The father and son drank some of the chocolate and strawberry shakes Mary Cannon gave them as a treat late in the afternoon of October 26, 2004. She then waited at least a day before calling 911 though her husband was in an unresponsive state. According to court records she ignored pleas from her son who thought his father was having a heart attack.
Rescuers took the father and son to the hospital, where Richard Shaw stayed for 11 days, seven of them in a coma. Ian, who didn't have as much medicine in his system, was hospitalized for three days.
Mary Cannon mentioned to police and paramedics that the family dog had also exhibited flu-like symptoms that month. Mr. Shaw told police he believes Ms. Cannon drugged the dog to test the effect the drugs would have on himself and his son according to court documents. The dog survived.
Mary Ellen Cannon, 46, was jailed on two charges of attempted murder, two counts of poisoning causing injury, and a theft charge. A $1.25 million bond was set.
The Oakland County prosecutor's office filed a petition December 22, 2004, to terminate Mary Cannon's parental rights based on the attempted murder charges and Cannon's history of substance abuse problems.
"She has placed a horrible, horrible burden on this child," said Deb Carley, chief deputy prosecutor. "This child has to not only get over the physical aspects, but the very real fear that his [step] mother not only intended to hurt him, but kill him."
Mary Cannon pled no contest but mentally ill on January 3, 2006, to two counts of attempted murder. She was sentenced to a minimum of 11 years and three months, with a maximum of 30 years in prison on January 19, 2006, by Oakland County Circuit Court Judge Mark Goldsmith.
A no contest plea is not an admission of guilt but by so pleading one is convicted of the crime and treated as such for sentencing purposes. By pleading to being mentally ill Cannon becomes eligible for treatment while in prison.
Defense lawyer Fred Miller told the Detroit Free Press that Cannon chose to plead to the charges to avoid putting her family through a trial.
"She has denied doing it, she doesn't think she did it, she has no memory of it," Miller said.
But assistant prosecutor Tare Wigod said the murder attempts were carefully planned and premeditated. Authorities said Cannon purchased the milkshakes from a McDonald's two days earlier, put them in a freezer and later gave them to her husband and son after adding the drugs.
Police and toxicologists said that the drugs found in Richard Shaw and his then 13-year-old son, Ian Shaw, were consistent with medications Mrs. Cannon was taking for anxiety. Police said the drugs also were the same as those found in residue from the milkshakes.
You can reach Amy Lee at (248) 647-8605 or alee@ detnews.com.
---
Woman accused of beating boyfriend with his wooden leg in Midland
© 2005 by Tinuola Awopetu, Court TV
August 16, 2005 — Although Greg Gale attempted to escape his girlfriend's fury on two legs, he was hindered by a third.
The woman, Tammy Johnson, attacked Gale with one of his two prosthetic legs during a domestic dispute on August 3.
The couple was drinking beer in Gale's living room when they began to argue about an incident that occurred four years ago, according to Capt. John Oswald of the Midland Police Department in Michigan.
Ms. Johnson allegedly grabbed Gale's older wooden prosthetic and struck him several times around the head. Gale who was wearing the second leg, a titanium model, retreated towards the front yard while Ms. Johnson pursued and continued to hit him.
The woman left the scene with the leg after Gale fell in the front yard and yelled for help. A witness riding by on a bike contacted police. Although Gale was bleeding, he did not require medical attention, Oswald said.
Ms. Johnson was arrested and charged with larceny and assault with a dangerous weapon. Gale's wooden leg has yet to be recovered.
---
Deafness invalidates confession after woman kills her boyfriend in Roseville
© 2006 by Jameson Cook, Macomb Daily
Police failed to make extra effort to read Miranda rights to hearing impaired defendant
March 16, 2006 — A deaf woman's recorded statement to police in which she admits stabbing to death her boyfriend was thrown out of court because Roseville police failed to make certain she understood her Miranda warning rights.
The ruling by Judge Peter Maceroni of Macomb Circuit Court was in favor of defendant Mary Ann McBride, 42, who allegedly killed her live-in boyfriend, Alan Adelsburg, last April in their home.
Her defense attorney, Robert Buschmohle, called the ruling a victory not only for his client but for deaf people in general.
"The judge has made a very powerful statement to the Roseville Police Department," Buschmohle said. "This is a significant advancement. It shows that a judge in Macomb County is cognizant of the obstacles a deaf person faces. This is a very good ruling for the deaf community as a whole."
Assistant Macomb prosecutor William Cataldo said he disagrees with the decision and will appeal it to the state Court of Appeals.
Cataldo said even if the videotaped statement ultimately is not used, the open murder charge against McBride likely would be second-degree murder instead of first-degree, premeditated murder. In the statement, she admits to planning the stabbing, Cataldo said. She is currently charged with open murder.
Maceroni will conduct a March 27, 2006, hearing on whether to adjourn the trial while the prosecution appeals. A trial date has not been set.
Maceroni said in his ruling issued March 10, 2006, that police Detective John Sarrach, who is now retired, failed to adequately ensure the McBride knew she had the right to have an attorney present during the interview in the Roseville police station several hours following the slaying. Sarrach also didn't ensure she could have exercised her right against self-incrimination. Her Fifth and Sixth amendment rights were violated, Buschmohle said.
"The sweeping and imprecise nature of Detective. Sarrach's Miranda recitation (incomplete, at that) only served to compound defendant's handicap," Maceroni said in the written opinion. "It is, moreover, readily apparent that the detective did not grasp the import of the defendant's limitation."
However, Roseville police called in an interpreter to assist McBride during the interview, during the early morning hours of Saturday, April 23, 2005. The stabbing was discovered about 11 PM, Friday, April 22, 2005.
Sarrach first asked in the interview if McBride recognized the term, "Miranda," and what the warnings entail and if she had heard of it possibly through watching television shows. McBride, through the interpreter, said she had not seen such a television show and was unfamiliar with the term.
But Sarrach seemed to ignore that and continued the conversation, according to the videotape.
"The detective's self-assured presumption that defendant would 'know exactly what he's talking about' (as paraphrased) had she seen a law program on television is clearly insufficient to establish that she knew, definitely, that she should/could 1) have an attorney present at that point in time, and 2) not answer any questions put to her," Maceroni says.
McBride at one point asked whether she needed a lawyer, which indicates that she was communicating that she should have one. Sarrach's response — "Well, you have a right to have one," — fell short of being sufficient, Maceroni says.
"Detective Sarrach's calculated response that she could have one failed to protect the defendant against the very thing that Miranda was designed to cure — the effects of an inherently coercive environment — instead, playing on semantics," Maceroni says.
Sarrach gave McBride a written version of the Miranda warning, at which McBride viewed for multiple minutes.
He asked her whether she can read and write, to which she shrugged her shoulders. But Sarrach appears to ignore her lack of a decisive response and tells her to "follow along."
In reading the form out loud, the detective only recites part of it, which is another problem, Maceroni says.
McBride then signs the document.
Buschmohle said the key was Sarrach's failure to fully recite the written Miranda form to McBride.
"Had the form been read in its entirety, this would not have happened," Buschmohle said. [If she is deaf, how would reading the Miranda warning in its entirety have helped? Sounds like one dumb defense attorney, which is common among the genre.
Cataldo acknowledged that the reading of the Miranda warning rights to McBride could have been better, but said it was sufficient.
"Although it seemed a little confusing, she could read and write, and took the time she needed to read it," Cataldo said.
Cataldo said in the interview McBride admitted she planned the killing, waiting until Adelsburg fell asleep before stabbing him. She apparently was upset that he was planning to break up with her, police said.
Cataldo said McBride also admits her act in a suicide note. McBride was found with superficial wounds on her wrists.
Buschmohle would not reveal the contents of his client's statements in the interview.
Adelsburg, 45, who was also deaf, was stabbed several times and bled to death from a severed artery in his leg, police said.
Buschmohle, who operates an Eastpointe practice, specializes in handling cases for deaf people. He said he hopes this ruling will help draw attention to deaf people's needs and that police departments learn they must take extra measures when interviewing deaf suspects.
Using a sign language interpreter is different than using an interpreter for someone who speaks a language other than English, Buschmohle said. Sign language is "conceptual" and not an exact duplication of verbal communication, he said.
Two interpreters were provided at last month's court hearing in Circuit Court in front of Maceroni, one to help Buschmohle to communicate with his client and one to interpret the court proceedings for McBride.
About a dozen of McBride's supporters, many of them deaf, attended the hearing.
McBride and Adelsburg worked the same shift at a branch of the U.S. Postal Service.
McBride's daughter ridicules dismissal of mother's confession
On August 26, 2008, the EJF received the following communication from Ann McBride's daughter:
"She knows what her Miranda rights are. Shes just acting stupid. She's not mute and she can read lips. She planned it, meant everything, and still isn't sorry. She's my mother and I don't think she should get any breaks just because she's deaf. Her whole life she's wanted to be treated equally and now she wants special treatment so she can get out of jail sooner. It's ridiculous!"
---
Southgate teen accused of hiring hit man to kill her dad ordered to stand trial
December 15, 2006 — A teenage girl was bound over for trial today on a count of solicitation for murder for allegedly using a pair of diamond earrings as a down payment to have her father killed.
Judge Mark Randon of the 36 th District Court ordered Candace Mays of Southgate to stand trial on the murder for hire plot that allegedly occurred on August 18 and August 23, 2006, in the parking lot of a Detroit night club.
"I believe the people have met their burden of establishing probable cause," Randon said. "She gave the undercover officer jewelry, something of value in order to get the undercover officer to commit murder."
Mays, who was then 17, was arrested on August 23, 2006, and has been held in the Wayne County jail since. She told undercover agents that she wanted her father dead because he was abusive, an ATF undercover agent testified during a preliminary exam Friday.
---
Flint man had applied for protection order against ex-girlfriend before he was murdered
Taryn Asher, WJRT
February 22, 2007 — Police are looking for an ex-girlfriend of the Flint man who was found murdered in his home Tuesday.
They want to speak to her after investigators learned the victim filed a personal protection order (PPO) against the woman just last year.
In the PPO application, Tracy Frasier claimed his ex-girlfriend had physically attacked him and threatened to kill him. One year later, police are investigating his murder.
A concerned friend found 32-year-old Frasier shot to death inside his Brent Avenue Home after he didn't show up for work.
Police say Frasier was shot in the head, but his 2-year-old daughter who was inside the home at the time of the shooting was luckily unharmed.
Police say they do believe the toddler was in the home with her dead father up to a day and a half before they were both found.
Because of the PPO, investigators want to talk to Frasier's ex-girlfriend, who he dated for two years and is the mother of the child.
Authorities are calling this woman a person of interest and believe she is in another state.
Frasier applied for the PPO, but was rejected by a probate court judge for insufficient allegations on Feb. 27 2006 — almost a year ago to the day he was murdered.
---
Canton wife to be tried in fork attack on her husband in restaurant
© 2007 by Doug Guthrie / The Detroit News
Husband, 86, denies restaurant incident, but witness says woman, 47, nicked spouse
Not her first DV conviction
July 10, 2007 — A Canton Township newlywed left a courtroom hand-in-hand Monday, after the 47-year-old wife was ordered to stand trial on claims she had attacked her 86-year-old husband with a fork and hurled food at him.
"If I am the complainant of this, I have nothing to complain about," William H. Baumgartner said when he took the witness stand to defend the woman he married late last year. "If I am the victim, I have nothing to be the victim of."
But prosecutors and police said they're determined to make charges stick against Kelly Campbell-Baumgartner in the April 22, 2007, incident at a Max & Erma's restaurant — in part because she pled guilty to domestic violence last year on claims that she stabbed her mother with a fork.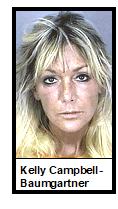 The charges involving her husband were dropped in May when he insisted he wasn't stabbed and didn't want to pursue the case.
Prosecutors refiled them after a witness emerged who claims he saw Campbell-Baumgartner berate her husband and throw food on him.
Carl James Schultz Jr., a teacher at Saline High School, said he was eating lunch at the table next to the couple, no more than three feet away from Baumgartner. She appeared drunk, he said.
"She was waving her fork at him and pointing it at him and yelling," Schultz said. "She was taking food off his plate with the fork and flinging it at him." He testified that Baumgartner sat unresponsively, with his head down, until his wife leaned across the table and nicked his face or ear with a fork. Schultz said Baumgartner immediately cupped his hand and bled.
Baumgartner testified that his wife "wasn't happy" and felt he didn't support her during an argument earlier that day with a neighbor whose dog had entered their yard.
The white-haired, mustachioed man said he probably was injured before arriving at the restaurant, but can't remember how.
As he left the 35 th District courtroom, holding hands with his wife, the pair confronted Schultz.
"Can you see? What are you trying to stick me with?" Baumgartner asked.
They moved along when Canton Township Detective Jeremy Quinn reminded them that witness intimidation is illegal.
"He's 80-some years old and he wants this to go away," Quinn said. "Last time we were in court, I spoke with the divorce lawyer. Apparently, they worked it out, though, and now they want to live happily ever after."
Judge Michael Gerou bound Mrs. Campbell-Baumgartner over on charges that could imprison her for four years.
Last fall, she faced felonious assault charges in the other attack, but a plea deal allowed her to serve probation for a year. Wayne County Circuit Judge Edward Ewell Jr. released her after she reported that she had completed five months.
You can reach Doug Guthrie at (734) 462-2674 or dguthrie@detnews.com.
---
Reading wife's email a crime
Abstracted from article in FirstCoastNews.com
December 28, 2010 —Oakland County prosecutors, relying on a Michigan statute typically used to prosecute crimes such as identity theft or stealing trade secrets, have charged Leon Walker, 33, of Rochester Hills with a felony after he logged onto a laptop in the home he shared with his wife, Clara Walker.
Using her password, he accessed her Gmail account and learned she was having an affair. He now is facing a February 7, 2014, trial. She filed for divorce, which was finalized earlier this month.
Leon Walker was Clara Walker's third husband. Her e-mail showed she was having an affair with her second husband, a man who once had been arrested for beating her in front of her small son. Leon Walker, worried that the child might be exposed to domestic violence again, handed the e-mails over to the child's father, Clara Walker's first husband. He promptly filed an emergency motion to obtain custody.
Leon Walker, a computer technician with Oakland County, was arrested in February 2009, after Clara Walker learned he had provided the e-mails to her first husband.
"I was doing what I had to do," Leon Walker told the Free Press in a recent interview. He has been out on bond since shortly after his arrest. "We're talking about putting a child in danger."
Oakland County Prosecutor Jessica Cooper defended her decision to charge Leon Walker.
"The guy is a hacker," Cooper said in a voice mail response to the Free Press last week. "It was password protected, he had wonderful skills, and was highly trained. Then he downloaded them and used them in a very contentious way."
Walker's defense attorney, Leon Weiss, said Cooper is "dead wrong" on the law. "I've been a defense attorney for 34 years and I've never seen anything like this," he said. "This is a hacking statute, the kind of statute they use if you try to break into a government system or private business for some nefarious purpose. It's to protect against identity fraud, to keep somebody from taking somebody's intellectual property or trade secrets...I have to ask: 'Don't the prosecutors have more important things to do with their time?' "
In the preliminary exam, Clara Walker testified that although Leon Walker had purchased the laptop for her, it was hers alone and she kept the password a secret. Leon Walker told the Free Press he routinely used the computer and that she kept all of her passwords in a small book next to the computer. "It was a family computer," he said. "I did work on it all the time."
Several area defense attorneys were astonished by the filing of the criminal charges. "What's the difference between that and parents who get on their kids' Facebook accounts?" attorney Deborah McKelvy said. "You're going to have to start prosecuting a whole bunch of parents."
Legal experts say it's the first time the statute has been used in a domestic case, and it might be hard to prove "It's going to be interesting because there are no clear legal answers here," said Frederick Lane, a Vermont attorney and nationally recognized expert who has published five books on electronic privacy. The fact that the two were still were living together at the time and that Leon Walker had routine access to the computer, may help him, Lane said.
"I would guess there is enough gray area to suggest that she could not have an absolute expectation of privacy," he said. About 45% of divorce cases involve some snooping — and gathering — of e-mail, Facebook and other online material, Lane said. But he added that those are generally used by the warring parties for civil reasons — not for criminal prosecution. "It is an indication of how deeply electronic communication is woven into our lives," Lane said.
Charges dropped in husband-wife hacking case
Abstracted from story on CBS Detroit
July 21, 2012 —Prosecutors in Pontiac dropped all charges against Leon Walker, who had been accused of violating Michigan's computer hacking law in 2010 by reading his then-wife's email to confirm suspicions she was having an affair with a previous husband.
Oakland County authorities dropped a five-year felony hacking charge against Leon Walker after Clara Walker acknowledged she herself read text messages on her husband's phone during the same time period.
Prosecutors also dropped a remaining charge of attempting to get access to a confidential law enforcement database. Leon Walker worked as a computer technician for Oakland County at the time and accessed a confidential law enforcement database to see if any other spouses had ever been charged with reading email, also a violation of the state's computer hacking law.
Prosecutors also dropped that charge, after witnesses told investigators differing stories about whether Leon Walker had permission to be on the computer that holds that law enforcement data.
"It came down to an issue of permission," chief assistant prosecutor Paul Walton told The Detroit Free Press. "We couldn't meet our burden beyond a reasonable doubt that he didn't have permission."
Leon Walker, who could not be immediately reached for comment, has been on paid leave since his arrest, and it's not clear if he would seek his county job back. [EJF comment: So once more a feminist prosecutor destroys a man and his career.]
---
Lexington woman puts man in prison on false rape charges, files more false rape charges, and defrauds insurance company and citizens with false cancer claims
Abstracted from stories by Robert Franklin, A Voice for Men, Ed White, Huffington Post , and other news sources
May 7, 2013 —A Lexington woman whose trail of lies finally led to the release of a man falsely convicted of raping her was charged with fraud after investigators said she tricked an insurance company and sympathetic supporters into believing she had cancer.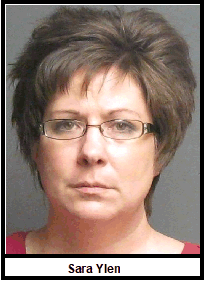 It was Sara Ylen's second criminal case in just a few days. The 38-year-old Lexington resident also is charged with filing a false report of rape in September 2012.
Prior to those two cases, Ylen was involved in the prosecution of James Grissom, who was convicted of raping her in a parking lot despite no physical evidence.
The criminal cases have stunned people in the eastern Michigan area known as the Thumb. Sara Ylen is well-known locally after talking to the Port Huron Times Herald years ago for a series of stories about being a rape victim.
First known false rape claim and man convicted
On May 12, 2001, Sara Ylen came home and told her husband James that a man had approached her in the parking lot of the Meijer store in Fort Gratiot, Michigan, and struck her several times. Her husband later testified she was "incoherent" and "rambling" with a cut on her mouth at the time. Incredibly, the two didn't feel the need to report the matter to the police right away, so they went to a wedding rehearsal dinner instead. The next day Ylen went to the police. Apparently she mentioned nothing about a sexual attack to them at that time.
She also went to an emergency room where she told the doctor she had been struck, but never mentioned any form of sexual encounter. On May 16, four days after the alleged rape, Sara Ylen called her gynecologist, reported she had been sexually assaulted, and demanded an examination. The gynecologist said she'd be better off seeing an ER doctor, so she returned to the emergency room.
The doctor there noted signs of minor trauma to the cervix but stated it could be the result of penetration by a foreign object or simply normal but rough sex. Because Ylen had waited more than 72 hours to make her first claim of sexual abuse, no rape kit was obtained. Ylen told the ER doctor a man had penetrated her with his finger on which there was a gold nugget ring, but made no mention of penile penetration.
Eleven days later, on May 27, Ylen went to her gynecologist who noted scratches on her labia and bruising to her legs.
During September of the same year, Mrs. Ylen and her husband traveled to Lamont, California, near Bakersfield to visit her parents. It was there that she engaged in a series of lies to her friends, her family, and law enforcement officers about a variety of imaginary sexual assaults and one kidnapping that likewise hadn't occurred. The Bakersfield police reports are clear that they understood Sara Ylen to be lying, but no action was taken against her.
"My daughter likes to have a lot of attention," her father, Dale Hill, told Bakersfield officers in a 2001 police report that wasn't uncovered until after James Grissom's trial.
In June, 2002, 13 months after the alleged incident in the Meijer parking lot in Michigan, Ylen began calling the St. Clair police, in their words, "quite a lot." Now she was claiming penile rape in addition to everything else. She also claimed she'd seen her assailant in the rearview mirror of her car.
In October, 2002, the St. Clair police had her in to view photo arrays of possible suspects in her, by then, 17-month-old allegations. She eventually picked out a photo of James Eugene Grissom. On November 7 th she attended a police lineup that included James Grissom among several other men. She picked someone else. At the time police noted that Grissom was 13 years younger than the age given by Ylen of the man she claimed had assaulted her.
Grissom was employed at the Meijer store and, shortly after the alleged incident, had pawned a gold nugget ring at a local pawn shop. He denied doing so to police, but later admitted he'd pawned the ring, and this prevarication undoubtedly hurt his defense at trial.
Three years after the alleged incident, Ylen "remembered" that the man whom she claimed assaulted her had a tattoo of a skull on his upper right arm. Grissom in fact had such a tattoo.
On the basis of that, Grissom was charged with two counts of sexual assault of Sara Ylen.
At trial, the state's case consisted of essentially nothing more than Sara Ylen's allegations. She claimed she'd been raped in the parking lot of the Meijer store by James Eugene Grissom. There was no rape kit and no DNA. There was no semen that could be analyzed and she'd washed her clothing. There was no confession by the accused and no one had witnessed the alleged incident. The videotape from the Meijer security camera in the parking lot showed, at the time of the alleged incident, no rape, no crime and that neither Ylen nor Grissom was present. Ylen's injuries were medically inconclusive.
In addition, Ylen had been, on May 12, 2001, a participant for over a year in an organization that provided support to rape victims. As such, she surely knew the importance of the 72-hour period for preserving DNA samples and knew the importance of not bathing or washing her clothes for the same reason. And yet Ylen waited over 72 hours before claiming sexual abuse and bathed and washed her clothing before police could obtain the evidence.
James Eugene Grissom worked at the Meijer store. Sara Ylen knew that because she shopped there. She'd doubtless seen him and made a note of his ring. Many months after the alleged incident, she probably saw his tattoo as well and was able to add it to her short list of facts she hoped would incriminate him.
Sara Ylen claimed she got cancer after Grissom infected her with a sexually transmitted disease during the attack.
In the final analysis, the jury had but a single thing on which to rely in convicting James Eugene Grissom — Sara Ylen's word. Without that, neither police, nor prosecutors, nor the judge and jury would have had even a scintilla of evidence that (a) a crime had occurred or (b) James Eugene Grissom had committed it. But for Sara Ylen's word, no one — neither Grissom nor anyone else — would have been charged, tried, convicted or sent to prison.
Questionable as it was, her word was sufficient to sentence James Eugene Grissom to prison with two concurrent 15 to 35 terms. He would be there yet if not for the spree of lying Sara Ylen went on in California and later in her cancer scam. Just months after Grissom's conviction, police in Fresno and Bakersfield forwarded their files concerning Mrs. Ylen's multiple rape fabrications to prosecutors in Michigan, who duly sent them on to Grissom's lawyers. However, it took them over seven years to get him a new trial and three more to get him released based on actual innocence.
They were able to do so for one reason only — that the conviction of James Eugene Grissom rested entirely on the credibility of his accuser, Sara Ylen, and that her credibility was non-existent.
The awful facts of Ylen's efforts to put innocent men in prison, waste the time of the police, medical, and court personnel are all contained in his lawyer's brief to the Michigan Supreme Court that ultimately succeeded in releasing Grissom from prison. It makes for shocking reading.
Finally, after years of appeals, a judge in 2012 ruled that the Bakersfield police report could have changed the outcome of Grissom's trial and ordered a new one, saying Ylen appeared to have "concocted incredible stories" in California. Prosecutors dropped the case without a second trial. James Grissom, now 55, was released from prison in November 2012 after a decade behind bars.
Jury convicts Sara Ylen in yet another false rape claim
Abstracted from CBS Detroit story
December 7, 2013 — In a separate case, in neighboring St. Clair County, Sara Ylen made up yet another false report of rape. She was charged with fabricating a story about two men attacking her in her Lexington home in 2012. She claimed she was taking a nap when she was bound and raped. But authorities say the attack didn't happen.
Sara Ylen, now 38, went to police eight days after the purported attack and was subsequently examined by Dr. William Starbird. He testified that he cleaned what appeared to be lacerations and bruises on her face with gauze. "The bruising started to disappear," Starbird testified. He said he later found a discarded makeup compact in the exam room. Fortunately, in this case neither man was arrested or convicted as Mrs. Ylen's credibility disintegrated.
After lying for years about having cancer Sara Ylen was convicted December 5, 2013, for falsely accusing these two men of rape. Ms. Ylen was also convicted of tampering with evidence after police found she had used makeup to create what looked like bruises. She did not testify in her own defense at her trial.
Ylen's story resembled a "cheap novel," prosecutor Suzette Samuels told jurors. "She's lying through her teeth...This was unreal," Samuels said.
The jury took less than 30 minutes to convict 38-year-old Sara Ylen after a three-day trial in St. Clair County.
Judge Daniel Kelly then revoked Sara Ylen's bond and sent her to jail to await sentencing on January 17, 2014. At that hearing Judge Kelly sentenced her to a minimum of five years in prison, which exceeds statutory guidelines. But the judge said it would be a travesty of justice to sentence her to anything less.
James Grissom was a spectator during Ms. Ylen's false rape trial. "Strange. The last time I was coming down to this courtroom I had handcuffs on," Grissom said. "I figured I had to be here, just to see what she gets away with and what she don't."
Faking cancer for fun and profit
Ylen appeared in a Sanilac County court on May 6, 2013. She was charged with six felonies, all related to her claim of cancer, said chief assistant prosecutor Brenda Sanford. Most are related to false insurance claims, although one involves raising more than $1,000 from the public.
"Based on a very thorough investigation by the state police, they have not been able to corroborate her claim that she had cancer," Sanford said. "This has been a very long and complicated investigation."
Blue Cross Blue Shield of Michigan paid more than $94,000 in hospice care for Ms. Ylen from 2009-2011, state police said.
"Ylen identified several physicians that had made a diagnosis of cancer. The investigation revealed that none of the physicians had in fact made that diagnosis," state police said.
Sara Ylen received months of hospice care and thousands of dollars from sympathetic supporters, but there's no evidence that she had cancer, according to the state police.
She claimed she was a patient at Cancer Treatment Centers of America in Zion, Illinois, but the hospital said Sara Ylen was never treated there. During pre-trial hearings, prosecutors disclosed forged documents with University of Michigan medical center letterhead.
Authorities say it's not clear what Ms. Ylen's motive would have been. Money raised through community fundraisers helped her with rent and other expenses, but there's no evidence of extravagant living.
Ylen faced trial on February 4, 2014, in Sanilac County, where she was tried for fraud and false pretenses for claiming she had cancer. She was convicted and on sentenced to just a year in jail, apparently to be served concurrently with her five year sentence on the false rape charges.
---
Jackson man stabbed during child custody dispute, mother arrested
August 21, 2014 — A man was stabbed during a child custody dispute in Summit Township on Thursday, police said.
The victim, a 20-year-old Jackson man, suffered "a minor knife wound to the right arm" after a 20-year-old Jackson woman stabbed him, according to a news release from the Jackson County Sheriff's Office.
The incident occurred at 2:17 PM in the 100 block of McCuen Street after a domestic dispute over child custody turned violent, police said.
The victim refused treatment for his injuries, according to the news release.
The woman was arrested and has been lodged at the Jackson County Jail.
Charges were requested from the Jackson County Prosecutor's Office.
Theresa Ghiloni is a public safety reporter at the Jackson Citizen Patriot.
---
| EJF Home | Find Help | Help the EJF | Comments? | Get EJF newsletter | Newsletters |
| Domestic Violence Book | DV Site Map | DV bibliography | DV index |
| Chapter 10 — Domestic Violence Against Men In The United States |
| Next — Stories of abused men In Minnesota |
| Back — Stories Of Abused Men In Massachusetts |
---
This site is supported and maintained by the Equal Justice Foundation.