Stories Of Abused Men In Montana
---
| EJF Home | Find Help | Help the EJF | Comments? | Get EJF newsletter | Newsletters |
| Domestic Violence Book | DV Site Map | DV bibliography | DV index |
| Chapter 10 — Domestic Violence Against Men In The United States |
| Next — Stories Of Abused Men In Nebraska |
| Back — Stories Of Abused Men In Missouri |
---
Stories here are reproduced under the Fair Use exception of 17 USC § 107 for noncommercial, nonprofit, and educational use.
If you have, or know of a story about abused men that should be posted here please send it, or a link to comments@ejfi.org.
Stories
Woman pushes husband of one week off a cliff in Glacier National Park
---
Woman pushes husband of one week off a cliff in Glacier National Park
Abstracted from various news stories
July 7, 2013 — A Montana woman blindfolded and then pushed her husband off a cliff after an argument. The pair had married on June 29, just more than a week before the murder.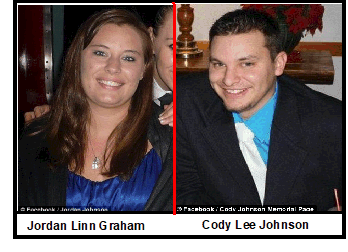 According to a criminal complaint, Jordan Linn Graham, 22, had recently told a friend she was having second thoughts about marrying Cody Lee Johnson, age 25. The complaint said the couple argued the evening of July 7. Upset, they decided to go hiking in Glacier National Park in Flathead County where they continued to fight.
Ms. Graham initially told police that her husband grabbed her by the arm as they neared the top of a cliff. She turned and removed it. "Graham stated she could have just walked away, but due to her anger, she pushed Johnson with both hands in the back and as a result, he fell face first off the cliff," the complaint read.
Ms. Graham told investigators she pushed Johnson in self-defense and instinctively shoved him after he grabbed her arm during a heated conversation July 7.
"I think I didn't realize that one push would mean for sure you were over," Graham said in the transcript of an interview with investigators. "I felt like I shouldn't have gotten married at that time, but not, there were not any issues of being with Cody, no. I feel like he's the person I was going to spend the rest of my life with."
Ms. Graham's credibility came under fire after she first lied about Johnson's whereabouts when her husband was declared missing the next day when he did not show for work. At the time she told cops she had last seen her husband when he took off with a group of friends from Washington State.
On July 8, 2013, multiple people reported Cody missing to the Kalispell Police Department, but the defendant was not one of them. During the next few days the defendant continued to communicate with numerous people in the Kalispell community, often via text message, about what had happened to Cody.
On July 11 Jordan Graham led a park ranger to the site of his fatal fall, claiming she knew he was there because the area "was a place he wanted to see before he died."
Days later she admitted to lying to investigators and in September, prosecutors charged her with first-degree murder.
After an investigation Jordan Linn Graham was accused of blindfolding and pushing her husband of eight days, Cody Lee Johnson, off a cliff. His body was discovered several days later.
She apparently had also made comments about killing her mother and stepfather five weeks prior to the incident prosecutors claim in newly released court documents and they want that admitted into her case. These comments "should be admitted to negate innocent intent and demonstrate the likelihood that the defendant did an act with the requisite intent in the charged case," prosecutors claim.
The latest revelation came three weeks after the bombshell allegation that Jordan Linn Graham may have blindfolded her husband before she shoved him off a 200-foot cliff along The Loop trail in the majestic park. That allegation was made after a long, black piece of cloth was found in a creek near the man's body. An examination of the cloth turned up "trace evidence and six human hairs"
Ms. Graham also took away her husband's car keys, prosecutors contended, and removed his wedding ring before the altercation. The investigation was a cooperative effort between the Federal Bureau of Investigation, National Park Service, Kalispell Police Department, Flathead County Sheriff's Office, and Parks Canada [Glacier National Park borders Waterton Lakes National Park in Alberta and British Columbia, Canada].
Ms. Graham initially pled not guilty when she was arraigned in a U.S. District Court in Missoula, Montana, about 130 miles south of where her newlywed husband Cody Johnson fell to his death on July 7. A federal grand jury charged her with first- and second-degree murder and making false statements. The case is being heard in federal court because the crime occurred in a national park.
She was read those charges but waived a reading of the indictment, according to a court document. She subsequently pled not guilty on all three counts, was released and placed on house arrest. [It boggles the mind to think a man charged with first-degree murder would be released from jail and placed on house arrest!]
Graham reportedly said she had been in abusive relationships previously in an attempt to give credence to the notion that Johnson was the aggressor in their argument along the tightrope-like trail. [Ye olde abuse excuse.]
The bizarre case has had more twists and turns than the most treacherous path in the national park near Johnson and Graham's hometown of Kalispell.
Her case went to trial on December 9, 2013, but after three days of testimony and just before closing arguments, Jordan Graham pled guilty to second-degree murder and admitted she pushed her new husband, Cody Johnson, off a cliff in Glacier National Park.
Before he accepted her plea the judge asked Ms. Graham to tell him what happened.
Jordan said she decided to confront her husband about her marriage doubts, but she did not know how he would take it. She said the couple climbed down a treacherous slope below a popular spot in the park called The Loop and spoke on a narrow ledge, hundreds of feet above a ravine.
She told her new husband she was unhappy. They argued, and at one point, she said, he grabbed her by the arm, and she thought he was going to pull her. She told the judge she got angry at Johnson, brushed his hand away, then pushed him, with one hand on his arm and one on his back.
"I wasn't thinking about where we were...I just pushed," Graham said. She said she then drove back to her home in Kalispell.
On March 27, 2014, U.S.District Judge Donald Molloy sentenced Ms. Jordan Graham to 365 months in prison (30 years and 4 months), followed by five years supervised release, and to pay $17,000 in restitution.
---
| EJF Home | Find Help | Help the EJF | Comments? | Get EJF newsletter | Newsletters |
| Domestic Violence Book | DV Site Map | DV bibliography | DV index |
| Chapter 10 — Domestic Violence Against Men In The United States |
| Next — Stories Of Abused Men In Nebraska |
| Back — Stories Of Abused Men In Missouri |
---
This site is supported and maintained by the Equal Justice Foundation.