Stories Of Abused Men In New Hampshire
---
| EJF Home | Find Help | Help the EJF | Comments? | Get EJF newsletter | Newsletters |
| Domestic Violence Book | DV Site Map | DV bibliography | DV index |
| Chapter 10 — Domestic Violence Against Men In The United States |
| Next — Stories Of Abused Men In New Jersey |
| Back — Stories Of Abused Men In Nevada |
---
Stories here are reproduced under the Fair Use exception of 17 USC § 107 for noncommercial, nonprofit, and educational use.
If you have, or know of a story about abused men that should be posted here please send it, or a link to comments@ejfi.org.
Stories
Response to advertisement for Safe Place
Hooksett town treasurer survives gunshot to chest, ex-wife accused of attempted murder
Scorned woman breaks into ex-boyfriend's apartment, dumps out urn containing his brother's ashes
Police arrest Rochester couple at gunpoint in crutch-chasing incident
Christine Hall also alienating children from their father
Portsmouth nurse arrested for trying to commit ex-boyfriend to mental institution
Kristin Ruggiero convicted of filing false charges against her ex-husband in East Kingston
No bail for Kristin after she is convicted of framing ex-husband
---
To die for
Pamela Smart, 22: Media-services director at Winnacunnet High School in Hampton, New Hampshire, had convinced her 15-year-old lover to murder her husband. She was arrested in 1993. The Nicole Kidman film "To Die For" is based on her story. For more photos click on her name.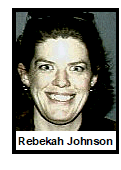 ---
Response to advertisement for Safe Place
Reproduced with permission of the author
I have suffered (excuse me, survived) this for years! I'd call the Safe Place but I'm just not sure why? I really don't need to do any whining or need a shoulder to cry on. I don't even need a safe place to live. My one bedroom apartment feels very safe to me. I used to consider my large house, where I once lived with my family, as a safe place. But I was wrong about that.
See, the last time I was there (a year and a half ago), my wife had me removed because she "feared" for her "safety" and suddenly felt that she had undergone "years of physical and emotional abuse." Wow, that was news to me. I'm glad I finally know how she felt all of those years! Although her restraining order was thrown out as soon as we got to court in three weeks, I have not been able to enter my home again, and I am still spending a lot of time and energy fighting for joint custody of my kids during our current divorce litigation.
So safety has a new meaning for me today. I am safe in my apartment because I do not allow my wife to go there. There is nobody there that can allege that I did something that I did not. Since this can not happen, then no judge can take anything more away from me. I am also not safe anywhere alone with her, so we exchange the children at public places on weekends. She seems to feel safe now that she lives in our home with our children. Since I send lots of money it makes it easier to get by I'm sure. And I am safe as long as I'm not near her.
I'm glad today that I learned this. I do wish, however, that these risks had been disclosed to me on the New Hampshire marriage license. The plight of many men such as I was very well known by the State of New Hampshire ten years ago when I got married. For them not to have had a disclaimer for me to read as part of the marriage license was just plain old withholding information.
Mr. Jeff Oligny (loving father of 2)
Email: Joligny@myexcel.com
---
Hooksett town treasurer survives gunshot to chest, ex-wife accused of attempted murder
© 1998 by Eric Baxter, Hooksett Banner
September 10, 1998 —Suzanne P. Bennett shot her ex-husband in the chest with a revolver on Friday, September 4, after chasing him through the couple's ranch-style home and repeatedly threatening to kill him according to documents on file at Hooksett District Court.
Standing in the doorway of the bathroom inside their home, at 4 Heather Drive, Suzanne Bennett said, "I'm going to kill you now," according to a report written by State Police Detective Sergeant David B. Goldstein.
James Bennett replied, "Let's talk about this."
"...should kill you now," she said again, according to court records.
The revolver was pointed at him the whole time as his ex-wife threatened to kill him, he reportedly told authorities.
James Bennett, 47, a state police trooper, escaped serious injury. His ex-wife is facing one count of attempted murder and a potential 30-year prison term.
Suzanne Bennett, 52, was being held at the state Prison for Women in Goffstown on $100,000 cash bail pending trial.
She was arraigned at Hooksett District Court the morning following the shooting, on Saturday, September 5, 1998.
James Bennett was released from Concord Hospital on Saturday, September 5. He declined comment on the incident from his hospital bed before he was released.
Prior to the shooting, he was getting ready to attend a flying lesson in Hampton, scheduled for 5:30 PM, according to court documents. He was off-duty.
James Bennett said his ex-wife told him she didn't want him to go to the lesson.
He went to the sauna room and his ex-wife followed shortly after and showed him the revolver she had in her hand.
The off-duty trooper tried to escape and find cover. At one point, his ex-wife forced open a louvered door in the house in her search for him.
She moved into the hallway as James kept looking for cover. At one point, she lowered the revolver, but then she raised it and shot him, court records said.
Hooksett police said they first received the call for help about 3:20 PM.
Arriving first at the scene, Hooksett Lieutenant Les McDaniel entered the house by the carport door. Announcing himself, McDaniel said, in court documents, that he heard a male voice from the bathroom saying he was OK and advising the officer that he was in the bathroom.
McDaniel found Suzanne Bennett kneeling on the bathroom floor next to her ex-husband; he was holding a revolver. McDaniel asked for the revolver and James Bennett replied he couldn't give it to him, as he couldn't move his arm.
James Bennett was covered with a blue towel from the waist down and there was blood on the bathroom floor, the report said.
McDaniel took the revolver from James Bennett and Suzanne Bennett was placed into the custody of Hooksett Sergeant Gary Blanchette.
Both Bennetts had been involved with the community and were known by many residents.
The well-dressed, well-coiffed Suzanne Bennett worked as a toll collector at the Hooksett tolls on Route 93 and took care of animals for vacationers. She has served on the past Old Home Day committee and she has worked the Hooksett Congregational Church strawberry supper, which takes place every June.
James Bennett has worked for the state Bureau of Highway Enforcement for about 10 years; he continued to work for the bureau after it merged with state police two years ago. He is also the town treasurer in Hooksett.
According to neighbors, the two had divorced in December but had moved back in together four to five months ago.
---
Scorned woman breaks into ex-boyfriend's apartment, dumps out urn containing his brother's ashes
© 2004 DenverChannel.com
Manchester woman accused of breaking into man's apartment
November 18, 2004 — A New Hampshire woman is accused of breaking into her ex-boyfriend's house, trashing the place and dumping out an urn containing the ashes of the man's brother.
Jacqueline Dodge, 47, appeared in Manchester District Court Wednesday to face charges of burglary, harassment and abuse of a corpse. Police say she broke into Peter Farrell's apartment Tuesday night.
"It appears to have been domestic in nature," Sgt. Mark Fowke said. "It is an estranged relationship."
Police said that while Ms. Dodge was in the apartment, she opened a box containing an urn that held the ashes of Farrell's brother, Robert. She allegedly dumped the remains all over his bedroom.
"That's my brother, you know?" Farrell said. "Even though it's his ashes, that's my brother Bobby. And that's sad. May God help her."
Both Ms. Dodge and Farrell described their relationship as "up and down." They had been engaged for two years and lived in the same apartment complex in different units.
The night of the incident, Farrell said Ms. Dodge made harassing phone calls to him. He said that because his brother had died this summer, she knew disturbing the ashes would hurt him.
"She wouldn't come to his wake. That was when we were going up and down," Farrell said. "But she knew how I felt about him."
Farrell said he hasn't yet cleaned up his apartment. He said he doesn't know what to do with his brother's remains.
---
Police arrest Rochester couple at gunpoint in crutch-chasing incident
© 2005 by Jason Howe, Foster's Online
She assaults him but both are arrested. She is also keeping father from his children.
Thursday, February 17, 2005 — A local couple was arrested on domestic assault and drug charges Tuesday after police stopped them as the woman chased her husband down Milton Road with a crutch.
Cecil and Christine Hall, 51 and 44 respectively, of 97A Milton Road, were arrested after police officers discovered Christine Hall chasing Cecil Hall down the road with a crutch, yelling obscenities and threatening to, "(expletive deleted) Cecil up good," according to an affidavit.
An officer had to draw his handgun in order to subdue Christine Hall, although she made threats against her husband while in police custody, according to the charges.
The woman now faces three Class A misdemeanor charges of simple assault, criminal threatening, and possession of a controlled drug, marijuana, as a result of the incident.
Her simple assault charges were for allegedly striking Cecil Hall in the back of the head with a baseball helmet, while the threatening charges stem from the statements she made while in police custody, according to the criminal complaints.
Cecil Hall was arrested after showing police what he said was his wife's "stash" of a vegetative substance identified by officers as a narcotic.
Police charged them both with possession of marijuana as a result.
Cecil Hall was transported to Strafford County House of Corrections Wednesday afternoon after Judge Daniel Cappiello set his bail at $5,000 cash only.
Prosecutors indicated that Cecil Hall was considered a threat to himself and a flight risk, after he told police he was attacked while in the process of packing his belongings to leave for Texas, according to the affidavit. He is scheduled for trial at Rochester District Court on June 21, 2005, at 1 PM [and obviously wants to escape from this woman for good reasons].
Christine Hall was released on $2,500 personal recognizance bail and is scheduled for trial in Rochester on June 24, 2005. [After a policeman had to draw his weapon in order to subdue her.]
Christine Hall also alienating children from their father
The Equal Justice Foundation found out about this case via a letter from the current fiancé of the father of Christine Hall's two sons, currently ages 10 and 12. Apparently Christine is playing the usual alienation games of not letting the children see or speak with their biological father. The boys are required to call the stepfather, Cecil Hall, dad, and can't call their biological father that.
We hear of the usual games with visitation, tax deductions, lying, as well as the substance abuse documented in the above story. Clearly the mother is violent. The stepfather was attacked while he was attempting to escape from this mentally unstable woman and yet the courts leave a loving father's children with her. We are continually appalled at such irrational actions by judges.
---
Portsmouth nurse arrested for trying to commit ex-boyfriend to mental institution
November 4, 2006 — According to the Rocky Mountain News (p. 34A) a Portsmouth Regional Hospital nurse was arrested on four charges related to allegations that she used her position to wrongfully have a man she had a relationship with involuntarily admitted for an emergency psychiatric evaluation.
Julia Lynch, 30, of Rollinsford, was arrested November 1 st at a shop where she works part time according to Portsmouth Police Captain Janet Champlin. Ms. Lynch was charged with misdemeanor counts of false swearing, attempted false imprisonment, stalking, and tampering with a public or private record.
---
Kristin Ruggiero convicted of filing false charges against her ex-husband in East Kingston
April 30, 2008 — Kristin and Jeffrey Ruggiero had an acrimonious divorce, during and after which, Kristin claimed Jeffrey was violent towards her. Among other things, she got a restraining order against him, but still didn't feel safe. So she went to the local media and the East Kingston police complaining that he had violated the order. She also complained to his employer, the U.S. Coast Guard. Kristin told them that she was so terrified that she couldn't sleep at night.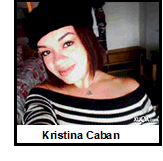 She went on to complain that Jeffrey was making harassing telephone calls in violation of the restraining order.
Her plan worked at first; he was convicted of criminal threatening, was briefly jailed, lost his job and his house. But Jeffrey had a different story — Kristin was making the whole thing up. She was the one making the calls from a phone she'd registered in his name.
Jeffrey was exonerated when Kristin tried to gild the lily. When she added some claims of cell phone harassment, the whole scam fell to pieces. Police figured out that she had sent the text messages herself.
Police checked on Jeffrey's story and sure enough, one of the "harassing" calls had been made from California about half a mile from where Kristin was staying at the time. Another one was made from Nashville, Tennessee. Kristin had just flown there shortly before it was made.
Based on that, and more, in July 2009 police charged Kristin Ruggiero with a 12 felony counts of falsifying evidence and one misdemeanor count of filing a false report with police.
Kristin pronounced herself innocent of the charges against her and claimed she looked forward to proving the fact at trial.
No bail for Kristin after she is convicted of framing ex-husband
Abstracted from article by James A. Kimble, Manchester Union Leader
May. 7, 2010 — Kristin Ruggiero was ordered held without bail in Brentwood after a jury convicted her of trying to set up her ex-husband and have him jailed by falsely reporting to police that he sent her a dozen threatening text messages in May 2008.
Judge Kenneth McHugh said it was necessary to keep Ms. Ruggiero in jail after the jury found that the 34-year-old mother used the criminal justice system as a means to falsely imprison her ex-husband, Jeffrey, and ruin his career.
"The jury's verdict has confirmed my belief after hearing 8 days of this case that the defendant is a pathological liar," McHugh said. "She will do and say anything in order to distort facts so as to avoid responsibility for her actions."
Judge McHugh remarked that Ms. Ruggiero's case was not a normal one for Rockingham County.
It came exactly two years after Kristin Ruggiero had played a key witness in the prosecution of her ex-husband, who was later exonerated by prosecutors when an East Kingston police investigation concluded that Jeffrey Ruggiero was convicted of crimes he did not commit.
Ruggiero, a U.S. Coast Guard chief petty officer, nearly lost his career and was jailed for three and a half weeks following an April 30, 2008, criminal threatening case based on Kristin Ruggiero's complaints.
As Jeffrey Ruggiero awaited sentencing in that case, his ex-wife complained to police about the text messages — sent on a disposable cell phone.
The investigation into that second case — undertaken by East Kingston police Chief Richard Simpson — found the signals on the disposable phone coincided with Kristin Ruggiero's whereabouts in California and Tennessee.
Exeter District Court Judge Laurence Cullen, who convicted Jeffrey Ruggiero in the criminal threatening case two years ago, came to hear the verdict in the Ruggiero verdict, quietly taking a seat — out of his robe — in the rear of the courtroom.
Kristin Ruggiero used other technology such as computer viruses and anonymous text messaging to hack into her ex-husband's computer and e-mail as a way to continually stalk and harass her ex-husband, according to prosecutors.
Judge McHugh said he believed her adept knowledge with computers and technology made her a flight risk.
"She has shown the ability to fly around the country. She is computer savvy and there's no doubt in my mind if she were allowed to leave this building today, she would find some way to avoid appearance on July 1," McHugh said.
Kristin Ruggiero showed no emotion as she was led out of the courtroom and taken into custody.
At her sentencing on July 1, Ruggiero faces a potential 3 1/2 to 7 year state prison sentence on each of the 12 counts of falsifying physical evidence. She was also found guilty of a misdemeanor charge of false report to law enforcement.
Following the verdict, Assistant County Attorney Jerome Blanchard said the conviction marked a victory for more than the criminal justice system.
"It's a good day for the men and women who are real victims of domestic violence," Blanchard said.
He prosecuted the 8-day trial with Assistant County Attorney Geoffrey Ward, a member of the domestic violence unit.
Simpson, the police chief whose investigation found Ruggiero was using the criminal justice system as a tool of revenge, said he will be happy to move on from the case, but hopes it serves as a warning.
"Maybe it will send a message to other people who would think of doing such a thing," he said.
---
| EJF Home | Find Help | Help the EJF | Comments? | Get EJF newsletter | Newsletters |
| Domestic Violence Book | DV Site Map | DV bibliography | DV index |
| Chapter 10 — Domestic Violence Against Men In The United States |
| Next — Stories Of Abused Men In New Jersey |
| Back — Stories Of Abused Men In Nevada |
---
This site is supported and maintained by the Equal Justice Foundation.