Stories Of Abused Men In Oklahoma
---
| EJF Home | Find Help | Help the EJF | Comments? | Get EJF newsletter | Newsletters |
| Domestic Violence Book | DV Site Map | DV bibliography | DV index |
| Chapter 10 — Domestic Violence Against Men In The United States |
| Next — Stories Of Abused Men In Oregon |
| Back — Stories Of Abused Men In Ohio |
---
Stories here are reproduced under the Fair Use exception of 17 USC § 107 for noncommercial, nonprofit, and educational use.
If you have, or know of a story about abused men that should be posted here please send it, or a link to comments@ejfi.org.
Stories
Woman who attacked spouse in church in Bixby handed probation
What happened the night William McDonald was shot in the head in Choctaw?
He wants her back, but first he will have to get her out of prison
Choctaw police stand behind their investigation
Department of Human Services child welfare supervisor charged with domestic abuse
Meeker woman charged with arson, endangering emergency personnel
Former football player pushed out of twenty-fifth floor window in Tulsa
---
Woman who attacked spouse in church in Bixby handed probation
© 2004 Abstracted from article by Bill Braun, staff writer for Tulsa World
May 27, 2004 —A woman has received 90-days probation for assaulting and battering her husband. In a related case, leaders of her former church in Bixby picked up misdemeanor convictions for failing to report the alleged sexual abuse of a child.
Tammy Britton, 25, pled guilty Tuesday to one misdemeanor assault and battery charge and no contest to a second count.
In accordance with a plea agreement, Special Judge Darlene Crutchfield deferred sentencing until August 25, when Mrs. Britton can have the case dismissed without a conviction. Crutchfield ordered Mrs. Britton to pay about $500 in court-related costs.
In related incidents, on May 6 th jurors convicted Robert Turner, Janice Turner, William Kelman and Karla Kelman — married couples and pastors of Harmony Worship Center Church in Bixby — of misdemeanors and assessed fines totaling $6,000 but no jail time. Jurors found the Turner's and Kelman's guilty of failing to report an injury to a child in 2002.
William Kelman and Janice Turner also were found guilty of assaulting and battering Zachery Britton — Tammy Britton's estranged husband — in 2002. The jury cleared Janice Turner of an additional assault count.
Zachery Britton testified that Harmony Worship had a "sexual purity curriculum," and he said members of the congregation attacked him after he confessed to violating those guidelines. Mr. Britton said he was told that "I needed my flesh disciplined so that my soul could be saved."
Defense witnesses said that never happened. But Tammy Britton, Zachery's estranged wife and a prosecution witness against the Turner's and Kelman's, said she punched and kicked her husband during a church session and saw other church members hit him.
Tammy Britton testified that after hearing that her daughter was "acting out" at day care as if she had been abused, "crazy things started coming out of my mouth," and "I said it must have been me."
Following a police investigation, no one was charged with abusing the child, and "clearly it didn't happen," Tammy Britton's attorney, Allen Smallwood, said Wednesday.
The child, who turns 3 in September, now lives with her father in Illinois.
---
What happened the night William McDonald was shot in the head in Choctaw?
William McDonald tells his version of events in more detail at Justice For All Americans. It does appear that the police and prosecutors did a really sloppy job of investigating and that false charges were filed against his wife. However, as in all such cases, when a person pleads guilty it must be assumed that they are guilty. It would certainly appear that Caren McDonald was coerced into accepting a plea bargain leaving justice DOA as in most cases of violence within a family.
The following © 2005 by Michael Baker , The Oklahoman
Reproduced under the Fair Use exception of 17 USC § 107 for noncommercial, nonprofit, and educational use.
Monday, March 7, 2005 —William McDonald claims his wife — accused of shooting him in the head, beating him with a baseball bat and leaving him on the edge of death — didn't do it.
Two versions of events
William McDonald was shot in the head.
Police: Caren McDonald shot her husband and beat him with a baseball bat. She pled guilty to assault and battery. The shooting charge was dismissed.
William McDonald: It was an accident. Caren McDonald heard a noise and woke her husband. When he jerked, the gun flipped, the covers caught the trigger, and the gun fired.
Fresh blood was found on sheets in the closet and on the walls, bedpost and floor. It was smeared on a wooden baseball bat and splattered in much of the house.
Police: The blood stains are signs of a struggle. Blood also was found on cleaning supplies — a mop, bucket and vacuum.
McDonald: Although wounded, McDonald grabbed the bat and checked the house for intruders, spreading the blood around.
Doctors said William McDonald had numerous bruises inflicted with a blunt object.
Police: McDonald was severely beaten with a wooden baseball bat, found in the house smeared with blood.
McDonald: Many of the injuries were suffered when the throttle cable on a dirt bike broke, and he was thrown about 50 feet, splitting his helmet.
Air Force investigators told police Caren McDonald once had threatened to kill William McDonald.
Police: Military investigators had looked into past domestic problems between the couple.
McDonald: "We were not having any domestic problems. We had just gotten back from a romantic getaway in Broken Bow."
He wants her back, but first he will have to get her out of prison
Caren McDonald, 32, is serving a three-year prison term after admitting she beat her husband with the bat June 21, 2002, at their Choctaw home. A charge of shooting with intent to kill was dismissed.
In a federal lawsuit filed in Oklahoma City, William McDonald, 42, claims:
• His wife was coerced into pleading guilty.
• The Choctaw Police Department's investigation was a sham.
• He was never contacted about the case.
• He also pleads for the immediate "release of my loving wife that is being held falsely."
The Choctaw Police Department and Detective Marsha Van Houtte, a lead investigator on the case, asked that the court dismiss McDonald's complaint, denying the investigation was improper or violated anybody's rights.
William McDonald — who answered questions from The Oklahoman by e-mail because, he said, he still has trouble talking — is living in Florida. He wrote that his wife never beat him and he accidentally shot himself.
"They accused my wife of beating me and shooting me on purpose and why I do not understand to this day?" he wrote. "My wife has never hit me in any way and we were not having any domestic problems."
More importantly, McDonald wrote, authorities never contacted him in the two years between the shooting and his wife's sentencing.
Investigators repeatedly tried to contact William McDonald, but could not communicate with him, Choctaw Police Chief Billy Carter said.
Prognosis bad
After William McDonald was shot, doctors said he would either be in a coma or die.
He beat the odds. But while recovering, he said, he was cut off from his wife and her June 4, 2004, sentencing.
Five days after the sentencing, William McDonald said, he sent this e-mail to his wife's attorney:
"I have just found out she got convicted getting three years and seven years probation she is not guilty I have been purposely keep out of it."
William McDonald's lawsuit includes an affidavit by his wife, who recanted her confession:
"The reason I signed the plea bargain was because my attorney told me to go to trial would cost at least another $50-60K and if I lost I would face a 30-year sentence; so I took the lesser of two evils and signed the plea bargain."
Caren McDonald pled guilty to assault and battery with a bat on her husband. A check of court records shows she had no prior record before the plea. She is serving her sentence at the Dr. Eddie Warrior Correctional Center in Taft, according to records kept by the Oklahoma Corrections Department.
Caren McDonald's attorney at the time, John W. Coyle, thinks his client got a fair deal.
"I'm confident that she made the right choice considering the evidence in the case...There was a lot of evidence that was damaging to her," Coyle said. "(William McDonald's) involvement in the case is not nearly as important as he may think it is. There was a lot of evidence aside from any testimony he might have offered."
Coyle said he plans on filing an application with the court to reduce Caren McDonald's sentence.
Law enforcement officials don't believe Caren McDonald's recantation and question her husband's ability to recall what happened at 1351 S Choctaw Road.
Caren McDonald was not pressured when she came to prosecutors and admitted she beat her husband after an argument, Assistant District Attorney Ken Stoner said.
"I only considered what she told me whenever she came in on her own," Stoner said. He said he gave her the benefit of the doubt when she said the shooting was an accident.
Even William McDonald's story has changed since he first told police he was shot by two guys who ran off outside, Stoner said. During his recovery, the victim said he couldn't remember what had happened, Stoner said.
Choctaw police stand behind their investigation
"The mere fact that we filed a charge tells that I stood behind the investigation," Carter said. "There was no evidence to believe that an accident occurred there. Forensics led us to believe that we had enough to file a charge, which we did."
Police version
• All the evidence, presented in court papers and testimony, pointed at Caren McDonald.
• Blood was in the bedroom and throughout much of the house, indicating a physical struggle occurred.
• Blood-soaked sheets were found in a closet. Fresh sheets were on the bed. Blood was smeared on a wooden baseball bat.
• Investigators found blood on cleaning supplies.
• Caren McDonald's story didn't add up. The night her husband was shot, she said William McDonald went to investigate a noise outside, possibly a prowler, and that she "dozed off" until a gunshot startled her.
• Officers found no signs of a prowler. They checked outside the McDonalds' home and saw that dirt, dew and cobwebs were undisturbed. No signs of a forced entry were found.
• The only blood officers found outside was on the front porch, where William McDonald lay bleeding when they arrived.
Victim's version
William McDonald has answers for the evidence. He remembers a night far different from what police reconstructed:
• That evening before the couple fell asleep, William McDonald placed a pistol in bed, pointing at his feet because the couple were having problems with neighborhood teenagers.
• Caren McDonald heard a noise outside and nudged her husband — who in the Gulf War developed a habit of quickly waking.
• He jerked up. The gun flipped toward his head. Covers caught the trigger. The gun fired.
• The wounded McDonald grabbed the baseball bat and went to check for intruders. He fell over a wine rack and a chair. The movement spread blood throughout the house.
• When he reached the outside, William McDonald saw two people jump the fence and run away.
Victim's supporters
The shooting victim has received support from Caren McDonald's family and a judicial activist.
"I think it's legit or else we wouldn't have gotten involved," said Carl Weston of Judicial Reform Investigations, who is not a lawyer but is assisting McDonald with his lawsuit.
For better or for worse, William McDonald wants his wife back.
He explains in his lawsuit: "Why on God's green earth would anyone...file such a case as this if Petitioner's loving wife was guilty."
---
Department of Human Services child welfare supervisor charged with domestic abuse
© 2009 by Jay F. Marks, NewsOK
April 30, 2009 — A Department of Human Services supervisor in Jackson County is on leave in Altus after being charged with assaulting her teenage son.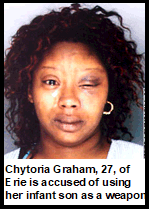 Kathryn Jan Davis, 39, was charged Monday with domestic abuse in the presence of a minor.
Davis attacked her 16-year-old son — scratching his face and trying to stab him in the leg with a fork — after he hid a box of wine from her Sunday night, according to court papers. Her 13-year-old daughter was also in the house at the time.
Davis was arrested after Altus police arrived at her home. She refused to explain the fight with her son, according to an officer's affidavit.
The teen told police he tried to hide a box of wine from his mother, who has a drinking problem, the affidavit states. She jumped on him when he refused to give it back, he said.
Officers noted two scratches on his face.
Davis' children were left at home when she was arrested after they assured police they would be able to get themselves to school the next morning.
DHS officials said Ms. Davis has worked for the agency since 1999. She is a supervisor in the child welfare division in Jackson County.
Davis is on annual leave, but officials would not say whether she went on leave because of her arrest.
---
Meeker woman charged with arson, endangering emergency personnel
Abstracted from story by Kim Morava , Shawnee News-Star
May 5, 2011 —A Meeker woman has been charged with third-degree arson and endangering the life of firefighters for setting several fires at her property in April. Firefighters responded to eleven fires on the couple's property during that month, most of them occurring during wildfire danger conditions that prompted burn bans. The fires caused several thousand dollars in damage.
An arrest affidavit in the case shows that on April 7 th Mrs. Flick reported that someone had set a well house on fire at their property.
Mrs. Flick's husband then set out a trail camera in a barbecue grill to catch whoever was setting the fires, and that camera was turned over to Sheriff's Detective Mike Carnell. The camera showed Sharlet Flick walking to the well house April 7 th carrying a flashlight. As Sharlet walked back from the well house the camera shoed the trees lighting up from the fire. The camera also showed her going back to the fire after it was going.
Sharlet Renea Flick, 47, is charged with two felonies in Pottawatomie County District Court. In count one, she is charged with third-degree arson and is accused of maliciously setting fire to an outbuilding as well as a camper on the couple's property that was unoccupied.
In a second count of endangering human life during arson, she is accused of endangering the life of multiple emergency service personnel during the commission of arson.
Among the state's witnesses in the case are nineteen Shawnee firefighters who responded to fires at the property, as well as numerous Pottawatomie County sheriff's deputies.
When she was confronted about the fires, the affidavit shows that family members were worried because Sharlet Flick was saying "strange things." She was taken to Unity Health Center and then transferred to another facility for further evaluation, according to the affidavit.
---
Former football player pushed out of twenty-fifth floor window in Tulsa
Abstracted from news reports and KnowledgeRing.com
June 7, 2011 — Josh Hilberling, 23, a 6-foot, 5-inch, 220-pound former football player, died after he plunged 17 stories from his Oklahoma apartment building, a victim of spousal abuse. He was currently serving in the Air Force.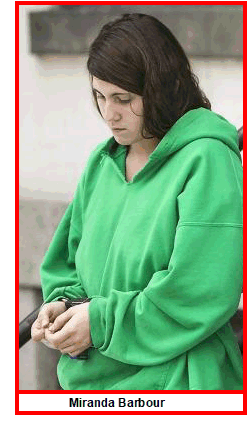 Shortly after 4 PM police were called to 1722 South Carson Avenue, the location of the University Club Tower apartment complex in Tulsa. They arrived to find Joshua Hilberling dead in the parking garage. After investigating it was discovered that he'd been pushed through his apartment window by his 19-year-old wife Amber Hilberling.
Police arrested Amber Michelle Hilberling, initially charging her with second-degree murder. However, the charge was escalated to first-degree murder after further investigation into the matter.
The couple was married less than a year but Joshua Hilberling had filed a protective order against his wife in May, telling a judge that she threw a lamp at him and busted him in the head. Other reports reveal claims by Amber Hilberling of abuse inflicted on her by the deceased during their short marriage.
Members of Joshua Hilberling's family are said to have told police that Amber Hilberling was aggressively abusive. However, police are also being told by Amber Hilberling's family that Joshua Hilberling was the abuser in the relationship. Patrick Hilberling, the father of the victim, is being quoted as saying his son stayed in an a relationship where he was being abused by his wife because he thought he could fix the problem and Amber was 8-months pregnant with the couple's first child.
Amber Hilberling is currently out of jail on a $250,000 bond.
---
| EJF Home | Find Help | Help the EJF | Comments? | Get EJF newsletter | Newsletters |
| Domestic Violence Book | DV Site Map | DV bibliography | DV index |
| Chapter 10 — Domestic Violence Against Men In The United States |
| Next — Stories Of Abused Men In Oregon |
| Back — Stories Of Abused Men In Ohio |
---
This site is supported and maintained by the Equal Justice Foundation.