Stories Of Abused Men In New Mexico
---
| EJF Home | Find Help | Help the EJF | Comments? | Get EJF newsletter | Newsletters |
| Domestic Violence Book | DV Site Map | DV bibliography | DV index |
| Chapter 10 — Domestic Violence Against Men In The United States |
| Next — Stories Of Abused Men In New York |
| Back — Stories Of Abused Men In New Jersey |
---
Stories here are reproduced under the Fair Use exception of 17 USC § 107 for noncommercial, nonprofit, and educational use.
If you have, or know of a story about abused men that should be posted here please send it, or a link to comments@ejfi.org.
Stories
Wife's sweet tone hid murder plot in Los Lunas
David Letterman's lawyers fight restraining order in Santa Fe
Albuquerque TV reporter arrested in domestic dispute with her boyfriend
Las Cruces woman bites boyfriend's lip off during argument
---
Wife's sweet tone hid murder plot in Los Lunas
July 22, 1998, Los Lunas (Reuters) — Robert Sumser says he knew something was up when his wife started treating him nicely, even cooking him dinner.
But he could barely believe it when police in the northern New Mexico town of Los Lunas told him his wife, Vickie Gillmore, had offered an undercover agent $750 to have him killed.
"I knew something was up, but not murder," Sumser told television station, KOAT late Tuesday.
"She wanted me shot, to suffer? For me to die slow or what?" he asked. "That's not right. To squeal like a pig?"
Vickie Gillmore was arrested last weekend and faces charges of attempted murder, conspiracy and criminal solicitation.
Mr. Sumser said he and his wife have had some rough times and that he became suspicious in the last few weeks when she started treating him well and fixing him dinner.
Police allege Ms. Gillmore had been looking for someone to kill her husband when she met an undercover detective and offered him $750 to carry out the hit, handing over a $250 down payment.
Thinking the man had carried out the hit, 33-year-old Gillmore allegedly asked if her husband had "squealed like a pig" in his final moments.
---
David Letterman lawyers fight restraining order in Santa Fe
Abstracted from articles by the Associated Press and Santa Fe New Mexican
December 21, 2005 (AP) — A Santa Fe woman was granted a temporary restraining order against television talk show host David Letterman on December 15, 2005. She contends the celebrity used code words to show that he wanted to marry her and train her as his co-host.
A state judge granted the ex parte temporary restraining order to Colleen Nestler, who alleged that Letterman has forced her to go bankrupt and had inflicted "mental cruelty" and "sleep deprivation" upon her since May 1994. Nestler's application for a restraining order was accompanied by a six-page typed letter in which she said Letterman used code words, gestures, and "eye expressions" to convey his desires for her and requested that he stay at least 1 yard from her. [Copy of TRO request, TRO, and letter here (1 MB, PDF)]
Ms. Nestler wrote that she began sending Letterman "thoughts of love" after his show began in 1993, and that he responded in code words and gestures, asking her to come east. She said he asked her to be his wife during a televised "teaser" for his show by saying, "Marry me, Oprah." Her letter claimed "Oprah" was the first of many code names Mr. Letterman used for her. Her letter stated that the coded vocabulary increased and changed with time, [which no doubt it did as her delusions increased] but doesn't say why she is only now seeking a restraining order.
The temporary order required that Mr. Letterman, who tapes his show in New York, stay the standard 100 yards away from Ms. Nestler and not "think of me, and release me from his mental harassment and hammering." Ms. Nestler told the Associated Press by telephone that she had no comment pending the hearing for a permanent restraining order "and I pray to God I get it."
A motion filed December 20 th on behalf of Mr. Letterman by Albuquerque attorney Pat Rogers contends the order is without merit and asked state District Judge Daniel Sanchez to quash it. "Celebrities deserve protection of their reputation and legal rights when the occasional fan becomes dangerous or deluded." Rogers' motion to quash the order contends the court lacks jurisdiction over Letterman, that Nestler never served him with restraining order papers, and that she didn't meet other procedural requirements [and lots of luck with those claims!].
Letterman's longtime Los Angeles attorney, Jim Jackoway, said Colleen Nestler's claims were "obviously absurd and frivolous...This constitutes an unfortunate [but far too common] abuse of the judicial process."
Judge Sanchez set a January 12, 2006, hearing on the permanent order but on December 27 th lifted the restraining order at the request Letterman's lawyers who contended the order was without merit.
Further, the New Mexico court doesn't have jurisdiction over Letterman, who is a resident of Connecticut, attorney Pat Rogers said [although that has never stopped a judge in our experience].
Colleen Nestler appeared in court on December 27, 2005, without a lawyer and represented herself. Responding to a question from the judge, Ms. Nestler said she had no proof of the allegations she had made against Letterman. She also said that if Letterman or any of his representatives came near her, "I will break their legs" and establish proof of her allegations.
Ms. Nestler said after the court hearing that "I have achieved my purpose. The public knows that this man cannot come near me." She also said that her comment about breaking legs "is not a threat."
"I appealed to the court for a restraining order to keep this man away from me, but now that's been denied me," she said. "He has access to me. He can actually come for me or send people. He has many accomplices. I know this sounds crazy. I was crazy to have listened to him in the beginning."
[The Equal Justice Foundation has frequently pointed out that the crazier a woman is the better "victim" she makes for the domestic violence industry. Further deponent sayeth nought.]
---
Albuquerque TV reporter arrested in domestic dispute with her ex-boyfriend
Abstracted from article by Jeff Proctor, Albuquerque Journal
December 2, 2010 — When police arrived at Joey Villaseñor's apartment early Wednesday morning, the 6-foot-tall, 185-pound cage fighter with a professional record of 27-8 told officers he was "afraid because he did not know what (his ex-girlfriend) would do," according to court records.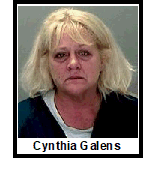 The ex-girlfriend is Ilana Gold, a 30-year-old KOAT-TV reporter and former professional figure skater who stands 5 feet tall and weighs 110 pounds. [As though size matters when one person is abusive.]
Ms. Gold was arrested Wednesday outside Villaseñor's apartment on charges of battery against a household member and larceny, despite objections from Villaseñor, who said he had not wanted her to be arrested after she apparently reached out of her car window and pulled the drawstring out of Villaseñor's hooded sweatshirt and refused to give him his garage door opener back during an argument.
After being booked into the Metropolitan Detention Center on Wednesday, Ilana Gold was released from the West Side jail on her own recognizance.
Albuquerque police spokeswoman Trish Hoffman said officers had no choice but to arrest Ms. Gold, who covers the Albuquerque Police Department and other beats for KOAT TV Channel 7.
"The domestic violence laws are very specific," Hoffman said.
"An arrest is made in these kinds of cases 98 percent of the time. It's not up to him whether she goes to jail. If we didn't intervene and make an arrest, and she went back and hurt him or worse, then we would have that whole issue to deal with."
Villaseñor, 35, told officers that Gold had called him "50 times in two hours" and had waited in her SUV outside his apartment until he got home.
When he arrived Ms. Gold "started demanding his cell phone because she wanted to see who he was texting."
Villaseñor told Ms. Gold to leave and that he was going to call the police. He then "took off running" away from her and called police from the other side of the apartment complex.
After a few moments, Villaseñor walked back up to his apartment and was trying to open the door when Ms. Gold pulled back up in her SUV, got out and "started running towards him again."
Officers saw Gold running toward Villaseñor and separated the two.
Ms. Gold told officers she was on her way home and saw that Villaseñor was at his apartment. She told officers she wanted to speak with him "because he had been cheating on her."
She acknowledged that the two had been in an argument but denied refusing to return the garage door opener.
Villaseñor said in an interview that he and Gold had dated for about four months but said the relationship ended about a month ago.
Ilana Gold has been with KOAT TV Channel 7 since 2007, according to the station's website. She is listed as a general assignment reporter.
---
Las Cruces woman bites boyfriend's lip off during argument
May 3, 2011 — Las Cruces police arrested a woman who bit off the lower lip of her boyfriend during a heated argument Sunday evening, according to police officials.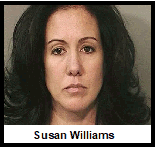 Aurelia Lorena Reyes, 26, is charged with one count of aggravated battery against a household member causing great bodily injury, a third-degree felony. Ms. Reyes was arrested Monday and is being held on a $10,000 bond at the Dona Ana County Detention Center.
At around 11 PM Sunday, May 1, Las Cruces Police were called to the Coachlight Inn at 301 S. Motel Blvd. where officers found the victim with a bloody face. The 35-year-old man was transported to a local hospital and then, because of the severity of his injuries, to University Medical Center of El Paso.
Las Cruces Police detectives said that Reyes got into a heated argument with her boyfriend and was told to leave the premises. At some point during the dispute Reyes grabbed her boyfriend's head and bit off his lower lip, according to police.
The victim's lower lip landed on the pavement, approximately two feet from the door of the couple's apartment. It was preserved on ice and transported with the victim to the hospital.
Ms. Reyes left the area and told detectives that she spent the night in the playground of an elementary school. She turned herself in to police on Monday.
---
| EJF Home | Find Help | Help the EJF | Comments? | Get EJF newsletter | Newsletters |
| Domestic Violence Book | DV Site Map | DV bibliography | DV index |
| Chapter 10 — Domestic Violence Against Men In The United States |
| Next — Stories Of Abused Men In New York |
| Back — Stories Of Abused Men In New Jersey |
---
This site is supported and maintained by the Equal Justice Foundation.