Stories Of Abused Men In Virginia
---
| EJF Home | Find Help | Help the EJF | Comments? | Get EJF newsletter | Newsletters |
| Domestic Violence Book | DV Site Map | DV bibliography | DV index |
| Chapter 10 — Domestic Violence Against Men In The United States |
| Next — Stories Of Abused Men In Washington |
| Back — Stories Of Abused Men In Vermont |
---
Stories here are reproduced under the Fair Use exception of 17 USC § 107 for noncommercial, nonprofit, and educational use.
If you have, or know of a story about abused men that should be posted here please send it, or a link to comments@ejfi.org.
Stories
Herndon woman pleads guilty after shooting her boyfriend in the chest
Domestic row explodes: two shot dead, four wounded by man's ex-wife in Richmond
Wife, in jail already for killing second husband in Virginia, is convicted after 30 years of shooting her first husband in South Carolina
Police arrest woman in connection with 1992 murder of a sailor
Roanoke woman charged in house fire after police say she warned her boyfriend
Murder-for-hire charge certified, few new details emerge in case against Dublin woman
Woman sentenced to 30 days for fatal domestic assault
Sex and money used as bait in murder-for-hire in Keeling
Execution carried out in September 2010
Ex-wife charged in University of Richmond professor's murder
Jurors have no doubt of her guilt
Redfem slant on this premeditated murder
Former Virginia Beach deputy sheriff charged with murder-for-hire of her husband
---
Herndon woman pleads guilty after shooting her boyfriend in the chest
Abstracted from the Washington Post
February 21, 1990 — A Herndon woman pled guilty yesterday in Fairfax Circuit Court to unlawful wounding of her boyfriend, who was shot once in the chest Aug. 25.
Carolyn Bothwell, 27, of the 1100 block of Player Way, said she entered the plea after the prosecution offered to recommend probation. She said she did not want to risk losing custody of her 3-year-old son.
In 2005 Ms. Bothwell, aka Doran, went to prison for a DUI hit-and-run involving a fatality. She was released in January 2006 and moved to Florida.
Crime sprees in three other states, Florida, Maryland, and Texas, included convictions for passing bad checks, theft, petty larceny, and additional DUIs.
After that, Ms. Bothwell, now known as Carolyn Doran went on to become Chief Operating Officer of Wikipedia in 2007.
---
Domestic row explodes: two shot dead, four wounded by man's ex-wife in Richmond
September 4, 1996 (AP) — A husband and wife rushed to a hospital with three friends who had been shot, then were themselves gunned down in the emergency room by the shooter, who followed them there.
At the hospital, Harold Cooper, 55, and his 43-year-old wife, Madeline, were talking to an emergency room admitting clerk, authorities said, when Dawn Cooper, Harold's ex-wife, age 42, walked in and opened fire on them.
Madeline Cooper was killed instantly, and her husband was hit, but was reported in stable condition. One of the wounded friends, an unidentified 51-year-old woman, also died. Two others, a 26-year-old woman and her 3-year-old son, were reported in stable condition after surgery. No patients or hospital staff were injured.
Dawn Cooper was wounded by an off-duty police officer working as a security guard and was hospitalized in stable condition. She was later charged with two counts of capital murder, three counts of aggravated assault, and use of a firearm in a felony, police said.
Blood was still visible Tuesday afternoon on carpeting in the emergency room's admissions area, and police had ripped open walls in about a half-dozen places to retrieve bullets.
The three friends who were taken to Chippenham Medical Center had been shot Monday night during a quarrel in front of a house on Richmond's south side, authorities said. "It was a domestic situation that spilled over into the hospital," Chippenham spokesman John Mitchell said.
Neighbor Bob Gill said the shooting began with Ms. Cooper firing into a van parked in front of the house with about eight people inside.
"From what I gathered, she pointed that thing point-blank and emptied it into the vehicle," Gill said. "They put it in gear and drove off."
---
Wife, in jail already for killing second husband in Virginia, is convicted after 30 years of shooting her first husband in South Carolina
Abstracted from story by Jesse J. Holland, Associated Press Writer
November 20, 1996, Winnsboro (AP) — The case began nearly 30 years ago with a question: How could a paralyzed man with only slight movement in a hand put a rifle in his mouth and pull the trigger? Jurors answered it Wednesday: He couldn't.
Frances Truesdale, now 54, sat silently as she was convicted and sentenced to life in prison for the 1967 killing of her husband, Ronald "Little Red" Beasley.
Truesdale is already serving a 20-year sentence in Virginia for the 1988 murder of her second husband, Jerry Truesdale, whom she married about a month after Beasley died.
In July 1967, Mrs. Truesdale told police her then-29-year-old husband loaded a .22-caliber rifle and fired at her, then put the rifle in his mouth and blew his brains out.
However, Little Red suffered a stroke a few months before his death. He could not walk or feed himself and wore diapers, and he required around-the-clock care. Friends said he had only slight movement in one hand.
"Shooting himself was physically impossible for him. How could he do it?" asked Fairfield County Sheriff Herman Young.
Truesdale's second husband, Jerry Truesdale, was shot to death in 1988 while driving a van in Roanoke, Virginia. She said he was shot from a passing car, but a jury convicted her of second-degree murder in 1992.
The Virginia investigation brought the questions about Little Red's death back into the open. And when Sheriff Young took office in 1992, one of the first things he did was reopen the Beasley case.
"Twenty-nine years is a long time to wait, but as long as justice is done, it's not too long," Young said.
Truesdale is eligible for parole within the next few months in Virginia and will start her sentence in South Carolina if released.
---
Police arrest woman in connection with 1992 murder of a sailor in Roanoke
July 18, 1998 — Henry County authorities have arrested a second suspect in the 1992 suffocation death of a Navy serviceman.
Roxanna Beck Latham, 37, of 901 Ivy Street, Roanoke, Virginia, was arrested Friday in Salem, Virginia. She is charged with first-degree murder in the death of Jerry Allen McClendon and with grand larceny.
---
Roanoke woman charged in house fire after police say she warned her boyfriend
Abstracted from the Roanoke Times
March 6, 1999 — A 38-year-old Northwest Roanoke woman was arrested early Friday after authorities said she doused a pile of clothing with cologne and set it on fire following an argument with her boyfriend.
Dana Lynn Sesso was charged with arson and with being drunk in public, according to police Lt. W.J. Beason. The charges came after police and firefighters responded to a fire in her home at 4919 Hubert Road about 12:30 AM Friday.
---
Murder-for-hire charge certified, few new details emerge in case against Dublin woman
Abstracted from the Roanoke Times
March 19, 1999 — A Pulaski County judge Monday certified a felony charge against a Dublin woman accused of trying to hire someone to kill a former boyfriend.
During a brief preliminary hearing in Pulaski County General District Court, Peggy Jo Sullivan's attorney conceded that prosecutors had sufficient evidence to take the criminal solicitation charge to a grand jury. Authorities arrested Ms. Sullivan January 19 th at a McDonald's restaurant in Dublin after she tried to hire an undercover Virginia State Police officer to commit murder.
---
Woman sentenced to 30 days for fatal domestic assault
According to the April 19, 2002, edition of the Washington Post, Karlene C. Tolbert, age 32, of Virginia was found guilty of kicking her husband down a flight of stairs during a domestic dispute. Her 44-year-old husband, Robert Tolbert, died of a heart attack shortly after the attack.
Upon her conviction, Judge Rossie D. Alston Jr. sentenced Mrs. Tolbert to 30 days in jail on an assault and battery charge. Because she has already spent time in jail before her trial Tolbert will likely spend only 12 additional days in jail.
---
Sex and money used as bait in murder-for-hire in Keeling
Abstracted from various news reports
Teresa Lewis pimped out her 16-year-old daughter
October 30, 2002 — Mrs. Teresa Lewis, 34, offered herself and her 16-year-old daughter for sex to two men to kill her husband. She provided money to buy the murder weapons and stood by while they shot her husband, Julian Clifton Lewis Jr., 51, and stepson Charles J. Lewis, 25, on October 30, 2002. The murders took place in their home in Keeling, about 120 miles southwest of Richmond.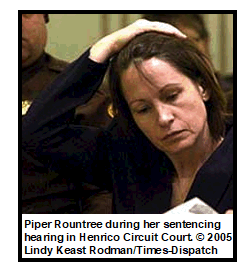 Remorselessly, Mrs. Lewis rummaged through her husband's pockets for money while he lay dying and waited nearly an hour before calling 911.
One of the gunmen involved, 20-year-old Rodney Fuller, entered into a plea agreement in which he would get a life sentence for testifying against the other alleged gunman, Matthew Shallenberger, 22.
The gunmen, Rodney Fuller and Matthew Shallenberger, were later both sentenced to life in prison. Shallenberger committed suicide in prison in 2006.
Teresa Lewis' daughter, Christie Lynn Bean, served five years because she knew about the plan but remained silent.
Mrs. Lewis pled guilty in June 2003, admitting she had her husband, Julian Lewis, and stepson, C.J. Lewis, killed so she could collect insurance money.
The defense maintained the plan was not primarily Mrs. Lewis's.and that she has an IQ of 72 according to tests conducted by a psychiatrist hired by the defense. A person with an IQ of 70 or lower is generally considered mentally retarded and ineligible for execution under a U.S. Supreme Court ruling last year.
Pittsylvania County Commonwealth's Attorney David Grimes argued that the risk Teresa Lewis posed to society and the amount of "planning and consideration" she put into the crime qualified her for the death penalty.
After hearing arguments Circuit Court Judge Charles Strauss then sentenced her to die.
Judge Strauss said in court his decision was based on his interpretation of the law. He said Teresa Lewis appeared cold and emotionless throughout the proceedings, and she had no other motive for the murders except greed.
Execution carried out in September 2010
After review by the Virginia Supreme Court, on July 29, 2010, a Pittsylvania County Circuit judge set a September 23, 2010, execution date for Teresa Lewis. Her execution was carried out on that date.
After pimping out her 16-year-old daughter to entice two men to help kill her husband and stepson, Teresa Lewis was the first woman executed in Virginia since 1912, when 17-year-old Virginia Christian died in the electric chair for suffocating her employer.
---
Ex-wife charged in University of Richmond professor's murder
Abstracted in part from an article by Mark Bowes, Richmond Times-Dispatch
November 8, 2004 (AP) — The former wife of University of Richmond professor Fredric M. Jablin, age 52, was arrested yesterday in his October 30 th slaying, less than 20 minutes after a Henrico County judge denied her custody of the couple's three children. Instead, during a brief hearing yesterday in Henrico Circuit Court, a judge awarded custody to Jablin's brother, Michael Jablin, who lives in Northern Virginia. The children had been living with the brother since Frederic Jablin's slaying. Piper Rountree had sought to regain custody of her children after Prof. Jablin was found shot to death in the driveway of his home in the 1500 block of Hearthglow Lane.
Jablin was ambushed in his driveway on a chilly October morning. Prosecutors later proved that Piper Rountree shot Jablin twice, in the arm and in the back, when he went out to retrieve the Saturday morning newspaper about 6:40 AM, October 30, 2004. He died from the wound to his back. Their three children were asleep upstairs when Jablin was killed.
Neighbors called police after hearing three shots, and one of Jablin's neighbors found his body beside his Ford Explorer about 45 minutes after police were initially called. Officers missed finding the body when they first searched the area in the predawn darkness.
The couple had been separated since February 2001 and were divorced in July 2002. Prof. Jablin had sole custody of their children, ages 8, 12 and 15.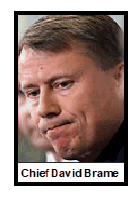 Ms. Piper A. Rountree, 44, a practicing attorney in Houston, Texas, was arrested and charged with first-degree murder and felonious use of a firearm in the shooting death of Prof. Jablin. A grand jury returned indictments charging Ms. Rountree with first-degree murder and use of a firearm in the commission of a felony.
Ms. Rountree was booked into jail the same afternoon a memorial service for Fredric Jablin was held at the University of Richmond.
In addition to Piper Rountree's arrest, police in Houston, Texas, arrested her sister, Tina Rountree, on suspicion of tampering with evidence in the case, Henrico Commonwealth's Attorney Wade Kizer said last night. That allegation stems from actions that occurred in Houston, not Henrico, the prosecutor added.
Professor Jablin held the E. Claiborne Robins Distinguished Chair of University of Richmond's Jepson School of Leadership Studies and was a management and communications specialist. He joined the university in 1994.
Dr. Jablin was also a researcher or consultant for Anheuser-Busch Inc., the Air Force, State Farm Insurance, and Westinghouse Inc., among others, the university said.
False allegations of abuse
Dr. Jablin and Piper Rountree were married in Travis County, Texas, in 1981. They first separated after Ms. Rountree alleged spousal abuse and obtained a warrant on February 6, 2001, charging Jablin with domestic assault. She also sought an emergency protective order, claiming Jablin pushed her against a wall on January 11 of that year, according to court papers.
But Prof. Jablin successfully amended the protective order, saying there was no evidence to support it. He told court officials that his wife has been under psychiatric treatment, taking numerous medications and was "psychologically unstable," court papers show. Remarkably, Prof. Jablin was allowed to stay in the family home with custody of their three children. Ms. Rountree then moved at first to a residence in Goochland County, records show, before moving to Houston, Texas.
Henrico prosecutors withdrew the domestic-assault charge against Prof. Jablin on March 5, 2001, and the protective order was dismissed on April 5 after Ms. Rountree asked for it to be dismissed. Ms. Rountree's attorney wrote the court that Prof. Jablin and Ms. Rountree were "negotiating and involved in a divorce matter and the communications and problems have subsided and there is no immediate issue or problem at this time."
According to the State Bar of Texas, Rountree's primary practice is in Houston. Fluent in German and Spanish, she graduated from St. Mary's University School of Law in San Antonio, Texas, in 1983. She has no disciplinary history with the Texas State Bar.
Jurors have no doubt of her guilt
On Saturday, February 27, 2005, jurors in Richmond, Virginia, deliberated less than an hour before convicting Ms. Rountree of first-degree murder and use of a firearm in commission of a felony. Jurors recommended she be sentenced to life in prison — the maximum sentence.
Contact Mark Bowes at (804) 649-6450 or mbowes@timesdispatch.com
Piper Rountree gets life
Abstracted in part from article by Paige Akin in Richmond Times-Dispatch
Saturday, May 7, 2005 — In a last-ditch effort to save herself from a lifetime in prison, Piper Rountree spoke directly to the judge.
"If someone out there would have asked me several months ago, I would have said my children needed a father, regardless of the things between us," she said, sobbing. "I still maintain that. They also need a mother."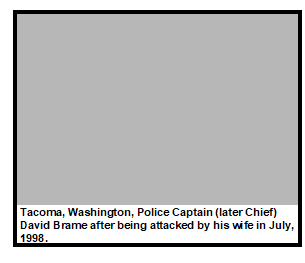 Despite Rountree's pleas for "compassion and mercy," Henrico County Circuit Judge L.A. Harris Jr. decided that her crime was so deliberate that she should spend the rest of her life behind bars. Harris then sentenced Ms. Rountree, 45, to life in prison for the shooting death of her ex-husband, Fredric Jablin, plus three years for using a firearm in the crime.
"In this particular case, the evidence certainly shows that it was willful, deliberate and premeditated," Harris said, speaking to Ms. Rountree. "You had a detailed plan to carry out the end result."
He also admonished Ms. Rountree for showing "absolutely no remorse" about killing Jablin, a popular University of Richmond professor and the father of her three children.
"There's no way that these children will ever totally recover from that," Harris said. "I think when you look at everything, the jury did the right thing."
When Harris sentenced Ms. Rountree, Michael Jablin let out an audible sigh of relief. In an interview immediately following, he said, "Having this over us was like a storm cloud. But we know where Piper will be, hopefully for the rest of her life. I thought possibly she might show some remorse, but obviously, she has no remorse for this, and that's sad."
She will be eligible for release after she turns 60 in 15 years
Ms. Rountree will be technically eligible for release when she's 60. In Virginia, most felons may petition for parole if they have served at least 10 years of their sentence by the time they turn 60, or at least five years by the time they're 65. But the board does not have to grant parole, and Ms. Rountree's attorney said he doesn't think she will be granted release.
Redfem slant on this premeditated murder
Her mother, a nephew and two friends testified about what a wonderful mother and artist Piper Rountree has always been.
"Piper is a beautiful, gentle spirit," said longtime friend Lavon Guerrero, who traveled from Austin, Texas, for the sentencing. She also described Rountree as a "tremendous homemaker" who was "100 percent there for her kids at all times. She connects to plants and animals," Guerrero added.
In the end, though, even a great mother could be a calculating killer, Henrico Commonwealth's Attorney Wade Kizer argued.
"At any point in time, she could have turned back and we wouldn't be here right now," he said. "She has shown absolutely no remorse whatsoever for this murder. She makes herself out to be the victim — that she was a loving mother, and [that] this is everybody else's fault but hers."
Contact Paige Akin at (804) 649-6671 or pakin@timesdispatch.com
---
Former Virginia Beach deputy sheriff charged with murder-for-hire of her husband
© 2011 by Tim McGlone, The Virginian-Pilot
July 13, 2011 —A former Virginia Beach sheriff's deputy has been arrested and charged with a murder-for-hire plot against her ex-husband.
Enid Albertha Collins, 47, is accused of hiring a hit man to kill her ex-husband because she did not want to continue making child support payments for their twin daughters, according to a complaint made public late Monday in U.S. District Court in Norfolk.
Ms. Collins was arrested July 1 st at a Cracker Barrel restaurant off Interstate 85 outside Charlotte, North Carolina, the day the plot was supposed to unfold, court records say. She has been in jail there since then and will be brought to Norfolk for prosecution.
Enid Collins worked as a sheriff's deputy at the Virginia Beach Correctional Center from July 1994 to July 1997 and again from September 1998 through September 2003, according to jail spokeswoman Ashley Lanteigne.
Public records indicate that Ms. Collins lived in the 1400 block of Dighton Court in Virginia Beach from 2000 until moving to Lawrenceville, Georgia, last year.
Court records say that Collins enlisted the help of a close friend to find a hit man to kill her ex-husband, Andre Tyrone Davis of Virginia Beach. In April, the friend reported the plot to Virginia Beach police.
Court records show that Beach police and the FBI obtained recorded telephone conversations between Collins and the friend discussing the plot. In one call, Collins is reported to have said that she wants her husband dead "as a doorknob," the records say.
"Collins indicated that she was upset because she had received a letter concerning her child support arrearage," an FBI court affidavit says. "Apparently the government sought return of Collins' tax refund."
The friend continued playing along with the plan, telling Ms. Collins he had found a hit man willing to kill her husband in exchange for $1,500, according to the records.
On June 22 nd the plot was finalized. They would meet at the Cracker Barrel in North Carolina on July 1 st during a scheduled trade-off of the children, the records say.
"Yeah, that's the best time for it to happen," Ms. Collins was heard saying over a recorded phone.
Instead, she was met that day by police and the FBI.
On July 8, 2011, a federal grand jury indicted Ms. Collins on five counts of interstate travel to facilitate murder for hire.
Tim McGlone, (757) 446-2343, tim.mcglone@pilotonline.com
---
| EJF Home | Find Help | Help the EJF | Comments? | Get EJF newsletter | Newsletters |
| Domestic Violence Book | DV Site Map | DV bibliography | DV index |
| Chapter 10 — Domestic Violence Against Men In The United States |
| Next — Stories Of Abused Men In Washington |
| Back — Stories Of Abused Men In Vermont |
---
This site is supported and maintained by the Equal Justice Foundation.