Stories Of Abused Men In Alabama
---
| EJF Home | Find Help | Help the EJF | Comments? | Get EJF newsletter | Newsletters |
| Domestic Violence Book | DV Site Map | DV bibliography | DV index |
| Chapter 10 — Domestic Violence Against Men In The United States |
| Next — Stories Of Abused Men In Alaska |
---
Stories here are reproduced under the Fair Use exception of 17 USC § 107 for noncommercial, nonprofit, and educational use.
If you have, or know of a story about abused men that should be posted here please send it, or a link to comments@ejfi.org.
Stories
Woman charged with burning down boyfriend's home in Bayou la Batre
Mobile woman charged with setting fire in apartment she shared with her boyfriend
Bay Minette woman charged in boyfriend's slaying
Woman convicted of manslaughter in boyfriend's slaying
Autaugaville woman charged with domestic violence
Mom accused in child porn plot and conspiring to kill ex-husband in Prattville
Don't mess with my man! Athens wife attacks husband and other woman with bug spray
Female federal judge orders four-year old daughter of Army sergeant to live with violent and drunken mother in Scotland
U.S. Supreme Court to hear SFC Chafin's case
---
Woman charged with burning down boyfriend's home
February 11, 2004, Bayou la Batre (AP) — A warrant has been issued for a woman charged with arson in connection with a fire that burned down the home of her 71-year-old boyfriend.
Joanetta Johnson, 42, is charged with first degree arson, authorities said Tuesday.
The charge stems from a fire that destroyed the home of Willie James Moye on Saturday, police said. Police had responded to a domestic disturbance call at the home 30 minutes earlier.
After patrolmen left, the woman returned, found the front door locked, and demanded to be let inside, Police Chief Johnny Joyner said.
When Moye refused, she poured gasoline on the door, set it on fire and left the scene, Joyner said. Moye waited till the flames collapsed the door, then jumped through the blazing door frame, Joyner said. Moye was not injured.
In December 2000, Moye was arrested on a domestic violence charge after Johnson was shot in the hip with a .22-caliber rifle, Joyner said. She later dropped the charges.
In 2003 Ms. Johnson was convicted of third-degree assault against Mr. Moye and given a year of probation.
---
Mobile woman charged with setting fire in apartment she shared with her boyfriend
© 2004 Mobile Register
February 12, 2004 — Carmen Marie Grant, 40, of Mobile was charged with arson Wednesday after she purposefully set a fire in an apartment she shared with her boyfriend after an argument, police said.
Officers responded to a report of fire in the 1000 block of Donald Street shortly after noon, said Officer Eric Gallichant, a Mobile Police Department spokesman. They determined that Grant had set the fire after the fight by dousing clothes with nail polish remover and then ironing them, Gallichant said.
The Mobile Fire-Rescue Department put out the fire, which caused minor smoke damage in one room, Gallichant said.
Ms. Grant, charged with first-degree arson, was being held at Mobile County Metro Jail pending a bond hearing Friday.
---
Bay Minette woman charged in boyfriend's slaying
February 14, 2004 (AP) — A 24-year-old Bay Minette woman on probation for domestic violence has been charged with murder in the fatal stabbing of her boyfriend.
Tameka Kassandra Robinson was charged Friday in the death of Wilber Michael Clark Jr., 24, who died about 3 AM following the stabbing at a Bay Minette residence.
Police Lt. Clarence Crook said Robinson had allegedly stabbed Clark and then sent someone to a neighbor's home to call police.
Lt. Crook said the couple had a history of fighting and Ms. Robinson was on probation for a recent domestic assault charge.
---
Woman convicted of manslaughter in boyfriend's slaying
Abstracted from The Mobile Register
April 14, 2004, Mobile (AP) — A jury convicted a 32-year-old Mobile woman of manslaughter in the shooting death of her 19-year-old boyfriend.
Allison Olivia Miller, convicted Wednesday, had been charged with murder in the June 2002 death of Jasper Thomas. Prosecutors claim the mother of three children tracked Thomas down and shot him for threatening to end their 5-month relationship. Miller's attorney suggested during the trial that Thomas possibly had a weapon at the time of the shooting, but witnesses testified they never saw him carry a gun, either that night or any other time. The manslaughter conviction carries a maximum of 20 years in prison.
---
Autaugaville woman charged with domestic violence
© 2005 WSFA 12 Montgomery
February 2, 2005 — 32-year-old Sandra Nixon Thompkins is in jail charged with First Degree Domestic Violence.
Police in Prattville say she got into an argument with her husband in front of a home at 206Meharry Street. Police say Thompkins then ran over her husband, 37-year-old Gene Earl Thompkins, and dragged him to the bottom of a hill on the dead-end street.
Mr.Robert Smith, Jr. lives next door. He says he heard the couple arguing Tuesday night around 9:50 PM and came outside to see what the commotion was all about. "Him and his friend was standing there still talking and in a few minutes she stomped it, put it down in gear and stomped it and the next thing you know she just hit it, bump, and he was hollering," said Smith.
A news release from Prattville Police indicates Sandra Thompkins dragged her husband 415 feet to the bottom of the hill. Smith says he saw it all and ran down the hill to see if he could help.
"When I got down there to the bottom of the hill he was laying there in the middle of the street. My wife and my son, us three were down there and I said oh lord, he ain't gonna make it. He began to tell me yes I will if you pray for me. I just kneeled down and broke down in tears and starting praying for him."
At last check Gene Earl Thompkins was in critical condition at Jackson Hospital in Montgomery. Sandra Thompkins is in jail on $10,000 bond.
---
Mom accused in child porn plot and conspiring to kill ex-husband in Prattville
Abstracted from articles by Mike Linn, Montgomery Advertiser
March 15-16, 2005 — A Prattville woman was charged Tuesday with planting nude images of her child in her ex-husband's home, just one day after police accused her of conspiring to kill Chad Baker over a custody dispute, law enforcement officials said.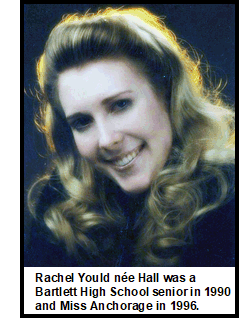 Shannon Marie Lorenzo, 32, of 769 Upper Kingston Road, is accused of breaking into her ex-husband's home and taking a picture of her 2-year-old child naked while holding an erotic toy. She is also accused of planting other images of child pornography, officials said. In addition she has been charged with two counts of permitting a child to engage in production of obscene material, one count of possession of obscene material, and one count of conspiracy to commit murder, officials said.
Ms. Lorenzo is accused of trying to hire an undercover Federal Bureau of Investigations agent to kill her ex-husband. She was arrested on the conspiracy to commit murder charge Sunday, March 13 th , after she returned to Prattville from Louisiana.
"This is definitely not the way to resolve a custody dispute," District Attorney Randall Houston said. "She didn't want to share custody, for whatever reason. Now she's looking at some serious stuff here. I'm happy nobody's dead."
She also faces burglary and theft charges, some unrelated to the case involving her ex-husband.
Ms. Lorenzo was indicted in February, 2005, on separate charges of burglary, two counts of theft of property and obstructing a governmental operation, officials said. She had posted bond on those unrelated charges, but the district attorney's office said they have filed a motion to revoke her bond.
In that case, Shannon Lorenzo is accused of working with 31-year-old Todd Silessi of Georgia. The duo is accused of stealing money, jewelry, clothing, electronics, and a .22 caliber handgun at two separate residences. The worth of the stolen goods was in excess of $5,000. Police and state attorneys say these types of cases are very rare, but do occur in towns the size of Prattville.
Ms. Lorenzo faces 10 years to life on the charges of conspiracy to commit murder and up to 51 years on the unrelated charges. She faces a maximum of more than three life sentences if convicted of all charges, officials said, and more charges may be filed within the next few days.
---
Don't mess with my man! Athens wife attacks husband and other woman with bug spray
May 24, 2006 (AP) — An Athens woman is accused of turning a can of bug spray on her cheating husband and the other woman.
According to Captain Marty Bruce of the Athens Police Department, Cornelia Cottrell Smith, 26, was at work when she received a tip from a neighbor that her husband was in their apartment with another woman. Smith immediately returned home and allegedly caught the couple in bed. The man later told police that he and the woman were only talking when his wife found them.
Officers say Mrs. Smith grabbed a can of Raid bug spray and went at them. She's charged with hitting both her husband and the other woman in the head with the insecticide can. Police say the woman needed stitches.
Mrs. Smith initially placed a call to police to say that she had just caught her husband cheating on her and that he was trying to leave.
"I'm not sure what she wanted us to do about it," Captain Bruce said, adding that officers considered going to the apartment because the call suggested that a domestic dispute was inevitable.
Their concerns were confirmed when Mrs. Smith placed a second call.
"She called back and told us she didn't need us, that she was going to take care of it," the captain said.
Officers arrived at the residence, where they found Smith's husband and the other woman bleeding from head wounds. Smith had apparently hit the couple with a can of insecticide.
Smith was arrested and charged with domestic violence in the third degree for assaulting her husband and another woman with the bug spray can on May 19 th , and later posted a $1,000 bond. A magistrate also issued a temporary restraining order against her.
---
Female federal judge orders four-year old daughter of Army sergeant to live with violent and drunken mother in Scotland
The Manley Firm, Atlanta, Georgia
Eris' father U.S. Army SFC Jeff Chafin fears for his daughter's welfare.
Testimony showed Scottish mother to be a heavy drinker and violent.
October 17, 2011 — Little Eris Chafin, just four-years old, was ordered removed from her father's care in The United States where she had resided for the past eighteen months, since February, 2010. Federal District Court Judge, Inge Johnson, Clinton Appointee to the Northern District Court of Alabama, turned little Eris over to her Scottish mother, Lynne Hales Chafin. Within hours of Judge Johnson's ruling, Ms. Chafin removed Eris from the United States. Without intervention from the Eleventh Circuit Court of Appeals, Army Sergeant First Class Chafin will be forced to plea to Scottish courts for access to his daughter.
After moving to Alabama from Scotland in February, 2010, Ms. Chafin was deported in February, 2011, after being arrested on multiple occasions for public intoxication and domestic violence. Since Ms. Chafin's arrest, little Eris had been exclusively in her daddy's care. One year after Mr. Chafin filed for divorce in the Circuit Court of Madison, Alabama, and 15 months after Eris moved to Alabama from Scotland, Ms. Chafin filed a Petition for Return of Child to Scotland under The Hague Convention's Civil Aspects of International Child Abduction, alleging Mr. Chafin had illegally and wrongfully retained his daughter from Scotland, which Ms. Chafin asserts is Eris' habitual residence. International family law attorney Michael E. Manely, who is experienced in child abduction cases under the Hague Convention, asserts that the evidence at trial overwhelmed Ms. Chafin's claims. Attorney Manely continues,
"According to the 11 th Circuit Federal Court of Appeals, under The Hague Convention, whom will retain jurisdiction over the child depends upon which country both parents last agreed would be the child's home country, the country where the child would reside. According to every document Lynne Chafin ever wrote and every person she told. Clearly that was The United States."
Court testimony demonstrated that the Army relocated Ms. Chafin in February based on her intent to reside in the United States. Ms. Chafin applied for a green card while in the United States and remodeled the family home SFC Chafin had purchased with his Army reenlistment bonus, showing she and SFC Chafin intended their daughter to live in the United States.
"Little Eris is in grave risk of physical and psychological harm which is another important consideration under The Hague Convention," says Attorney Manely. Local police testified that they arrested Mrs. Chafin for public drunkenness after responding to a call that she was assaulting a cab driver. Video of the arrest shows Ms. Chafin barely able to stand without assistance and having to be placed in leg irons to prevent her from kicking officers. The cab driver who called for the police to help is heard complaining of her hitting him in the head with her shoe and kicking the door panels out of his cab. This was not the first time Ms. Chafin was arrested in a drunken confrontation with a cab driver, either. SFC Chafin explains, "I was at home caring for Eris when her mother was arrested. I've been the only parent who has cared for her since she was taken from our home, some 10 months ago. Who'll be there for Eris now?"
There was another outburst of drunken violence on December 24, 2010. Ms. Chafin was arrested after wielding a knife over Mr. Chafin while little Eris lay asleep in the next room. Ms. Chafin awakened him threatening, "You are not getting out of here alive." Mr. Chafin retreated, putting himself and a locked bedroom door between his wife and his daughter, and called the police. Once again, upon arrival the police found Mrs. Chafin heavily intoxicated. While being transported it took three officers to subdue her. Arresting Officer Gramling, of the Madison Alabama Police Department stated in his incident report, "Upon transporting Ms. Chafin to PSB she started kicking the windows of the patrol car." Additionally he reports that after processing, "...Officer Niles applied hobbles to Ms. Chafin...While enrout [sic], she yet again became combative." According to the report and the assisting officer's testimony in federal court, it took three officers to secure Ms. Chafin in her outrageous, violent conduct.
Army SFC Chafin feels Judge Inge Johnson's Order is a miscarriage of justice, has harmed his little girl, and puts her in grave risk. He prays the 11 th Circuit Court of Appeals will move quickly to bring little Eris home. Attorney Manely is filing an appeal before the 11 th Circuit Court of Appeals in an effort to expedite Eris' return. According to Mr. Chafin, "I survived Afghanistan. I don't know if Eris can survive this."
"I'm still in shock the Judge would do such a thing to a child. Judge Johnson gave Eris just four hours to visit with me in a parking lot before sending her away with nothing except the clothes on her back."
U.S. Supreme Court to hear SFC Chafin's case
Abstracted from blog by Michael Manley, Esq.
August 13, 2012 —The Supreme Court of the United States of America has accepted the Petition for Writ of Certiorari on the Chafin v Chafin Hague case tried last autumn, Oral arguments are scheduled for December 5, 2012.
Army Sergeant First Class Jeffrey Chafin came home from the war. Soon his Scottish wife and his little girl came to the US to live with him where he was stationed, just outside of Huntsville. The wife did everything she could to establish permanent residency in the United States. Every word she wrote and everyone she spoke to heard the same story, she and the little girl had relocated to the good ol' US of A and were darn proud of it.
Before long, the couple fell out and SFC Chafin filed for divorce. Even then at the first hearing, Mrs. Chafin contended that all was well and she was staying put. Even months later when the Alabama Court set the divorce case down for trial, the wife hired an attorney who sought and obtained a continuance.
Meanwhile, the wife's drinking problems were catching up with her. She had several run-ins with the police and was repeatedly arrested for public intoxication. It all came to a head when, on Christmas Eve, 2010, SFC Chafin called for police intervention because Ms. Chafin, again intoxicated, had threatened him with a knife.
This time the police not only picked up Ms. Chafin, they kept her. She had not yet finished her permanent residency paperwork (her final interview was but days away) and had overstayed her visa upon, she contends, U.S. Immigration and Custom's Enforcement's advice. She was eventually deported back to her native Scotland. Even as she awaited deportation, she wrote that she wanted to come back to the United States.
But as soon as she landed back in Scotland, she contended that the parties' daughter was being unlawfully retained in the United States by SFC Chafin. That assertion found its way to the United States District Court in Huntsville, Alabama where, despite reviewing Mrs. Chafin's copious writings attesting to her desire to remain and hearing from many, many witnesses that Mrs. Chafin repeatedly expressed her intent to remain in the US with the child, Judge Inge Johnson somehow decided that Mrs. Chafin never really meant it. Therefore the child's Habitual Residence was Scotland under the Hague Convention and ordered the child returned to Scotland.
Within 20 minutes of the bench ruling a Motion was filed requesting that Judge Johnson stay her Order so that it could be appealed. While the ink was still damp on the page, within minutes Judge Inge Johnson had denied the Motion. Within a few hours, the little girl was already on a plane and spirited out of the United States.
The 11 th Circuit Court of Appeals, the Federal Appellate Court for Georgia, Alabama and other southeastern states, has created precedent that says once a child leaves our shores our appellate courts are powerless to do anything about it. The United States Government, the reasoning goes, becomes literally without the competence to affect any change in that now-absent child's future. Thus, the 11 th Circuit summarily denied SFC Chafin's appeal because, after all, the little girl was gone and, they contend, there was nothing they could do about it.
However, almost every other federal circuit court has also addressed this issue. Almost every single one of them vociferously disagrees and do not share the 11 th Circuit's view that the United States is powerless.
SFC Chafin's attorney, Michael Manley, then filed a Petition for Writ of Certiorari with the United States Supreme Court asking them to take up this issue and resolve whether our courts are powerless beyond our shores to affect the lives of our children when they are taken from us.
That petition was, quite remarkably, accepted, and we await their ruling. Hopefully, the Supreme Court will rule in SFC Chafin's favor and slow down the wave of children being taken from their father's by foreign brides.
---
| EJF Home | Find Help | Help the EJF | Comments? | Get EJF newsletter | Newsletters |
| Domestic Violence Book | DV Site Map | DV bibliography | DV index |
| Chapter 10 — Domestic Violence Against Men In The United States |
| Next — Stories Of Abused Men In Alaska |
---
This site is supported and maintained by the Equal Justice Foundation.