Stories Of Abused Men In Utah
---
| EJF Home | Find Help | Help the EJF | Comments? | Get EJF newsletter | Newsletters |
| Domestic Violence Book | DV Site Map | DV bibliography | DV index |
| Chapter 10 — Domestic Violence Against Men In The United States |
| Next — Stories Of Abused Men In Vermont |
| Back — Stories Of Abused Men In Texas |
---
Stories here are reproduced under the Fair Use exception of 17 USC § 107 for noncommercial, nonprofit, and educational use.
If you have, or know of a story about abused men that should be posted here please send it, or a link to comments@ejfi.org.
Stories
Brigham Young University student stalked and then raped by beauty queen
Joyce McKinney, kidnapper and rapist
Still stalking her victim in 1984
McKinney moves on to pit bulls
McKinney also wanted in Tennessee
'Sweet young woman' with red-hot temper booked for domestic violence in Salt Lake County by Paul St. John Fleming
Custody dispute turns deadly in Park City
Wife's wild ride targets husband in Salt Lake
Woman is back in jail after SUV incident
Brigham City man's death a 'crime of passion'?
Brigham City woman is charged in husband's death
Delta woman admits killing her husband
Former child star Gary Coleman's wife gets rough in Santaquin
Vernal woman tries to kill male roommate by spiking smoothie with antifreeze
---
Brigham Young University student stalked and then raped by beauty queen
Abstracted from story in the London Daily Mail
A cloned dog, a Mormon in mink-lined handcuffs, and a 30-year-old female crime of rape.
August 7, 2008 — At first it seemed a straightforward example of the oddball stories which emerge during the long, slow, news days of high summer.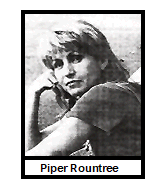 A "Californian woman" had paid 25,000 English pounds to a South Korean laboratory to have her dead pitbull terrier cloned, in the first transaction of its kind.
"Bernann McKinney" had saved tissue from the ear of her beloved "Booger," which was frozen after the dog died, and then used as DNA source material to produce five pitbull pups.
So far, so silly season. (But as the eccentric Miss McKinney beamed joyfully from the world's television screens vague bells began to ring.)
The face was familiar, albeit older and heavier. The surname was the same.
So was the alleged American, ex-beauty queen background, and the unusual devotion to pitbull dogs.
Surely it wasn't? Could the new owner of the world's first commercially cloned pups be the same woman who had gone on the run from British justice 30 years ago, having been the star of one of the most bizarre, entertaining and downright saucy court cases in living memory?
In 1978, Joyce McKinney jumped bail and disappeared after being charged with kidnapping a 240-pound male Mormon missionary, whom she had chained to a Devon cottage bed with mink handcuffs and forced to have sex.
At the time, she famously said of her victim: "I loved him so much that I would ski naked down Mount Everest with a carnation up my nose if he asked me to."
Were these two blonde, American, dog-loving and, yes, quite possibly barking mad, Miss McKinneys one and the same person?
So, dear readers, let us turn back the clock 30 years to Joyce and the sensational circumstances of what became known as the "Mormon Sex Slave Case."
Joyce McKinney was born in Avery County, North Carolina, in August 1949, the daughter of two school teachers.
She first made the headlines, albeit local ones, in 1972 when she was crowned Miss Wyoming, but soon tired of the world of beauty pageants and enrolled as a drama student at Brigham Young University, the heartland of Mormon America.
It was there that she met 19-year-old Kirk Anderson, a 6 foot 4 inch fellow drama undergraduate, some seven years her junior, from a small town near Salt Lake City.
There was a brief fling, and McKinney later claimed that she had miscarried his baby.
Overcome by guilt, Anderson, a devout Mormon, apparently sought advice from his bishop, who told him to sever ties with McKinney and move away from Utah.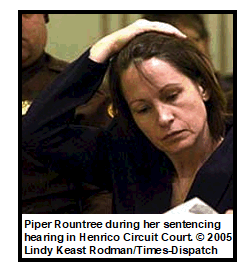 Long distance stalking
She was not prepared to be spurned so easily. Private detectives were hired to trace Anderson from the U.S. to Ewell in Surrey, England, where he was living as a Mormon missionary.
In the summer of 1977, McKinney flew to England with an architect friend, Keith May.
Joyce McKinney, kidnapper and rapist
Armed with an imitation revolver, May confronted 21-year-old Anderson on the steps of Ewell's Church of Latter Day Saints, and frog-marched him to a car in which McKinney was waiting.
Chloroformed and hidden under a blanket, the bespectacled Mormon was driven some 200 miles to Okehampton, where his kidnappers had hired a 17 th -century "honeymoon" cottage for 50 pounds a week.
McKinney later said that she had packed the fridge with Anderson's favorite food and studied The Joy Of Sex in preparation for what was to come.
McKinney's accomplice, May, chained the prisoner to a bed. For two days, McKinney tried to persuade the missionary to marry her and father her children. She even read Scriptures with him in bed.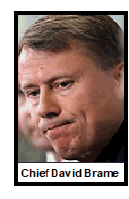 When this failed to melt his opposition, McKinney reverted to Plan B.
This involved slipping into a "see-through nightie," playing a cassette of "romantic music," having Anderson "spread-eagled" and sexually stimulating him.
She claimed this was a bondage "game" played with his full consent.
"I couldn't move. She grabbed the top of my pyjamas and tore them from my body until I was naked.
I didn't wish it to happen. I was extremely depressed and upset after being forced to have sex."
For the record, his pyjamas, later produced in court, were light blue and "silky." He also claimed to have been wearing some kind of Mormon chastity belt underneath. Alas, to no avail.
Fearing he would be kept prisoner for weeks (later there would be a body of male opinion which felt pangs of severe jealousy at his plight), Anderson promised to marry her. [Note that it is perfectly acceptable even in 2008 to mock male victims.]
But after she loosened his chains he escaped and went straight to the police.
McKinney and May were arrested at a roadblock three days later and charged with false imprisonment and possessing an imitation firearm.
Arrest and escape
There was an entertaining, if not downright titillating, committal hearing at Epsom Magistrates' Court, during which her counsel said of Anderson: "Methinks the Mormon doth protest too much... you have seen the size of Mr. Anderson and you have seen the size of my client." [Note that it is perfectly acceptable to blame and humiliate the victim if they are male.]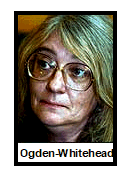 McKinney spent three months on remand in Holloway Prison — to which she had been driven weeping through the bars of a Black Maria — before being released on bail on grounds of her failing mental health.
Now the case, which had already become a worldwide cause celebre, was about to be given a new lease of life with a sensational twist.
McKinney met the similarly bailed May and the pair fled to Canada, using false passports and disguised as deaf-mute mime artistes.
It was later alleged that McKinney was helped to escape by her former landlady, an Irish woman, who went with her to a West End theatrical outfitters.
There, they bought the wigs and glasses which were later used in their flight from justice.
Back in the United States
By now an international fugitive, McKinney reappeared staying at the Hilton hotel in Atlanta, Georgia, disguised as a nun.
Before long, the press caught up with her and she dropped her disguise to revel in her sexual notoriety — she posed topless for a number of glamour magazines before the U.S. authorities finally caught up with her and she was arrested.
Once again, she was freed on bail and, by now — 1979 — there seemed to be no appetite in the UK for forcing her extradition.
McKinney then apparently vanished into an increasingly desperate world of prostitution, drug abuse, and psychiatric problems.
Still stalking her victim in 1984
Joyce McKinney resurfaced once more in 1984, when she was arrested near Salt Lake City Airport, where Kirk Anderson — the man she had kidnapped — was working.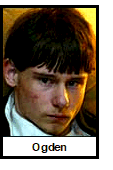 In her car, police found a length of rope and a pair of handcuffs. The implication was clear that she was about to make a second kidnap attempt, but she failed to show up in court and the case was dropped. [And how likely is it that this case would have been dropped if McKinney was male?]
McKinney moves on to pit bulls
By the late Nineties, McKinney was back in North Carolina, dogged by ill health and often in a wheelchair, living on benefits in a remote smallholding with only three ponies and a fiercely devoted pitbull called Hamburger for company.
On one occasion, she had broken into a dog pound to rescue a pitbull terrier — possibly Hamburger — which was to be put down for mauling a jogger.
"I love those pitbulls," she explained. "They're such sympathetic animals."
Locals, who knew of her racy past, treated her with suspicion, if not fear. She had a taste for litigation and was described as "one wild woman."
In a rare comment on the Mormon affair, she said in 1999:
"I loved Kirk and all I really wanted was to see his blond-haired babies running round my home. Nobody can understand what it is to lose the man you love to a cult, and I believe that is what the Mormons are. Back in Britain [then] nobody knew what a cult was."
McKinney's accomplice, Keith May was last heard of selling plumbing supplies in California, while Kirk Anderson was an estate agent in Utah and understandably reluctant to rake over his past misfortunes.
McKinney also wanted in Tennessee
According to August 2008 news stories, Joyce Bernann McKinney is also wanted in Carter County, Tennessee, on charges she tried to plan a burglary in 2004. She has been charged with criminal conspiracy to commit aggravated burglary, contributing to the delinquency of a minor, and failure to appear in court.
Crockett County authorities stated Ms. McKinney told a 15-year-old boy to break into a house, telling him she needed money to buy a false leg for a beloved horse.
---
'Sweet young woman' with red-hot temper booked for domestic violence by Paul St. John Fleming
© Paul St. John Fleming , Salt Lake Tribune
Used with permission of the author.
March 5, 2001 — The cops were ready and willing to enforce the new law that had been drawn up to help curb domestic violence.
We had received umpteen hours of training and a ton of memos on the statute, which would now require the investigating officer to make an on-scene arrest with or without the OK of the victim. It was also no longer mandatory for the agent of the law to witness the assault.
At 7:30 P.M. on the day the change in the rules took effect, I was dispatched to quell a fracas between a husband and wife. My area partner followed me to the address.
The two-story house sat on an acre of ground and was the size of a small hotel. I knocked on the elaborate door that probably cost more than my new roof. An attractive woman in her late 20's answered and invited my partner and me inside.
"I want you to arrest that pig I'm married to," she demanded. I could smell alcohol on her breath.
"What exactly did your husband do?" my partner asked, noting that the complainant did not have a mark on her. The wife threw up her hands. "He torments me. It's awful what he does. Last week, the big tightwad cut up my credit cards. Tonight, we had a huge fight because I asked him to take me to dinner."
"Where is your husband now?" I inquired.
"Barton is in the den, glued to his precious TV," she grumbled.
My partner remained with the woman while I went to get the other side of the story. It took me awhile to locate Barton. I made a wrong turn at the powder room. I finally found the male half of this dispute sitting in an armchair watching a rerun of "Gilligan's Island" on TV.
The husband had at least 30 years on his second wife. Barton stood up when I entered the room. I noticed his shirt was ripped and he had deep scratch marks down the left side of his face.
"Where did you get those?" I asked pointing to his cheek.
"From that sweet young woman you just met," he said. "The booze is getting to her. Just before you got here she threw a box of my best cigars at my head. I ducked."
Before he could elaborate, the wife stormed into the room. She was no longer on her best behavior. Picking up a paperweight from the desk, she screamed at her husband: "What are you telling this cop? Are you saying I'm nuts? I hate you, you selfish old%#$@%>%#$@%."
My partner promptly removed the polished stone from her hand. The woman was accusing him of breaking her nail when I placed her under arrest for domestic violence.
"I don't want my wife brought up on charges," the man argued. "I'll spend the night at a hotel."
"I'm sorry sir, I have no choice," I told him. "As of midnight this morning, the state is calling the shots."
Frankly, I did not expect the first person I arrested under the new law to be female. But the statute did not discriminate.
Paul St. John Fleming is a 20-year retired veteran of the Salt Lake County Sheriff's Office.
---
Custody dispute turns deadly in Park City
© 2003 by Matt Canham, The Salt Lake Tribune
Sunday, August 10, 2003 — A bitter three-year custody dispute escalated Friday evening into an attempted murder and a police shooting that left one woman dead.
Police, responding to reports of shots fired at a Park City-area home, went on a short car chase that ended on the side of State Route 248 near Park City with shots fired inside the vehicle. Three law enforcement officers then were confronted by an armed woman. Two of the officers fired once each, inflicting wounds that contributed to Natalie Turner's death.
The 31-year-old Ms. Turner, who was the executive director of the chamber of commerce in Hailey, Idaho, died of five gunshot wounds.
Her ex-husband, John Pochynok, who is in his 50s and lives in the Park City area, was in stable condition Saturday with bullet wounds directly under his heart and through his liver. He underwent multiple surgeries at University Hospital late Friday and Saturday.
Turner's 31-year-old boyfriend, also from Hailey, remains incarcerated in the Wasatch County Jail on suspicion of attempted homicide. He has not yet been charged.
Witnesses told officers they heard gun shots earlier Friday at Pochynok's log home at the Deer Mountain Estates, about six miles east of Park City. Officers found blood at the scene, according to Utah Highway Patrol Sgt. Dan Rosenhan.
At about 6:30 PM, Turner, her boyfriend and Pochynok left in a silver Mitsubishi sports car. Authorities believe Turner and the boyfriend helped a wounded Pochynok into the back seat before they drove away.
Three officers from the Summit County Sheriff's Office, Division of Wildlife Resources and the highway patrol, pursued the car on a two-mile chase down Browns Canyon.
The boyfriend pulled the car over and a struggle ensued inside, while officers ordered Ms. Turner to get out of the car, Rosenhan said.
Two shots were fired inside the car, officers said.
Then, Ms. Turner got out of the vehicle with a .357 pistol and allegedly pointed it at the officers. The sheriff's deputy and wildlife officer each fired at Turner. The highway patrol trooper did not fire his weapon.
Authorities did not release the names of the officers involved. The deputy has been placed on routine paid administrative leave while the county attorney determines if he followed the law when he used deadly force. He has at least four years of experience at the sheriff's office.
"We are very confident that he is going to be cleared of any wrongdoing on this," Summit County Sheriff David Edmunds said.
Edmunds has watched videotapes of the shooting, captured on his deputies' squad car camera.
"That is the scariest thing you can encounter as a peace officer — an armed assailant," he said.
The sheriff said he could not determine if Ms. Turner fired at the officers, but they were not injured.
Ms. Turner suffered two bullet wounds to the chest, one to the neck, one under the arm and a glancing wound to the head, Rosenhan said. Authorities believe she may have suffered wounds in the altercation at the house, and that the head and neck wounds probably were sustained during the struggle inside the car.
Police believe the boyfriend shot Pochynok at least once.
Pochynok may also face a criminal charge if the investigation uncovers that he intentionally shot Turner, Rosenhan said.
"The whole thing is still under investigation," he said.
The sheriff's office has responded to numerous incidents of domestic abuse involving Turner and Pochynok, according to Edmunds.
Ms. Turner filed a protective order against Pochynok in August 2000. They started divorce proceedings the next month, according to court records.
Turner moved to Hailey in Idaho's Sun Valley and had served as the executive director of the Hailey Chamber of Commerce for more than a year. Pochynok stayed in the Park City area running his company, Natural Choice Construction, which builds log cabins.
Ever since the divorce, a series of disputes over property, child support, custody and visitation have played out in the courts.
The last hearing was Monday before 3 rd District Judge Bruce Lubeck.
At that hearing, the judge said Ms. Turner remained in contempt of court because she moved from the state. He warned her that if she did not relocate closer to Pochynok she would be jailed for 30 days and fined $1,000, according to court records.
He also threatened to give Pochynok custody of their two children if the move did not occur before the start of the next school year.
Pochynok and Turner had a 7-year-old son and a 4-year-old daughter together. He also has a daughter from a previous marriage.
Turner's father, David, told The Times-News in Twin Falls, Idaho, that "She must have snapped. She did something she knew she shouldn't do."
Turner had traveled to Park City to urge Pochynok to stop the legal battle to gain custody of their children, her father said.
Those children are now in the custody of Turner's mother and sister.
Those who knew Turner in Hailey reacted with amazement and sadness Saturday.
"You instantly loved her, and her foremost thought was working for the community and doing what she could for the city of Hailey," Blaine County Senior Center Director Brenda Shappe told the Associated Press.
Chase victim ID'd as shooter
© 2003 by Matt Canham and Derek P. Jensen, The Salt Lake Tribune
Friday, August 15, 2003 — A woman who was killed by police gunfire last week is believed to have shot her ex-husband twice before turning the gun toward the officers, Summit County Sheriff David Edmunds said.
Natalie Turner, 31, was buried by family Thursday in Ogden. She died August 8 from at least five gunshot wounds, at least some of which were inflicted by two law enforcement officers.
Meanwhile, University Hospital officials said Turner's ex-husband, John Pochynok, in his 50s, was no longer under their care, but they would not elaborate. Pochynok had undergone surgery at the hospital for at least two gunshot wounds. Pochynok's two adult daughters refused to comment on whether their father was released or transferred to another health care facility.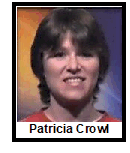 "If he's been released I'm going to be upset, because we were told we would get a phone call right away," Edmunds said. "We still need to talk to him."
The sheriff said he was told early Thursday that Pochynok underwent another surgery for bullet wounds directly under his heart and through his liver, and that he remains in critical condition.
Last week's confrontation began when Turner, the executive director of the Chamber of Commerce in Hailey, Idaho, made the four-hour drive to the Park City area with her fiance, David Gayler, 31.
Family members say Turner wanted to make a deal with Pochynok, a log home builder, in the hope of ending a long and contentious custody dispute over their two young children.
Edmunds said Turner and Gayler came to Utah with the intent to kill.
Police became involved when witnesses called about hearing multiple gun shots within Pochynok's home in Deer Mountain Estates. Shortly after, they told police, they saw Turner and Gayler helping a wounded Pochynok into Gayler's mother's silver Mitsubishi.
A two-mile police chase reaching speeds of 85 mph ended when Gayler pulled over and put his hands out of the driver's-side window, Edmunds said.
Inside the car, Pochynok and Turner wrestled for the .357 caliber pistol, and at least two shots hit Turner, according to investigators. She gained control of the gun, got out of the car and allegedly pointed it at three officers from three different policing agencies who were part of the chase. A wildlife officer armed with a .40 caliber handgun and a sheriff's deputy with a shotgun loaded with buckshot fired at Turner. They were at least 25 yards away, investigators say.
Gayler, a computer consultant, remains in the Wasatch County Jail on suspicion of attempted murder and evading police.
Prosecutor Thomas Low said he has not yet seen police reports and does not expect to file formal charges against Gayler until next week or even the week after.
"I'm anxious to go, but out of respect to other agencies we'll wait," Low said. The U.S. Attorney's Office is considering federal weapons charges against Gayler.
Low will go before a Wasatch County judge today to ask for a continuance keeping Gayler in custody.
Low and investigators say it is unlikely that Pochynok will face any criminal charges.
Deputies have recovered "significant evidence out of the vehicle that would lend credibility to the claim that this is premeditated [attempted] murder," Edmunds said. He would not comment on the nature of the evidence.
Edmunds said he knows Pochynok from the Park City area.
"Our thoughts and our prayers are with him," he said.
Turner and Pochynok's 7-year-old son and 4-year-old daughter are being cared for by Turner's family.
---
Wife's wild ride targets husband in Salt Lake
© 2006 Salt Lake Tribune
April 27, 2006 — 30-year-old Brenda White was booked into the Salt Lake County jail on Wednesday after she drove her SUV into a building, striking her husband.
The husband, Jon White, who is going through a divorce with his wife, was leaving a building in the area of 4001 S. 700 East about 4:45 PM when his wife, at the wheel of an SUV, confronted him, said Salt Lake County sheriff's Lt. Chris Bertram.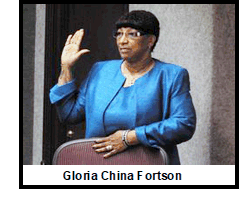 Mrs. White chased him through the parking area, and when the man went into Woodland Towers, she went straight through the doors at a high rate of speed, Bertram said. As he ran, he yelled for others to get out of the way, including a young girl.
The plate glass windows and doors came crashing down into the lobby. She drove the vehicle through the lobby and into the front lobby area where she struck her husband (see photo), which was captured on video and widely broadcast.
When Brenda noticed he was not seriously injured, she backed up and tried to hit him again, Bertram said. He got up on his own, and some people helped him around the corner. Others detained Mrs. White.
Jon White was in serious condition suffering leg injuries. Mr. White's ankle was dislocated and he needed 63 stitches.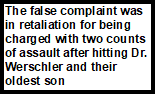 Brenda White showed no emotion and sat in the car until police arrested her for attempted murder. She was also injured from broken glass.
After receiving medical treatment for her injuries, police booked Mrs. White into the Salt Lake County Jail on suspicion of attempted criminal homicide. Deputies say its amazing no one else was injured.
Brenda White was later charged in 3 rd District Court with attempted murder, a first-degree felony, and criminal mischief, a second-degree felony. She was released from the Salt Lake County Jail after posting $500,000 bail.
Shortly after the incident, her husband filed for a protective order against his wife. The protective order applied to Jon White and also the couple's two children.
Woman is back in jail after SUV incident
May 9, 2006 — Brenda Christine White, 30, arrested a little more than a week ago for trying to run over her husband by driving her SUV through a building was arrested again over the weekend after being accused of violating a protective order.
Sunday, May 7 th just after 12:30 PM, a woman, believed to be Brenda White, called a house in the Sandy area where one of the White children was staying, said Salt Lake County Sheriff's Sgt. Paul Jaroscak.
Someone else answered the phone and would not allow the woman to speak to the child, Jaroscak said. After the phone conversation ended, the person who answered the phone called the sheriff's office.
Trying to make contact with her children is a violation of the protective order against her and she was arrested and booked back into the Salt Lake County Jail.
Judge refuses to reduce bail
Abstracted from article by Pat Reavy , Deseret Morning News
May 10, 2006 — Several incidents came to light Tuesday involving Brenda Christine White since the SUV incident on April 27 th .
White, 30, appeared via video from the Salt Lake County Jail Tuesday morning before 3 rd District Judge Stephen Henriod. Wearing an orange jail jumpsuit, White fought back tears as the judge discussed the two cases against her.
After attempting to kill her estranged husband, Brenda White was released from the Salt Lake County Jail after posting $500,000 bail. She was arrested again May 7 th , however, after authorities said she tried to call her two daughters, ages 3 and 5, who were staying at a sister's house in White City. Prosecutors claim it was in violation of a protective order filed by her estranged husband, but an official charge had not been filed by late Tuesday afternoon.
Defense attorney Jason Schatz argued in court Tuesday that the daughters were not specifically named in the protective order.
But Paul Barker, with the Salt Lake District Attorney's Office, argued it was only one of a number of reported incidents violating the protective order. The prosecution claims she has driven by her sister's house and waved to the children and has also called the police department at least three times making unsubstantiated claims.
Salt Lake County Sheriff's Sgt. Paul Jaroscak said White called the sheriff's office Saturday, claiming her in-laws purposely blew smoke into her daughters' faces.
As for her trying to call her daughters Sunday, Schatz told the court his client just wanted to talk to them. "She is a mother. These children are her life," he said. "She clearly misses her children."
Judge Henriod, however, denied the motion to reduce her $5,000 bail, prompting more animated facial expressions by Mrs. White as she looked up to the sky while her mouth dropped open.
"Do you understand your situation?" the judge asked White. "You can't have any contact."
The couple has a history of domestic-related calls involving police.
In December 2005 Jon White reported to Taylorsville police that Brenda White "started punching and kicking him and pulling his hair" and "pulled out a large chunk of his hair" while he was at the house to pick up some of his belongings, according to a police report.
After Jon White got into his car, Brenda White pounded on the vehicle "and made the comment that he should just run her over," according to the police report.
Jon White declined to pursue charges in that incident.
Taylorsville police responded to the Whites' house, near 6100 South and 1350 West, two more times on May 2 and January 27, 2006, but no police action was taken.
Brenda White filed for divorce on December 22, 2005. Jon White filed for a protective order May 1, 2006, after his estranged wife attempted to kill him.
---
Brigham City man's death a 'crime of passion'?
© 2006 by Zack Van Eyck, Deseret Morning News
Brigham police say woman admitted shooting husband
May 8, 2006 — A 44-year-old man was shot and killed early Sunday over allegations he had been unfaithful in his marriage, according to the Brigham City Police Department.
The victim was identified as John Matthew Ruiz.
Brigham City Police Lt. Michael C. Nelsen said a woman called 911 at 3:16 AM Sunday and admitted to a dispatcher she had shot her husband.
Officers from the police department and the Box Elder County Sheriff's Department responded to a house in the 1000 West block of 725 South in Brigham City. They found a woman standing outside the home and talking on a cordless phone, Nelsen said.
Two witnesses, a man and a woman, then directed officers to a 1976 motor home parked on the west side of the home. The victim was found inside with a single gunshot wound to the chest.
John Ruiz was taken by ambulance to Brigham City Community Hospital, where the medical staff pronounced him dead as a result of the gunshot wound, Nelsen said.
The couple had hosted a small party at their home Saturday night, Nelsen said. A man and woman — who had been invited to the party and had yet to leave — were in the motor home with Ruiz at the time his wife allegedly entered the vehicle and the shooting took place, Nelsen said.
Nelsen said it appeared Ruiz's wife may have learned of her husband's alleged behavior shortly before the shooting occurred. He described the incident as a "crime of passion."
"He was just in the motor home with someone else. There was a woman and another man," Nelsen said. "She (the wife) was very distraught when she found out everything that was going on."
The murder weapon is believed to be a small-caliber handgun owned by the couple. It was unclear Sunday whether the woman believed responsible for the shooting had the gun in her possession when she entered the motor home.
Nelsen said alcohol was consumed during the party, but police said the wife was not believed to be intoxicated at the time of the shooting.
Vicki Ruiz, 43, was taken to the sheriff's office, interviewed and then arrested and booked for investigation of homicide, Nelsen said.
Officers were continuing their investigation Sunday, including interviews with the man and woman who had been in the motor home.
Nelsen said police had been called to the home for an apparent domestic disturbance one other time, in 2004.
Nelsen said John Ruiz was retired. The couple's three daughters are all grown and living outside the home, he said.
Brigham City woman is charged in husband's death
May 9, 2006 — A woman who admitted to shooting and killing her husband Sunday was charged with murder Monday.
Court documents filed in 1 st District Court Monday state she has been charged with first-degree murder. She is being held in the Box Elder County Jail on $150,000 bail.
---
Delta woman admits killing her husband
Abstracted from story posted on KUTV2.com
January 9, 2007 (AP) — A woman who said she fatally shot her husband after a history of abuse will face trial in central Utah.
Using a Jeep, Carole E. Alden towed Martin Sessions' body to a grave next to a fish pond July 28, 2006, and waited until the next day to call 911.
Alden shot her husband twice, once in the laundry room and again after placing a pillow over his head, Millard County sheriff's Sgt. Morris Burton told a judge, recalling an interview with Mrs. Alden. Burton said Alden called a daughter after shooting Sessions and said, "It's over. I'm OK."
His blood-alcohol level was 0.22 percent, nearly three times the state threshold for intoxication.
The sheriff's office had responded many times to reports of domestic problems at their trailer near Delta, and Sessions had pled guilty to assault and domestic violence.
Fourth District Judge Donald Eyre found probable cause to put on Alden on trial for murder as well as other charges. A trial was set for June 6, 2007.
"At the end of the day, this woman bought a gun and executed her husband," Assistant Attorney General Patrick Nolan said.
Mrs. Alden's attorney, James Slavens, said she could claim she killed Sessions in self-defense or while suffering from emotional distress or mental illness.
Sessions' sister doesn't believe her brother's death was justified. "There's a thing called divorce that you can easily get," Rosemary Salyer said outside court.
---
Former child star Gary Coleman's wife gets rough in Santaquin
Abstracted from article by Jenna Mahler, Celebrity Cafe, and AP article
July 2, 2009 —The wife of former child star Gary Coleman was arrested for domestic violence after a dispute at the couple's home.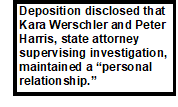 What happens when you cross a 5-foot-7-inch redhead with a 4-foot-8-inch television star from the 80s? Well, apparently you get slapped with misdemeanor charges of domestic violence and disorderly conduct. That's what happened to Shannon Price, wife of former child star Gary Coleman, after a fight at the couple's home in Santaquin, Utah on Wednesday night.
An arrest affidavit says police were called to the couple's home after Shannon Price locked Coleman out during an argument and was yelling obscenities out the window, had thrown items around the home and upended furniture generally trashing their home, particularly Coleman's bedroom.
When police responded to the "family problem," Gary Coleman was found locked outside their home. Shannon Price proceeded to scream and curse at both her husband as well as police officers while neighbors passed by and watched the drama unfold in this small town.
There is no indication that the 41-year-old Coleman, best known for his stint on "Diff'rent Strokes," was injured before being locked out of his home.
Ms. Price was eventually handcuffed and taken to the county jail. However, she was released on $1,205 bond after only about two hours. Utah County Jail records show the 23-year-old Shannon Price was booked for investigation of domestic violence, criminal mischief, and disorderly conduct.
---
Vernal woman tries to kill male roommate by spiking smoothie with antifreeze
© 2011 by Pete Kotz, True Crime Reports
Posted July 7, 2011 —33-year-old Selena Irene York is a conniving dame of skankerific proportions. Three years ago, she decided it would be a really good idea to get power of attorney over her elderly roommate, then kill him and take his money. So she bought a peach smoothie and brought it home to him...

What she neglected to tell 78-year-old Ed Zurbuchen was that she'd dumped out half of the smoothie and replaced it with antifreeze.
Ed immediately began to suffer dizziness, speech problems and numbness to his face. Tests revealed that he'd been poisoned by ethylene glycol. But while Vernal, Utah police suspected Ms. York, there was never enough evidence to charge her, and the case went cold.
Ms. York, as you can imagine, doesn't travel in circles that include the finest people. Shortly after the attempted murder, she began telling others about her failed attempt to whack the elderly gent.
Her teenage daughter told her father, Zack Elderkin, that York planned to knock off the man they'd lived with. And a year later, after she and her mother moved to Oregon, she also told her new boyfriend, Joseph Dominic Ferraro, about the poisoning.
But no one thought it might be a good idea to, say, call the cops. So life went on — until Selena York decided to screw Ferraro while he was in jail in Eugene, Oregon on an unrelated charge. In his absence, Ms. York took the opportunity to sell both of his cars and drain his bank accounts. Ferraro countered by telling the cops about her antifreeze confession.
When police confronted Selena York with the new information, she confessed to spiking the smoothie, claiming she only did it because Zurbuchen was being mean to her children.
---
| EJF Home | Find Help | Help the EJF | Comments? | Get EJF newsletter | Newsletters |
| Domestic Violence Book | DV Site Map | DV bibliography | DV index |
| Chapter 10 — Domestic Violence Against Men In The United States |
| Next — Stories Of Abused Men In Vermont |
| Back — Stories Of Abused Men In Texas |
---
This site is supported and maintained by the Equal Justice Foundation.