Colorado's Second Try At Voter Registration Database, SCORE II
---
| EJF Home | Where To Find Help | Join the EJF | Comments? | Get EJF newsletter |
| Vote Fraud and Election Issues Book | Table of Contents | Site Map | Index |
| Chapter 6 — Pitfalls Of Statewide Voter Registration Databases |
| Next — Chapter 7-Building Better Ballot Boxes |
| Back — Missouri Violates Federal Voter Registration Laws |
---
Colorado Secretary of State Buescher: Voting rolls were merged, not purged
©2009 by Colleen Slevin, Associated Press Writer
March 6, 2009 (AP) — Colorado Secretary of State Bernie Buescher said Friday that the state's new voter registration database still needs to be updated to cancel the records of people registered more than once.
Buescher said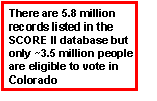 there are 5.8 million records listed in the database but only about 3.5 million people who are eligible to vote in Colorado. He said many people are listed as being registered in more than one county because they moved and reregistered and both records remain active in the database.
A dispute about whether registration records were being canceled correctly in the months leading up to November's presidential election led critics to file a federal lawsuit against Buescher's predecessor, Mike Coffman. That case is still pending in federal court, where it will be up to a judge to decide if the state violated federal election laws.
The suit was filed by national voting rights groups on behalf of Colorado Common Cause, Mi Familia Vota Education Fund, and the Service Employees International Union. They argued that Colorado was violating federal law by canceling voting records within 90 days of the election. They also alleged that Colorado's law requiring voters to be canceled if confirmation notices of registration are returned as undeliverable violates federal law.
Buescher, who inherited the lawsuit, reiterated the office's stance in court that no records were wrongfully purged. The state's lawyers have argued that federal law allows the state to remove multiple registrations within 90 days if a voter registered in a new county.
Buescher said the cancellations were wrongly labeled as a "purge" by opponents and that "merge" better described what happened. However, Buescher also said Coffman's office should have explained the discrepancy between the number of names listed and the number eligible to vote.
Under an interim settlement reached just before the election, the plaintiffs agreed to provide a list of voters they believed were wrongly canceled within 90 days of the primary and general elections. Their records were still in the database but labeled as canceled rather than active.
The state agreed that those on the list would be able to cast provisional ballots like other questionable voters but that election officials would presume that those ballots should be counted unless there was strong evidence to the contrary. Those rejected by the county would be forwarded to the secretary of state for a review.
Buescher's spokesman Rich Coolidge said 46,000 names were submitted by the plaintiffs, and 554 provisional ballots cast by people on that list ultimately were counted as valid votes either by the counties or the secretary of state's office.
Jenny Flanagan, executive director of Colorado Common Cause, said there could still be other voters who gave up on voting once they were told their notices had been returned or were told they had to cast a provisional ballot.
Buescher said he planned to start removing duplicate registrations this summer after establishing some safeguards to make sure the duplicates are truly that.
"We should be every bit as concerned about a person voting twice as a person being allowed to vote once," Buescher told a forum on election issues sponsored by Common Cause.
---
| EJF Home | Where To Find Help | Join the EJF | Comments? | Get EJF newsletter |
| Vote Fraud and Election Issues Book | Table of Contents | Site Map | Index |
| Chapter 6 — Pitfalls Of Statewide Voter Registration Databases |
| Next — Chapter 7-Building Better Ballot Boxes |
| Back — Missouri Violates Federal Voter Registration Laws |
---