Various News Reports — 2006 General Elections
---
| EJF Home | Where To Find Help | Join the EJF | Comments? | Get EJF newsletter |
| Vote Fraud and Election Issues Book | Table of Contents | Site Map | Index |
| Chapter 12 — Voting Problems In The 2006 Elections |
| Next — Why Did So Much Go Wrong On Election Day In Athens County, Ohio? by Nick Claussen |
| Back — My Day At The Polls — Baltimore, Maryland Primary 2006 by Avi Rubin |
---
The following articles are reproduced under the Fair Use exception of 17 USC § 107 for noncommercial, nonprofit, and educational use.
This is not a complete tabulation of voting problems in the 2006 general elections by any stretch of the imagination or election officials rosy claims.
[EJF comments are in Courier font]
---
Index
Pennsylvania voter attacks voting machine
Fayette County, West Virginia, programming errors lead to all-night hand count of votes
Waldenburg, Arkansas mayoral candidate voted for himself on ES&S iVotronic but receives zero votes
Newfangled machines, old-fashioned voters lead to election night delays in Nacogdoches County, Texas
Electronic voting off to rocky start in Crawford County, Arkansas
Panel seeks recount on ballots
Wrong PIN number halts election and absentee ballots found in drawer after election in Delaware County, Indiana
Republican votes given to Democrat by ES&S programming error in Baldwin County, Alabama
Problems found on 24 voting machines in Essex County, New Jersey
Vote our way with DREs or take the highway in Monterey County, California
Monterey County, California, registrar Tony Anchundo pleads no contest to 43 criminal charges
Election error sparks resignation, recount in Williamson County, Texas
Usability flaw detected in Diebold software in Utah County, Utah
ES&S iVotronic's cast ballot for wrong candidate in Cleburne County, Arkansas
Balloting trying patience in Riverside County, California
Long lines, machines that didn't go online among unresolved issues
100,000 ballots uncounted in Riverside County 10 days after election
Hanging chads looking better all the time
Diebold taking blame for invalid election results in Fairfield County, Ohio by Sean Casey
Printers failed on ES&S DRE voting machines in three North Carolina counties by Mark Binker
Problems for a blind voter with DRE in Guilford County, North Carolina
22,000 in Jefferson County, Colorado, mistakenly told they didn't vote in November
In Ohio they know how you voted
---
Pennsylvania voter attacks voting machine
'He just snapped' after encountering touch-screen gear, poll workers say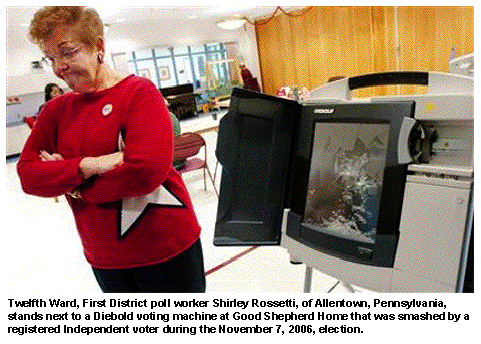 November 7, 2006 (AP) — A would-be voter in Allentown, Pennsylvania, was arrested Tuesday at a polling place in Allentown after smashing an electronic voting machine with a paperweight, according to poll workers.
Authorities didn't know what caused the outburst.
"He came in here very peaceably and showed his ID, then he got on the machine and just snapped," volunteer Gladys Pezoldt told the Morning Call of Allentown.
The machine's screen was damaged and it was not immediately clear if votes recorded on the machine could be retrieved.
Police said the man faced charges of felony criminal mischief and tampering with voting machines.
---
Fayette County, West Virginia, programming errors lead to all-night hand count of votes
Abstracted from story by Amelia Pridemore, Register-Herald
November 8, 2006 — Fayette County vote-counting hit a major snag late Tuesday night, resulting in all-night system repairs and recounts that didn't end until after daybreak Wednesday, county officials reported.
If the corrective action hadn't been taken, the county risked disenfranchising hundreds of voters, the county clerk said.
By late Tuesday night, County Clerk Kelvin Holliday said, results being tallied were increasingly off. The county commission office was counting the votes individually, precinct-by-precinct, while the county clerk's office was using software.
Around midnight, Holliday realized the spread between the clerk's and commission's results differed by hundreds of votes. Something was wrong, and he decided to immediately put the brakes on releasing any further tallies.
The major problem was with the paper ballots' scanning software, he said. "The [ES&S] software failed us...Those who voted on paper ballots were potentially being disenfranchised in Fayette County."
The paper ballot totals were so far off that all paper ballot information in the system had to be zeroed out and everyone had to start from scratch, Holliday said.
Another problem then surfaced. Discrepancies were noted in two precincts where touch-screen machines were used. Holliday said that problem was caused by poll workers not properly closing out the machines. A manual override of the computer system had to be done — the votes of 110 people had to be manually entered race-by-race.
---
Waldenburg, Arkansas, mayoral candidate voted for himself on ES&S iVotronic in Poinsett County but receives zero votes
November 11, 2006 (AP) — Randy Wooten figured he'd get at least one vote in his bid for mayor of this town of 80 people even if it was just his own.
He didn't. Now he has to decide whether to file a formal protest.
Wooten got the news from his wife, Roxanne, who went to City Hall on Wednesday to see the election results.
"She saw my name with zero votes by it. She came home and asked me if I had voted for myself or not. I told her I did," said Wooten, owner of a local bar.
However, Poinsett County results reported Wednesday showed incumbent William H. Wood with 18 votes, challenger Ronnie Chatman with 18 votes and Wooten with zero.
"I had at least eight or nine people who said they voted for me, so something is wrong with this picture," Wooten said.
Poinsett County Election Commissioner Junaway Payne said the issue had been discussed but no action taken yet.
"It's our understanding from talking with the secretary of state's office that a court order would have to be obtained in order to open the machine and check the totals," Payne said. "The votes were cast on an electronic voting machine, but paper ballots were available." [Note that courts have always ruled that the voting machines are proprietary and cannot be examined. It is difficult to overstate the frustration
A November 28 runoff is scheduled to decide the mayor's race.
"It's just very hard to understand," Wooten said.
---
Newfangled machines, old-fashioned voters lead to election night delays in Nacogdoches County, Texas
Abstracted from story by Kyle Peveto, The Daily Sentinel
November 12, 2006 — Across the state, voters reported problems with electronic voter machines Tuesday during the general election.
In Tarrant County, machines switched Democratic votes for governor to the Republican candidate, incumbent Rick Perry, and some machines left off ballot initiatives or entire races in Fort Worth, according to the Fort Worth Star-Telegram. According to the Houston Chronicle, machines in Fort Bend County were delivered to the wrong precincts, delaying many local elections.
But in Nacogdoches County, the bulk of the election glitches stemmed not from the newfangled electronic machines but from the traditional paper ballots. And local elections were not decided until 11:15 on election night. [Obviously voters didn't trust the machines and a hand count was necessary. Why have the voting machines at all?]
About 80 percent of all Nacogdoches votes were recorded on paper ballots, and the state recommended that elections administrators examine every paper ballot to search for write-in votes that may not have been recorded by the scanners. After hand-examining the paper ballots, loading the computerized returns from the voting machines took less than a half-hour.
"The public just doesn't trust the equipment," said Debra Gaston, elections administrator. "That's why we had so many paper ballots." [Stating the obvious. What isn't obvious is why the county doesn't use the hand-counted paper ballots voters prefer?]
On Election Day, eight voting machines malfunctioned, according to Todd Stallings, assistant elections administrator. One Douglas machine crashed while a voter was casting a ballot, and Stallings had to call the equipment's manufacturer, Hart InterCivic, to fix it.
Stallings said on Election Day he had planned to run accuracy tests, which are required by law, on the computer that records the tallies. The tests had to be done before any information was loaded off the electronic voting machines, and Stallings was the only worker certified to run the tests. But while he was out repairing machines and closing down two polling places, he had no time to run the tests.
Once the polls closed, area voters expected quick results for early voting numbers, but no reports were made until 11 PM. When Stallings had completed his duties and returned to the courthouse annex, where the counting took place, it was 8:30. He ran all the tests on the computer and fixed a problem with a flash card — a hard plastic disk containing the electronic ballots — and he had to call the equipment manufacturer again. But after all the preparation, Stallings was able to run all the electronic ballots in about 20 minutes.
Debra Gaston said the election was unique, because 41 percent of county voters turned out — 11 percent above the state average — and because they had to hand-count every paper ballot, it slowed the results. Though the results took longer than many had expected, Gaston said she is confident of the results.
---
Electronic voting off to rocky start in Crawford County, Arkansas
Abstracted from story by Melinda W. Bigelow, Press Argus-Courier
November 13, 2006 — Unexpected problems with the new [ES&S] electronic voting machines and pressure to open the polls early started Tuesday's election off to a bad start.
The chaos did not end until Thursday morning when a deputy county clerk discovered votes from the iVotronic voting machines of Van Buren's Precinct 1-1 were not included in the tally presumably concluded about 4 PM Wednesday.
The oversight was noted when the precinct printouts were being proofed to ensure the number of marks made by the hand ballot count and the Personal Electronic Ballot (PEB) votes totaled the precinct totals. There were no iVotronic votes included.
The three-member Crawford County Election Commission meets at 9 AM Monday to review the election woes and decide whether to recount the nearly 2,000 paper ballots that were counted by hand.
Three races, Van Buren city attorney, District 10 justice of the peace and Mulberry alderman Ward 2, Position 1, were decided by 22 or fewer votes.
Twenty votes separated the outcome of the District 10 JP race with two votes difference between Charlotte Stapp and Larry Starkey on the Mulberry City Council.
Hand-counting the ballots was necessary after Electronic Systems & Software (ES&S), the state's election service company, provided the wrong ballot format to PAC Printers. The Van Buren print shop has printed Crawford County ballots for many years, said Crawford County Clerk Patti Hill, who prefers to have the ballots printed locally to keep business within Crawford County. The format could not be read by the electronic tabulator. [As a result all paper ballots had to be hand counted. Why use electronic voting machines if you are going to have to hand count the ballots anyway?]
The laborious, time-consuming process of one person verbally calling off names of the candidates receiving a vote with another person of the opposing political party marking a line to denote the vote on a tally sheet continued until 1:40 AM Wednesday. Due to fatigue of the counting crew the process was halted and resumed in the county clerk's vault at 10 AM Wednesday. The process continued until mid-afternoon Wednesday.
All election materials, the PEBs, paper ballots, provisional and absentee ballots, were secured Tuesday night in a locked closet in Hill's office. The office was locked. Only Hill and her staff have keys to the county clerk's office, she said. The courthouse also was secured.
Deputy Clerk Marcy Smallwood, who is trained on iVotronic ballots, said:
"When we process PEBs, we compare PEBs to the list of voters to printouts of the polling site before the PEB is loaded on the computer. On the Van Buren 1-1 precinct, we did not have the totals tape from the precinct Tuesday night. That is a safeguard, a checks and balance procedure. On the PEB, we put it to the side. The problem was the poll workers put the total with the provisional envelopes."
Concerns over integrity of the Van Buren 1-1 PEB was checked by Crawford County Election Commissioner Bruce Coleman Thursday. Coleman, accompanied by a member of the media, re-collected data from the supervisor's PEB for all four machines used at the Van Buren Municipal Complex polling site to cross-reference the PEB data stored in Hill's office. They were identical.
Data from all iVotronics used at a precinct are collected after the last person votes. To ensure safeguards, the data is downloaded onto three PEBs — two supervisors and the one downloaded onto a computer for counting. All iVotronics have serial numbers. Information printed on paper tally rolls, similar to adding machine tape, includes votes cast, serial numbers and time-stamps when the machine is opened and closed. One printout goes to the Election Commission, one to the county clerk's office with the third counted.
The first election using electronic voting equipment was hampered by a media report the polls opened at 7 AM instead of the opening time of 7:30.
"There were people banging on the doors at 7, demanding to be allowed to exercise their constitutional right. The election workers don't get there until 7 and they weren't ready. Some of them got rattled," said Hill. "There was an unauthorized poll watcher at Rena Church of Christ that caused some confusion."
Other glitches included difficulty loading the paper into the machines.
Dead electrical outlets at some polling precincts caused election workers to give out paper ballots while at other precincts, voters were given a choice to vote electronically or use a traditional paper ballot.
"There should not have been any paper ballots used. We voted almost 3,500 people here in this office in two weeks and never used a paper ballot. We also had people waiting in line to vote," said an employee in the county clerk's office. [And next election even more paper ballots will be used if national trends are followed after DRE voting is introduced.]
Citizen complaints regarding voting in mixed city-county precincts prompted Coleman to explain the voter has the responsibility to scrutinize their ballot and request the correct ballot.
"If they are given a paper ballot or electronic ballot, they need to check it out. If it is a paper ballot, you can ask for the correct ballot. Once the ballot is voted and placed in the ballot box, there is nothing you can do. It is a voted ballot. But if the ballot is voted and given back to the election official in exchange for the correct ballot, it is marked as a spoil," he said regarding a husband/wife reportedly being given one county and the other a city ballot although they live in the same house. [The familiar "blame the voter" routine.]
Allegations of citizens voting past 7:30 PM could be attributed to them being in line to vote at 7:30 but having to wait, Coleman said. [Next time these voters will use absentee ballots.]
"We have told the poll workers to use a cell phone for the correct time because that time is accurate. The voting machine will tell the poll workers that it is past 7:30 and they have to override it," he said. [Next, blame the election judges and poll workers. Maybe, just maybe, the problems are with the machines and the election officials.]
Panel seeks recount on ballots
Abstracted from story by Rusty Garrett, Times Record
November 14, 2006 — In an attempt to dispel rumors of impropriety surrounding the November 7 th vote and recount, members of the Crawford County Election Commission voted Monday to recount the 1,700 paper ballots cast in the general election.
Election workers will conduct the recount, which will begin at 8 AM today and will continue until they are finished, a task estimated to take at least six hours. Commission members will be available for consultation or to answer questions but will not be involved in counting, Chitwood said.
Most of the paper ballots were cast when electronic voting machines used in the election failed or were without power. [Also, locally-printed paper ballots could not be read by ES&S optical scanners necessitating a hand count.]
Chitwood said numerous questions have been raised about the hand count, which began after the polls closed Tuesday and lasted until after 2 AM Wednesday. He said at that time workers were becoming fatigued and, realizing they were several hours from completing the work, he instructed them to go home and resume counting later that day.
Commission members said the ballots were locked up overnight at the courthouse and a police officer was on duty all night guarding them.
Still more questions about the count surfaced Thursday when poll workers checking vote totals against the number of ballots issued, discovered a discrepancy of about 300 votes in one of the polling precincts, Van Buren 1-1. A check of records showed that the numbers from one of the memory packs used to record votes in the electronic machines had not been added to the final, unofficial vote totals.
The votes have been added and the outcome of no races changed. However, according to revised totals, in four county races — that of Van Buren city attorney, District 10 justice of the peace and alderman races in Mulberry and Mountainburg — no more than 25 votes separate winners and losers.
Chitwood repeated assurances Monday that at no time were ballots or memory packs missing, uncounted, or not accounted for. He also pointed out that results that have been released are not official until the commission certifies them. [Citizen trust seems to be at a low ebb here.]
Certification won't occur until the county receives some 27 absentee ballots that are still out and the commission rules on whether to accept 20 provisional ballots cast in the election. The absentee ballots are due at the courthouse Friday.
Today's recount — an arduous task, requiring workers to read and mark a tally sheet for each vote on the ballots — is a further cause of frustration among election officials. Prior to the election they were assured the template for the paper ballots they ordered would be suitable for electronic scanning and tabulation in counters provided by Election Software & Systems, the firm under contract to provide the state with election machines and equipment. However, the software provided by ES&S does not read the marked ballots, requiring the manual count. [And why wasn't this tested before the election?]
The template was identical to that used in earlier elections, where the machines worked properly, according to County Clerk Patti Hill. Hill and commission members said they have tried repeatedly to contact ES&S officials in the wake of the election and have so far not received any response to messages left on company answering machines. [Lets see, election officials blamed the voters, poll workers and elections judges. Only fair to blame the vendor as well. Guess responsibility isn't a word they've heard.]
Hill suggested a meeting be called between state election officials, the Arkansas Secretary of State and an executive with ES&S to discuss issues that have arisen in elections and the company's contract with the state. [Obviously some more kickbacks are needed.]
---
Wrong PIN number halts election and absentee ballots found in drawer after election in Delaware County, Indiana
© 2006 by Seth Slaubaugh, The Star Press
Another mistake for GOP-controlled election board narrowed the gap in the county recorder's race to 25 votes.
November 14, 2006 — The Delaware County Election Board conducted a special meeting Monday afternoon in Muncie to count 63 absentee ballots that had been left in a bottom drawer in the county clerk's office on Election Day.
Republican Jane Lasater's lead over Democrat Claudette King in the race for county recorder shrank to 25 votes after the sealed ballots from precinct 22 — a Democratic stronghold voting at Grissom Elementary School — were counted.
"They were just overlooked," Mary Jane Upchurch, Republican election-room commissioner, told board members.
Democratic election-room commissioner Linda Honeycutt agreed. "I have no idea how we missed those," she said.
While the ballots were found in a drawer that was no longer kept locked after Election Day, Republican County Clerk Karen Wenger said: "I don't question the integrity of these ballots at all. These are very good ballots." [More faith-based election procedures.]
The ballots were sealed in security envelopes that had either been mailed in or delivered by traveling boards that visit absentee voters in places such as nursing homes.
It was Democratic election board member Phil Nichols — a veteran politician — who caught the election-room's mistake and alerted Wenger, who began searching for the missing, active ballots.
While reading precinct summary reports several days after the election, Nichols noticed that only 17 people had supposedly voted by absentee ballot in precinct 22. Nichols knew that more people than that had cast absentee ballots in that precinct and alerted Wenger.
The clerk told The Star Press that the county will need to employ more election workers in 2008.
"They were tired and overworked," Wenger said, offering a possible explanation for ballots being left in a drawer.
Election-room employees worked until 1:30 AM on the Saturday before Election Day, then returned to work at 7 AM on that same Saturday. They reported to work at 8:30 AM on Monday and at 5 AM on Tuesday.
This was the second mistake of the 2006 general election for the Republican-controlled county election board. The first error — an incorrect PIN number — halted voting on electronic voting machines on Election Day. As a result, 1,699 provisional, paper ballots were cast and the polls were kept open until 8:40 PM.
At Monday's board meeting, Nichols recommended the board schedule a public hearing to give disgruntled voters a chance to air their grievances. That could improve future elections, Nichols said. Wenger agreed.
The board plans to meet again Friday to act on 41 contested, provisional paper ballots that were cast by voters who were not registered, lacked a photo ID or distrusted voting machines on Election Day. Nichols's recommendation for a public hearing also will be discussed at Friday's meeting.
Before the 1,699 provisional ballots were counted, Lasater led King by 25 votes — 15,503 to 15,478. After the provisional ballots were counted, Lasater's lead increased to 73 votes — 16,316 to 16,243. But after the missing ballots from precinct 22 were tallied, Lasater's lead narrowed back to 25 votes — 16,323 to 16,298.
King and her attorney, Joe Hunter, who attended Monday's board meeting, have not decided whether to challenge the outcome of the election.
"I'm crunching numbers that don't make sense," King said in an interview. If you don't count the 1,699 provisional ballots, "I would have won," King said.
Lasater and her attorney, Charles Clark, also attended. "This is worse than election night," Lasater said as the ballots were being counted.
Contact news reporter Seth Slabaugh at 213-5834 or by email seths@muncie.gannett.com.
---
Republican votes given to Democrat by ES&S programming error in Baldwin County, Alabama
Abstracted from story by Guy Busby, Press-Register
Error turned Republican Gruenloh into a Democrat in uncontested race
November 14, 2006 — A Baldwin voting machine glitch discovered after the November 7 th election turned unopposed Republican County Commissioner Wayne Gruenloh into a Democrat, at least in some of the ballot-counting, officials said Monday. The error did not affect the outcome of any races, said Probate Judge Adrian Johns. He said the 2006 problem was a programming error and not a faulty piece of equipment, as was the case four years ago.
In 2002, a Baldwin computer malfunction triggered controversy in the gubernatorial election by awarding Democratic Gov. Don Siegelman 6,300 more votes than he had received. When officials corrected the tally, Republican challenger Bob Riley gained statewide victory by a thin margin.
Programmers for Election Systems and Software, the company that supplies the machines to Baldwin and many other Alabama counties, listed Gruenloh as a Democrat on data packs that record voting information, said Mark Kelly, an ES&S representative.
Kelly said he was not aware of this problem occurring before. "Everything goes through two or three levels of testing and proofing, and unfortunately it slipped through all of them," he said. "We're not in any way trying to excuse the fact that an error has occurred." [Left open is the question of how this kind of error could be detected, let alone corrected, if this was an opposed race?]
Kelly said the data packs and central counting system for Baldwin County were re-examined after the error was discovered. All other returns are correct and all candidates were listed correctly, he said.
Gruenloh was listed as a Republican on the paper ballot that Baldwin voters filled out November 7, 2006. They had a choice of voting for Gruenloh individually or as part of the Republican Party ticket.
According to Kelly, [the ES&S rep] the computer program would have correctly recorded the individual votes for Gruenloh. But instead of also awarding him Republican-ticket votes, it apparently gave him Democratic-ticket votes. [And confusion reigns as this doesn't make sense.]
Johns said he and other election officials noticed Wednesday that Gruenloh's totals did not match those of other unopposed Republican candidates. "Most unopposed Republican candidates, such as myself, got about 35,000 votes," Johns said. "He got about 28,000. Something appeared to be out of sync, but we didn't know what."
---
Problems found on 24 voting machines in Essex County, New Jersey
Abstracted from article by Lauren DeFilippo, LocalSource.com
November 15, 2006 — Essex County's new electronic voting machines got their first real test last week as most of them made it out of the warehouse and into polling locations throughout the county. The machines, which had previously been used in the June primary, handled approximately 166,263 voters on Election Day, or 33.2 percent of the county's 500,481 registered voters.
The election also marked the first time the county could remotely tally the votes as a result of using the new machines, County Clerk Christopher Durkin said. However, 24 machines experienced problems, Superintendent of Elections and Commissioner of Registration Carmine Casciano said November 7 th .
Of the 24 machines to experience problems, 14 will have to be replaced outright because of circuit problems. Another six machines scattered throughout the county experienced switch problems, but were able to be fixed by technicians, Casciano said. The machines were located in Fairfield, Roseland, West Orange, East Orange, Newark and Bloomfield.
When the machines were not functioning properly, provisional ballots were used so county residents could exercise their rights, he said. [When all else fails use hand marked paper ballots. Why not start and finish with paper ballots and save the time, trouble, and expense of DREs?]
Casciano said his office fielded several calls from all sorts of people: do-gooders, officials, people trying to be helpful, and people trying not to be helpful. [Election officials don't like criticism. It hurts their delicate feelings.] He said that the counter on the machines raised some eyebrows.
The machines, which are manufactured by California-based Sequoia Voting Systems, come with two counters, a public counter and a protector counter, Casciano said. The public counter starts at zero and moves forward with every ballot cast. The counter is reset to zero at the start of each new election. Unlike the public counter, the protector counter does not reset to zero at the start of each new election. Therefore, some machines already had public counters with readings in the mid-30s from the previous election.
However, some residents reported voting problems in towns other than those listed by Casciano, such as Montclair, South Orange and Irvington.
Poll workers at the Redwood Avenue School location in West Orange said they had seen a steady stream of residents. One of the three machines set up in the gym at the school did go down for about an hour, but a technician came to the site and showed poll workers how to fix the problem themselves, in case it were to happen again, Kevin McDonald said.
The purchase of the new voting machines was a year-long controversy. Residents mobilized and cautioned the freeholder board and the county's administration about purchasing the Sequoia machines. The county was required to purchase the new electronic machines under the federal Help America Vote Act, passed in 2002. [False]
The back and forth debate about the machines held off a vote to purchase them until last November.
Approximately 70 percent of the purchase was reimbursed by the state. However, the reimbursement hinged on purchasing machines that were certified by the Office of the Attorney General. [No, the taxpayer's paid for these machines, not the State.]
The Sequoia Advantage, which the county ultimately purchased, is the only full-faced electronic voting machine certified for use by the Attorney General's Office. However, the machines did not arrive until just weeks before the June primary, despite a February delivery date specified in the county's contract with the firm. The county is currently in negotiations with Sequoia about payment for the machines.
---
Vote our way with DREs or take the highway in Monterey County, California
'No paper ballots,' says poll watcher.
November 16, 2006 — A volunteer poll watcher says election officials specifically directed poll workers not to tell voters they had the option of using paper ballots in last Tuesday's election. This is not illegal. But, says poll watcher Susan Sisson, it's not exactly democracy in action, either.
"The length of the line didn't matter," Sisson says. "It didn't matter that people were walking away. The instruction was clear: No paper ballots. If someone asked for one, workers were supposed to discourage it. In all my years, I've never seen anything like it." [You will vote on the machines we tell you to and you will like it. Absentee ballots, here they come. But that is a personal choice, not because of the DREs. Yeah, right.]
On November 7 th Sisson worked as a poll watcher for the Democratic Party at a North Salinas precinct. "We didn't have enough machines, and people were waiting 45 minutes, an hour, to vote," Sisson says.
She says poll workers called elections officials for guidance, and a field inspector came out to the precinct.
"He didn't care about the lines or the waits," she says.
"He had one message: 'They can wait. Do not offer paper ballots.' He didn't want voters to be told they had an option instead of waiting. That was the instruction he gave everyone: 'You will not tell anyone about paper ballots, period.' It wasn't a secret. We all talked about it."
Despite the warning, Sisson says she did tell a friend in line that he could avoid the long wait and request a paper ballot.
The backlash, Sisson says, came fast.
"Don't tell voters about the paper ballots," Sisson says she was scolded after she defied the directive by giving the friend the tip. "The threat was clear: If I told another voter they had the option to use paper, I would be thrown out of the precinct."
The result, according to Sisson, was a decrease in voter turnout. Sisson says she watched dozens of voters, hour after hour, quit waiting and leave without voting. "It was very hard to watch," Sisson says. "I wanted to yell, 'No, don't go. Please just vote,' but I couldn't."
As a poll watcher, Sisson's job was to immediately report the situation to the Democratic Party. Chairman Vinz Koller says Sisson did just that, and the club's lawyer, Barbara Kautz, contacted Acting Registrar of Voters Claudio Valenzuela. "We were told that he would immediately take care of it," Koller says.
Valenzuela denies that anyone from the Democratic Party contacted him. But Valenzuela admits his office specifically avoided offering voters the option of using paper ballots. "Anyone who insists on voting on paper, they can vote on paper," he says. "Do we offer it? Encourage it? No. They're for emergencies. We vote on electronic machines; that's how this county is set up. The day my bosses tell me otherwise, I'll change it." [Jawohl, Herr Valenzuela! Obviously elections in Monterey County, California, are under the control of party bosses who insist voters use ephemeral methods of voting. Wonder why that could be? See following story for explanation.]
Sisson says she was told paper ballots were simply too much trouble. "And I had to wonder who they were too much trouble for," she says. "Election officials who implemented that policy had it backwards. They were serving themselves instead of voters. They were saying, 'Here, make it easier for us later. Do it our way.'"
Valenzuela explains that unusually long lines countywide were due in part to a particularly lengthy ballot and voters printing two and three copies of their ballots. "We ran out of paper in a lot of machines," he says. [And just maybe the fundamental problem is with electronic voting machines, ja? And note that VVPAT DREs need the paper changed every 75 votes or so.]
But Sisson blames machines for the long waits on election day. "We timed it," she says. "It took the average voter almost eight minutes to complete. With three machines, that's only 24 people per hour. Paper could have fixed that."
Despite Sisson's claims, Valenzuela says the 1,600 paper ballots cast in this election were three to four times the usual number of paper ballots cast, though not surprising considering roughly 60 percent of all registered voters in Monterey County voted. The record turnout will mean Valenzuela likely won't certify the election results much before the December 4 th deadline. [Hint for Herr Valenzuela: Look for large increase in absentee voting next election.]
As Valenzuela and his staff continue to press on, half a dozen races countywide are still too close for any candidate to declare victory. [Obviously citizens didn't get instant election results despite being forced to use DREs.]
In Monterey, City Council candidate Nancy Selfridge holds a 164-vote lead over opponent Ralph Widmar, according to the latest figures. In Salinas, challenger Tony Barrera leads incumbent Councilman Robert Ocampo by 47 votes. In Soledad and Gonzales, only 14 and 17 votes, respectively, separate council candidates. And in Sand City, in a tight race for two seats on the City Council, Craig Hubler leads with 24 votes, Jerry Blackwelder's got 22, Chris Monypeny's in third place with 19, and Bjorn Lundegard trails with 16. [Sure would have been a problem to hand count paper ballots in this city council race that was still undetermined after a week with DRE voting.]
In some of these races contestants lead with fewer votes than the number of people Sisson says she saw leaving just her precinct on election night without casting a ballot.
"We did what we could," Valenzuela says.
"We trained all of our workers, we gave them what they needed, and they deserve credit for their hard work. Nobody was denied the right to vote. Nobody. If you walked out because you were tired and didn't want to wait, that was your choice. We can't do anything about that." [Just maybe Herr Valenzuela could use hand marked paper ballots next time?]
Monterey County, California, registrar Tony Anchundo pleads no contest to 43 criminal charges
Now-former 13-year election official who once told us voters we need to have "trust and faith" in how he would count votes — may avoid jail time in light of plea deal.
December 12, 2006 — In October of 2005, just prior to the Monterey County, California, November election with their new Sequoia touch-screen voting systems, Registrar of Voters Tony Anchundo and I had an exchange on the radio.
I asked him how discrepancies would be handled, if any were found between the machine-reported results on the county's new systems and their planned audit of the so-called "paper trails" from those unreliable systems.
The 13-year election official told me, "There is obviously going to have to be some trust and faith in the elections official, or in this case, it's me." (Audio of full interview here, text transcript here, Court TV's Catherine Crier picked up on our reporting of this in a video editorial here. ) Registrar Tony Anchundo would later plead "no contest" to 43 criminal counts.
In July of 2006, Tony "Trust Me" Anchundo was charged with 43 criminal counts, including charges of forgery, misapplication of funds, embezzlement, falsification of accounts, and grand theft of nearly $80,000 of county money.
And finally, yesterday, Anchundo pled "no contest" to all 43 criminal charges. His plea deal may help him avoid any jail time at all. He was facing a possibility of some 12 years in prison.
Anchundo is the response to any election official, politician, or voting machine company spokeshole who tells us that we must have trust in our election officials that they will do the right thing, that they'd never do anything untoward, or game an election...despite their insider access to voting equipment that can be tampered with to allow a single person to steal an entire election without a trace left behind.
Trust them? Not bloody likely. Our country and constitution were not founded on trust, but on checks and balances. The disgraced and disgraceful Anchundo is the object lesson in that regard for all time.
Truly honest elections officials will be the first to tell you they should not be trusted. Leon County, Florida Supervisor of Elections Ion Sancho said in a speech last May, "Trust no one. If it can't be verified, it can't be used." Yolo County, California Registrar-Clerk Freddie Oakley wrote last June in response to many of her colleagues, "They also argue that, 'We have to trust our poll workers...' To this I can only say...only if they are incorruptible."
Moral: Trust no one when it comes to your elections. Especially those who tell you they should be trusted.
---
Election error sparks resignation, recount in Williamson County, Texas
Abstracted from article by Ashley Richards, Hill Country News
November 22, 2006 — On Friday, November 17, Elections Administrator Debra Stacy announced her resignation after questions arose regarding the tabulation of early voting ballots, prompting a court-ordered recount.
A recount was initially an issue when the software from Electronic Systems and Software Inc. (ES&S) counted approximately 91,000 total ballots while voter sign-in sheets recorded approximately 84,500 voters. Elections officials found disturbing discrepancies in the early voting counts, said John Willingham, county human resources director.
A press release from Stacy's office originally pinned the miscount on the ES&S software program but Connie Watson, county public information officer, said further investigation revealed the input of the procedures by the election administrator was incorrect, causing some ballots to be counted multiple times.
"The software produces an auto report which shows you the keystrokes that were made during tabulation," Watson said. "From their report we know there were procedural errors made. Some precincts were counted twice. Those are some of the things we were working on this week with an ES&S official." [And we were under the impression, obviously false, that the software was supposed to prevent errors like this.]
Don Blakely, ES&S regional sales manager, addressed the committee and reported that communication between the software company and the Williamson County Elections Administration was lacking.
Of the 145 counties for which Blakely said the company conducts elections, Williamson County was the last to send its information for ballot coding and printing and some of the information was found to be incorrect, causing further delay.
Richard Torres, county Democratic Party chairman and member of the county's election commission, addressed commission members John Doerfler, county judge, Lisa Birkman, Precinct 1 commissioner, and Greg Boatwright, Precinct 2 commissioner. Torres recommended the Commissioners Court reevaluate the set up of the Elections Administration.
"That elections office is really set up for failure, and it did," Torres said.
Birkman submitted a memorandum requesting that the faults in the county's election processes be evaluated and recommendations for improvements be made. She mentioned concerns from her constituents including long lines at polling locations and poor training of elections officials.
Linda Martin from the county's elections office stood in place of Stacy at the meeting and Willingham, though he was not originally involved in this election, presented the commission with a precinct by precinct break down of the final ballot count and interpreted the numbers for early voting, election day voting and related variances.
"We (re)counted all of the ballots that we could clearly identify as being early voting ballots," Willingham said.
The grand totals show that 84,795 signatures were on the voter sign in sheets across the county but 376 fewer ballots were counted in the final results. Willingham said the 0.44 percent variance between the number of ballots counted and the total signatures is not within the typical limits of variance. A positive or negative difference of 150 to 250 between the two totals is more normal, Willingham said.
He said some of the variance could be attributed to early voting and election day ballots commingling. Willingham also explained that early voting returns in the precinct by precinct totals that showed variance could have been caused by substitution ballots.
A substitution ballot has identical content to a precincts official ballot but the precinct number or code is different. If the substitution ballot is not recorded properly to count for the intended precinct, sign in sheet and ballot totals for a precinct can vary, Willingham said.
All electronic ballots and early votes were recounted with variations in the totals but none of the race outcomes changed.
"I think that — and this is my opinion — I don't think there would be any significant change in the totals no matter how you went through them," he said. [Another faith-based election using electronic voting equipment.]
Also see article in American Statesman, November 14, 2006, by Melissa Mixon
---
Usability flaw detected in Diebold software in Utah County, Utah
©2006 Alan Choate, Daily Herald
Election analysis detects database problem
November 22, 2006 (p. D1) — The early morning meltdown of Utah County's electronic voting machines November 7 th is a tale of two databases, according to an analysis by county officials.
Different versions of the same database were used to program the memory cards for voting machines and those that programmed the encoders that give voters access to a ballot — and since the databases didn't match exactly, people got an error message instead of a ballot.
The problem surfaced as soon as polls opened on Election Day. A work-around solution was implemented, but not before voters had waited in long lines, and some left without voting.
The problem was traced to the encoders, which program a voter access card. The card tells the touchscreen voting machine which ballot to display.
The memory cards used in voting machines were programmed with the certified version of the database provided to the state by Diebold, which makes Utah's election equipment.
The encoders, however, were programmed using a backup version of the database, said Utah County Clerk/Auditor Kim Jackson.
The database matches a ballot format with a specific precinct.
"As far as we could tell, it was identical," said Jackson of the backup database. "That's why the IT group decided to use it. Underneath, apparently there was something that was different."
He said the way numerical information was transferred differed between the two databases, resulting in encoders that put erroneous precinct information on the voter access cards.
That mismatch prevented a ballot from being called up on the touchscreen voting machines, said Diebold spokesman David Bear.
"The card has to match up with the ballot or it won't allow you to vote," he said. "It says, 'We can't find what you're asking me to find, so I won't let you do anything.'"
At polling places, election workers ended up using a touchscreen machine as an encoder. Those encodings worked because all the machines were programmed using the certified database. [And this proves the election can be hacked.]
The encoders were programmed using the backup database to save time, Jackson said.
Three people were tasked with preparing Utah County's 236 encoders. The fastest way to do that was to place all the precinct information on a memory card, place the card in a voting machine and transfer the information to the encoders from that machine.
Early voting had already started, Jackson said.
"The certified database had been set for election, and they could've gone in and unset it for election, load the cards, and then reset it for election," he said. "They could've done that. They obviously didn't want to mess with the locked-down election database. Their thought process was, 'Since these are exact duplicates...let's just download the cards from the backup database.'"
County officials have learned their lesson, Jackson said: In the future, all voting equipment will be programmed using the same database. [In a well designed and tested system this error would not be possible.]
"We've put procedures in place for future elections to make sure this will never happen again," he said. [But it is unlikely Diebold learned the lesson on usability requirements.]
---
ES&S iVotronic's cast ballot for wrong candidate in Cleburne County, Arkansas
Abstracted from article by Louis Short, Sun-Times
November 27, 2006 — Are you sure the vote you cast for Heber Springs mayor went to the person you chose? Mayoral candidate Jackie McPherson, who is facing incumbent Paul Muse in a current runoff election, called The Sun-Times Tuesday afternoon reporting a problem with the electronic voting machines. "Votes cast for me went to Paul," he said. "My mother-in-law and her mom went to vote and when they touched my button on the touch screen a vote was cast for Paul. They realized the problem and didn't finalize their vote."
McPherson was contacted during the first week of early voting by Bill Orr, reporting the same problem. "He called and reported to me when he cast his ballot on the new touch screen voting devices that instead of the machine showing a vote for me, it showed one for Paul," McPherson said. "Bill said he realized this and didn't finalize his vote. He contacted someone in the County Clerk's Office and they checked on the machine and fixed the problem, but how many other people have voted and didn't catch the mistake?"
The Sun-Times contacted Orr to get his side of the report. "I voted on either the second or third day of early voting for the runoff," Orr said. "Paul Muse was listed on top and Jackie McPherson was listed on bottom. When I was at the courthouse I was told how to vote using the machine. I punched the button for Jackie and Paul' s name came up. I called a gal in and told her. She said the vote wasn't finalized. I told her I voted for Jackie and it showed the vote for Paul. The machine was worked on a little while and when I tried it again Jackie' s name came up. It makes you wonder who didn't catch this when they voted."
McPherson went to County Clerk Dana Guffey's Office to check out the reports for himself. "I told her what had been reported to me," he said.
"She didn't think that was possible. We went to one of the two machines being used for early voting and tested it. Sure enough, when I pushed the screen in my box it showed a vote for Paul. We never finalized the vote and went through the process 20 times or so and throughout, even though I was pushing inside my vote box, votes were cast for Paul when I pushed my button.
I pointed out that my finger was clearly in my voting box but yet the vote went to Paul. I pointed out there was daylight above my finger, between my finger and the box for Paul, but the vote went to him. Each time we went through the process I moved my finger down the screen, into my box more each time. Votes started showing for me nearly at the bottom of my voting box. She recalibrated the machine and it worked, but how many people cast votes for me and didn't realize the problem when they finalized their vote?"
County Clerk Dana Guffey said McPherson reported the potential problem to her Tuesday. "We tried out both machines," she said. "One worked fine. The other one, when the screen in his (McPherson's) voting area was touched, it didn't work right. Sometimes it worked fine and sometimes it didn't."
When McPherson was at Guffey's office 252 people had voted on the machine in question. On the machine that was working properly there had been 173 votes cast. As of 11 AM. Wednesday, 462 people had early voted.
The machine was recalibrated. "I had to make the machine realign the touch," Guffey said. "Once it was recalibrated and the touch was where it was supposed to be, it worked fine. We tried it five or six times and it worked fine." [Note that the realignment was done on a machine with votes already tabulated and while the election was in progress. The voting machine should have been taken out of service and sealed for post-election testing.]
McPherson contacted Election Commissioner Joe Tournear Tuesday evening. "He said the election would have to go on and I would have to get a court order to review the machines and the problem that obviously exists," McPherson said. [When the machine was recalibrated during the election evidence of the malfunction would disappear. Even with VVPAT there is likely no way to prove the malfunction post-election as the paper record probably shows the same thing as the screen.]
Tournear was contacted Wednesday morning about the report by McPherson. "Before a ballot is finalized the voter is shown a review page and that shows them who they chose," he said. "At that point they could see what registered." [A cop out, pure and simple. Blame the voter for the machine malfunction.]
With only two names on the runoff ballot a lot of people might just assume the person they voted for was actually chosen. "At this point we don't know if voters vote counted as they intended," said Tournear.
"We will have to wait until after the election and Jackie has the right to ask for a recount. If he asks for a recount then we will take the rolls from the machines and recount the votes. We will also look at voting trends to see what the trends were. If during a period there is a heavy trend for one or the other then we will look at it further. It will have to go to a judge for a further investigation." [The paper records are likely to show the same thing as the screen and it is unlikely the judge will allow access to the proprietary machines.]
McPherson is also questioning machine accuracy for the general election. "This time there are only two people on the ballot," he said.
"But what happened when there were seven people on the ballot for mayor in the general election? How many votes went to the wrong person for the mayor race or other races and the voter didn't realize it? It' s scary to think these machines can malfunction."
---
Balloting trying patience in Riverside County, California
Long lines, machines that didn't go online among unresolved issues
Abstracted from article by Keith Matheny, The Desert Sun
[Riverside County was one of the first to go with all electronic voting in 2000 when then registrar of voters Mischelle Townsend spent $14 million on Sequoia voting machines. After many scandals and lawsuits Townsend abruptly resigned midterm in June 2004. Obviously the situation hasn't improved.]
November 29, 2006 — Marguerite Butler showed up at her polling place at Carillo Ranch Elementary School in Indio to vote in the November 7 th general election. That' s when a civic right became an ordeal.
After more than 90 minutes of waiting in line, with most of the on-site voting machines not working, Butler said she and her husband voted by absentee ballots a poll worker had retrieved — Palm Desert absentee ballots.
"We had to scratch out the names of their candidates and write in our candidates from Indio," Butler said.
Butler didn't get to vote on Measure M, a locally important proposed zoning change, because it wasn't listed on the non-Indio absentee ballot. "It was a nightmare," she said. "I don't even know if my husband' s and my votes were counted."
Other prospective voters weren't as patient. Many simply went home. "One lady said she was coming back for the third time," Butler said. "The people in Iraq had an easier time (voting) than we were having."
County officials are seeking to form a blue-ribbon committee to examine the problems surrounding the election — long lines in some polling places, voting machines that were delivered but never went online, machines that ran out of receipt paper, and more. [No doubt this will be yet one more Blue Ribbon Commission of the Unqualified, always a popular way to divert public attention.]
"There' s just so many things that have to be looked at," said county Supervisor Marion Ashley. [Anyone think that maybe these issues should have been looked at back in 2000 before spending $14 million on machines that still don't work?]
County Registrar of Voters Barbara Dunmore did not respond to multiple messages left by The Desert Sun over Monday and Tuesday. [Wonder how long before she resigns?]
Among the issues county officials want examined is the two weeks after the election it took to count absentee ballots, leaving the outcome of numerous races in limbo, including the 80 th State Assembly District. [One of the major arguments for going to electronic voting was to get results faster and more accurately. Instead, a rather consistent pattern of even slower results is emerging and now no one knows whether the results are accurate at all.]
Indio City Council candidate Rick Diaz still isn't conceding defeat. He trails Melanie Fesmire by 634 votes for the final available council seat. But thousands of provisional votes still haven't been counted in Riverside County, three weeks after they were cast.
"As far as I' m concerned, it' s unresolved," Diaz said. "I think it' s unacceptable to everybody, not just because I was a candidate — or am a candidate, actually."
Coachella Valley Unified School Board member Gloria Maldonado was tied with candidate Manuel Jarvis Martinez after the initial vote count, then had to wait two weeks to discover absentee ballots gave her an 82-vote cushion. "It was nail-biting to say the least," Maldonado said. "I think something needs to be done." [Like using hand-counted, hand-marked paper ballots, perhaps?]
On the county's election Web site, Dunmore earlier announced the opening and counting of absentee ballots not included in election night semi-official results would commence on November 16 — nine days after the election.
"It makes everything at a standstill," Maldonado said. "We're all assuming that everybody is doing their job at that end, and then we're told, 'Guess what? You' re going to have to wait now,' when we thought the counting was going on all along."
By state standards, however, all is well. California law does not require counties to certify their votes until 28 days after an election, which for the November 7 th election means December 5, 2006.
"Obviously as technology advances and with instantaneous messaging, we all want results right away," said Nghia Nguyen, spokesperson for Secretary of State Bruce McPherson. "But the important thing is to make sure the law is followed and the process is done correctly, so the integrity of the vote is intact." [It sounds like the California Secretary of State's office has missed the point of moving to electronic voting. Or they have their heads buried in the sand. And election integrity seems to be largely a thing of the past.]
County Supervisor Ashley said he believes a combination of a long, complicated ballot and a record- or near-record number of absentee voters led to more people leaving their votes on their kitchen tables, longer. "You can't count them quick if you have all of these absentee ballots coming in at the last minute," he said. [In large measure people are moving to absentee ballots because they don't trust the electronic voting machines, and with good reason. Of course the official position is to blame the victim, the innocent voters.]
In fact, state law says county election officials can prepare received absentee votes for counting up to a week before election day, but can't actually start counting them until the polls close.
As absentee voting becomes increasingly popular, that may become more of a headache for county election officials, candidates and citizens wanting quicker resolution to races.
"We have to figure out a way we can carry out the state laws faster," Ashley said.
When asked if Dunmore or her office has any culpability in the perceived election problems, Ashley responded, "I' m not going there at all. That' s why we will have this panel," he said. "I think we need somebody who' s not involved in the daily process to sit down, evaluate everyone' s story, and look at here' s what happened, here' s how we can do it better next time." [Ah yes, the well-known Search For The Guilty, followed by Punishment Of The Innocent familiar from Seven Stages Of A Project.]
100,000 ballots uncounted in Riverside County 10 days after election
Abstracted from story by Michelle DeArmond and Jim Miller, The Press-Enterprise
Riverside County election staff is inundated with absentee ballots and eight races await resolution as voters turn away from electronic voting machines at polling places.
November 17, 2006 — With eight races hanging in the balance, Riverside County election workers Thursday began counting about 100,000 absentee ballots from last week's election.
Some absentee ballots arrived in the last days before the November 7 election. Others were dropped off on Election Day [as voters become more and more aware of the dangers and disasters of electronic voting at the polls. See above.]
Riverside County didn't start counting the late ballots until Thursday. Election officials first had to verify voter signatures on the absentee ballots.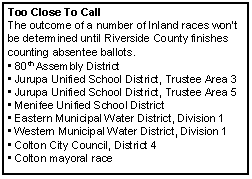 Barbara Dunmore, Riverside County's registrar of voters, said her office has never before faced such a surge of absentee ballots. Possible reasons [given by this dimwit] include the length of the ballot, which included 13 statewide initiatives as well as races for governor and other offices. In addition, she said, political parties made a pre-election weekend push to get absentee voters to turn in their ballots. [The obvious reason is that voters are sick and tired of long lines at polling places caused by unreliable and untrustworthy electronic voting machines. See story above for why voters are increasingly going to absentee/mail ballots but that seems to escape Dunmore.]
Dunmore predicted that the county will finish counting absentee ballots before Thanksgiving, then release updated results. [One of the major selling points for electronic voting was instant results. Riverside County, California, was one of first to switch to e-voting and now it seems to be difficult to get the votes counted within a month after an election.]
"What's happened is we have electronic voting and we were able to produce results very quickly," she said. "But paper ballots are very labor-intensive." [But electronic voting has proven a disaster for citizens (see story above) and they are demanding paper ballots.] County registrars have until December 5 th to complete an official canvass of election results. [And these deadlines were typically set in pioneer days when results had to be transmitted by horseback or stagecoach. With modern technology election officials are hard pressed to meet these deadlines.]
Outcomes still unknown
Riverside County is under no obligation to post vote-total updates until the December 5 th deadline, officials say. [But isn't the reason these same officials bought the electronic voting machines so that results could be posted election night? Now citizens are lucky to find out the outcome within a month.]
The slow process in Riverside County has frustrated some candidates whose races are too close to call.
"When...we have one-third of the vote left to count, that is absolute mismanagement in the registrar's office," said Phil Paule, a candidate for the Eastern Municipal Water District, Division One.
Absentee appeals to many after repeated problems with electronic voting at polling places
The use of absentee ballots will only grow statewide [as the dangers of electronic voting become ever more apparent]. As more voters take advantage of the absentee voting but hold onto the ballots until late in the election cycle, officials warn that delays in final results will become more common. [Blame the voter.]
In years past, Riverside County often has posted its final results within a couple of weeks, but the last batches of ballots counted have often been too small to make a significant difference. But Dunmore said it would waste time to audit each day's batch of absentee ballots before releasing updated results. [Citizens sure wouldn't want to require a public servant to do a little extra work. And e-voting was supposed to make results available virtually as soon as the polls closed.]
Nothing in state election law requires county registrars to provide periodic vote updates during the canvassing period, said Nghia Nguyen, a spokeswoman for the California Secretary of State's Office.
In San Bernardino County, election workers verified signatures and counted most of its absentee ballots within a week of the election. About 126,000 people in San Bernardino County voted absentee.
San Bernadino County does a better job
In San Bernardino County election workers processed late absentee ballots immediately after Election Day up until Monday when the results were posted according to Registrar of Voters Kari Verjil. She said she wanted the results out as soon as possible because she knew candidates wanted to know the outcome of their races. [Citizens might be interested in the outcomes as well but lets not mention that.]
Another estimated 25,000 absentee ballots that were damaged or had other problems still are being counted, she said. Also included in that number are paper ballots people used at the polls when they didn't want to use the touch-screen voting machines. Some 10,000 provisional ballots also are also being processed.
Two Colton races remained too close to call because of those uncounted ballots, she said. Verjil plans to update results again Monday and hopes to have the entire canvass completed a few days before the deadline.
Reach Michelle DeArmond at 951-368-9441 or mdearmond@PE.com
---
Hanging chads looking better all the time
Colorado Spring Gazette editorial,
December 3, 2006 — The curse of the hanging chads still haunts America. It isn't all the fault of dunderheaded Floridians who threw the 2000 presidential election into turmoil because they couldn't manage the simple mechanics of voting, however. The curse really began in 2002, when Congress attempted to fix what wasn't really broken by passing the hilariously named Help America Vote Act, which got the federal government involved in mandating voting equipment standards.
Far from helping America vote, the law has hindered the process and disenfranchised voters. "After six years of technological research, more than $4 billion spent by Washington on new machinery and a widespread overhaul of the nation's voting system, this month's midterm election revealed that the country is still far from able to ensure that every vote counts," The New York Times reported. "Tens of thousands of voters, scattered across more than 25 states, encountered serious problems at the polls, including failures in sophisticated new voting machines and confusion over new identification rules."
Local election officials frequently bore the brunt of the anger generated by the voting snafus. But many of these officials are competent people struggling to adapt to unnecessary federal mandates. It's now dawning on some people that the rules imposed by Washington "might have only swapped old problems for newer, more complicated ones," as the Times put it. But instead of discouraging the reflex-regulators, the debacle has given them an excuse to meddle more â¤" heaven help us. The recent problems "will probably help propel legislation that has stalled for months in Congress mandating that electronic voting machines have a paper trail to better enable recounts," reports the Times — another "fix" that could make us nostalgic for the era of the hanging chads.
Please, Washington, stop trying to help us.
---
Diebold taking blame for invalid election results in Fairfield County, Ohio by Sean Casey
© 2006 ThisWeek
December 7, 2006 — The Fairfield County Board of Elections recertified official election results last week after an error attributed to the voting machines' manufacturer produced inaccurate final vote counts.
According to elections board director Deborah Henderly, Diebold Election Systems failed to notify the county that the vote tabulation process required a change because the Ohio Secretary of State' s office had removed Issue 1 from the ballot prior to election day November 7, 2006. Consequently, the final summary reports certified by the board on November 28 th included some incorrect results, although the county's machines recorded all ballots accurately, she said.
Diebold had informed some other county elections boards that purchased voting machines from the company of the modification, but failed to alert Fairfield County.
The company has acknowledged fault for not notifying the board in time.
"They were taking full blame for this," Henderly said. "Had we had the correct procedure in place, we would not have encountered this problem."
However, the board did not realize the inaccuracy of the results it had certified until a phone call alerted it to discrepancies between those numbers and the board' s unofficial tallies. [What a perfect way for an insider to commit election fraud. Of course, if discovered it is simply a mistake.]
Henderly said the election board generally compares the unofficial counts with the canvassed results, but did not in this instance. She did not give a reason why.
After the discovery, the board retabulated vote results using Diebold' s revised instructions. By 9 PM November 28, nearly seven hours after it first certified results, the board declared the the first canvass invalid and approved the corrected results. [In the experience of the EJF once the canvass board has completed its work it is virtually impossible to change the results no matter what. This case is an exception.]
Because the board discovered the error after ThisWeek in Pickerington's deadline, a story appeared in last week's edition that stated a Sunday alcohol sales option for the Old Town Tavern, 10985 Winchester Road, had failed, even though election night counts showed it passing.
As initially reported, the liquor option easily won approval, receiving 62.3 percent of the vote, or 328 of the 526 ballots cast, according to the newly certified results. The board' s first official canvass showed that area residents had rejected the sales option, approving the measure on just 39.6 percent of the ballots, or 209 of the 528 total votes cast.
Similarly, the results first certified by the board of elections showed the Central Ohio Transit Authority's 10-year, 0.25-percent sales tax winning approval in Fairfield County, although corrected vote tallies revealed the measure actually lost in these districts. [Great way to get a tax passed even when voter's are against it.]
In accordance with election night' s unofficial results, the COTA tax received 1,200 of the 2,504 votes, or just 47.9 percent of the ballots cast in Fairfield County on the issue. The measure, which COTA will use to increase the frequency of bus runs, extend operation hours and provide direct crosstown lines to improve service to Columbus suburbs, did earn overall approval, however, winning support in Franklin County.
Additionally, the 28-year, $59.9-million bond issue proposed by the Pickerington Local School District to construct three new facilities did not pass by a much larger percentage than initial results showed.
Coinciding with election night counts, final results have the issue winning 55.1 percent of the vote, or 10,000 of the 18,148 ballots cast. The tallies first certified by the election board showed the schools receiving 61.4 percent of the vote.
Henderly said the voting machines recorded all of the votes cast in Fairfield County accurately, but the change to the tabulation processes necessitated by Issue 1' s removal from the ballot produced the inaccurate summary reports.
Diebold spokesman David Bear did not return three phone calls by press time. [Guess there was no way to lie his way out of this fiasco?]
---
Printers failed on ES&S DRE voting machines in three North Carolina counties by Mark Binker
© 2006 Greensboro News and Record
December 15, 2006 — The system meant to produce a paper backup of votes cast on Guilford County's electronic voting machines failed in many cases during the election November 7, 2006.
About 9% of the printers attached to the county's voting machines had a jam or other problem. In many cases, that problem made the paper record generated unusable for purposes of a state-mandated audit, according to county elections director George Gilbert. The electronic records were not affected and remained intact, he said.
Guilford County voters cast ballots on direct-record, or DRE, systems that have a computer touchscreen. During the past several years, some computer scientists and voting advocates have charged this type of system is susceptible to error and fraud.
So in 2005, state lawmakers required each such machine produce a paper record, typically produced on a small reel-to-reel printer. Those printers were what failed on some systems.
Gilbert, who has long been a critic of paper records, called the problems "predictable." He said the fact no one noticed the problem until post-election audits belied one of the supposed benefits of the paper backup: that it allows voters to verify their choices.
"The vast majority of voters I witnessed never looked at the paper," Gilbert said. [Obviously if we just close our eyes the problems with DREs will just go away.]
Printer problems were not restricted to Guilford County. Similar problems occurred in Alamance and Mecklenburg counties, according to Gilbert and state officials.
"We have contacted the vendor and we're going to be meeting with them after the first of the year," said Johnnie McLean, the deputy director of the State Board of Elections.
That vendor is ES&S, one of only a handful of companies in the United States that makes the machines and the only company allowed to sell voting equipment in North Carolina.
"Based on the information we have now, we're not in a position to determine if it was something with the way the machine was being used or operated or whether it was an issue with the equipment itself," said Ken Fields, a spokesman for the company.
Guilford County spent $3.4 million on new voting equipment that was first used in 2006. Federal grants funded $2.1 million of that amount. Before the 2008 elections, Gilbert said, the county will need to spend at least $1.4 million for additional equipment, all of that from local tax dollars. [Or they could simply get rid of the unworkable and untrustworthy voting machines and go back to hand counted paper ballots.]
Local voting advocates urged the county to use a different type of system known as optical scan, in which a voter marks their choice on a piece of paper that is counted by a machine. The system is similar to those that score standardized test forms.
"He (Gilbert) knew that there would be problems," said Joyce McCloy, a voting advocate who has been critical of Gilbert on the paper record issue. "He asked his county to buy these machines when he himself testified to the state that there would be problems with the paper backups."
Where McCloy sees an argument for switching to optical scan systems, Gilbert says the problems with paper argue for a move to other backup technology, such as a system that uses sound to independently record a voter's choice. [Gilbert is obviously fond of wasting taxpayer dollars on poorly-designed and unworkable technology.]
In cases where the printers did work and their results were compared to those counted electronically, they matched exactly, Gilbert said. [If true, it seems like that would be a first.]
Contact Mark Binker at (919) 832-5549 or mbinker@news-record.com
---
Problems for a blind voter with DRE in Guilford County, North Carolina
Abstracted from article by Jordon Green, Yes! Weekly
Dorothy M. Neely, a legally blind woman with limited eyesight who has come into conflict with the board of elections in the past, found the headphones of no use when she arrived at her polling place at the Lindley Park Recreation Center. She had to vote the old-fashioned way: by scanning the electronic ballot and touching the screen, in her case without being able to see the choices clearly.
"When I walked into the polling place, I signed in and got my credentials to vote," she said. "I said, 'I will need the new voting machines. I will need the headphone.' They said, 'Good luck you would do better to just have us read it to you.'"
Neely said at first poll workers couldn't locate the headphones. Then they couldn't figure out where to plug them into the voting machines, she continued, and further they didn't know how to set up the auditory ballot.
When she got the headphones working Neely said the automated voice instructed her that she only had one choice: straight ticket. When Neely, who is not registered with any party, tried to continue she said she was told she could not do so.
Joann Davis, chief election judge for Precinct G48, said she reported the problem to the Guilford County Board of Elections.
"The report I received is that it was incomprehensible," said George Gilbert, the county's election director. "It is working...She had to simply hit the down button and she could have proceeded. I think she simply misunderstood." [Once again election officials blame the voter for the machine's shortcomings.]
He added: "It' s not as clear as I would like it to be. (Disabled voters) probably need to come in and practice before the next election. We would be glad to accommodate that." [Yes, lets make it even more time consuming and inconvenient than it already is for the handicapped. Gilbert is obviously developmentally disabled.]
In the meantime the director wouldn't be sending anybody out to the precinct to fix the machine or provide training on a busy Election Day.
Neely said one of the poll workers offered to cancel her ballot and read the choices to her. She declined, citing her right to privacy.
"I ended up asking them to please cancel the ballot and enter a ballot like it would be for a regular voter," she said. "I just put my nose and eyes close to the screen and voted with the regular touch-screen."
Neely said she knew of no other visually impaired people in the county who had experienced similar difficulties, but many of them have been discouraged from trying to vote.
"A lot of the visually impaired people in this community knew that the DRE machines were not going to work for them," she said. "They thought they didn't even want to bother with it because it was not a reliable choice."
Neely has publicly criticized the election board's use of direct-record electronic voting machines in the past, expressing a preference for optical scan machines.
---
22,000 in Jefferson County, Colorado, mistakenly told they didn't vote in November by Ann Schrader
Abstracted from article in the Denver Post
It is difficult to overstate the ineptitude of election officials and the following is but one example
February 2, 2007 — About 22,000 Jefferson County residents mistakenly got postcards this week saying they didn't vote in the November election.
Pam Anderson, who was sworn in as county clerk January 9 th said her office is working to correct the error and is sending out letters this week to every voter who received a notice.
"Their votes did count, and they're still registered. This does not affect results of the election," Anderson said Wednesday. "I apologize for the confusion this has caused."
Anderson attributed the problem to a vendor, Votec of San Diego, whose software automatically sent out the notices as part of a voter-roll cleanup. [Election officials are in the habit of blaming everyone but themselves for the stupidest mistakes imaginable.]
The error was discovered when notices had been generated to about one-third of those who voted.
Anderson said Votec will be asked to reimburse the county. [But isn't this problem a natural outgrowth of letting private companies run our elections?]
---
In Ohio they know how you voted
© 2007 by Dan Williamson The Other Paper
Voting machine records—and Ohio laws that make them public information—put voters' privacy in jeopardy
October 18, 2007 — When Renee Rarick voted for the Delaware County MRDD levy last year, she assumed she was doing so in secret. But Rarick was voting on an ES&S iVotronic machine, the brand of electronic device used in 10 Ohio counties, including Franklin County.
By making a simple public-records request, anyone could match up the paper trail from Rarick's voting machine to the poll books that contain voters' names and the order in which they voted.
James Moyer, a Franklin County poll worker who describes himself as a privacy activist and security expert, did just that.
Moyer's examination determined Rarick was the third person to vote at Ashley, Ohio's Precinct A in May of 2006 and cast her "yes" ballot at 6:49 a.m.
Contacted by The Other Paper this week, Rarick confirmed that Moyer's information is correct. And she's disturbed that the record of her private vote is available to anyone who wants it. "It's kind of strange," she said.
The good news for Rarick is that, probably, nobody cares how she voted on the Delaware County mental retardation levy.
But what if she was an employee of an elected official and wanted to vote against her boss? What if she was a politician herself who wished to vote for a candidate of the other political party?
Or what if she was paid for her vote?
CNET, a national technology news website, reported that Ohio's electronic voting system combined with the state's liberal open-records laws has created "a true privacy nightmare for state residents."
Ohio Secretary of State Jennifer Brunner is not yet ready to declare a privacy nightmare, but she wants to find out more about it.
Brunner spokesman Patrick Galloway said Moyer hadn't contacted his boss directly with his findings. The secretary of state learned about it from CNET and Fox News, which interviewed her about the situation.
At any rate, the issue needs to be addressed, Galloway said.
To match two sets of records to figure out how a person voted, "Someone would have to really care," Galloway said. But, he added, "There are people out there who probably do."
Indeed, there are.
For instance, opposition research companies would thrive on digging up politicians' voting histories. Public officials could ensure electoral loyalty by reminding employees that their votes are public record. Ideological think tanks could expose the political proclivities of journalists to prove bias.
Republican Ohio state Sen. Jeff Jacobson, one of the leading elections experts in the state legislature, said he's aware of the issue with the voting machines.
"It is a problem with paper trails," he said. "I remain frustrated by the fact that we were goaded into electronic voting in the first place."
Jacobson prefers optical-scan machines, which are used in 31 counties. The 10 Ohio counties that use ES&S iVotronic devices include five in Central Ohio: Franklin, Delaware, Pickaway, Union and Knox.
Ohio state Rep. Steve Driehaus said he also has been unenthusiastic about electronic voting machines. He said he and his fellow Democrats were assured that the devices would protect voter privacy in a recent election-reform bill. If that's not the case, Driehaus said, he wants to work with Brunner's office to remedy the situation.
The machines themselves would pose less of a privacy threat if not for Ohio's anti-secrecy laws. CNET reported that 38 states use ES&S iVotronic machines, which are made by Election Systems & Software, the world's largest producer of voting equipment. But few if any of those states allow the public to peruse as much information as does Ohio. [Note that Florida has now discarded all their ES&S iVotronic machines.]
"This is a difficult situation," Jacobson said. "We're sort of stuck either way to a greater degree than I would care to admit."
After the 2006 elections, it occurred to Moyer that the secret ballot could be a casualty of electronic voting machines. He wanted to test his theory in Franklin County, but the board of elections in Columbus was preoccupied with the recount in the Deborah Pryce-Mary Jo Kilroy congressional race and could not accommodate his records request as quickly as he hoped.
So, around Thanksgiving, he approached the Delaware County elections panel. Delaware officials told him they couldn't yet release records of the November election but could give him records of the May election.
The ES&S iVotronic machines had produced paper recordings of each vote that the voter could see before leaving the machine. Each vote included time stamps to indicate when each person began and finished voting.
Moyer compared the paper tapes, as he called them, with the poll book, which listed all voters' names in the order they voted.
So, by noting that the third voter at Precinct A voted for the MRDD levy and then finding Renee Rarick's name listed third in the poll book, Moyer could deduce that Rarick voted for the levy.
Moyer contacted media outlets to report his findings. Moyer said the Fox News reporters performed some additional research for him.
"They contacted several of the people on the list," he said. "Of those people who were willing to discuss their votes, all of them said I was correct."
Moyer's method isn't absolutely foolproof. For instance, if a voter were to let a friend cut into the line after both had signed the poll book, their two votes wouldn't correspond to their places in the book.
Moyer acknowledged he wouldn't try his technique in a precinct with, say, 10 voting machines. But in an "average" precinct with three to five machines, he said he could fairly accurately expose individuals' votes.
Matt Damschroder, director of the Franklin County Board of Elections, said Moyer and the CNET story overstate the risk to voters, and added, "There's not widespread abuse of public records of individuals."
Having said that, Damschroder said the Ohio General Assembly should close what he described as a "loophole" in state law that could allow people to violate voters' privacy.
To do that, it seems the state will have to reduce the amount of information it shares with the public.
"This time stamp of the e-pad," said Galloway, "we don't know that that's particularly necessary."
"Redact the time stamp," he said. "That fixes the problem." [No, it simply causes more problems because the redaction takes time and money.]
But as long as the ES&S iVotronic machines print time stamps on the paper tapes, current Ohio law requires the state to release them to anyone who requests them.
And so, to protect voters, the state would need to amend the public-records law. [Or take the more sensible approach and do away with DREs like other states are doing.]
Jacobson said such a move could trigger resistance from newspapers around the state. Editorial boards have criticized lawmakers in recent years for being overly eager to hide information from the public.
"We probably have not helped ourselves by exempting every little thing from public-records law that we can," Jacobson said. "When you come up with things that would really be good to exempt, then you're the little legislature that cried wolf."
Even if time stamps are blacked out, an additional problem is created by the fact that each machine's votes are recorded on continuous rolls instead of individual slips of paper.
"You can't even mix them up after they're done," said Jacobson.
Moyer said a truly dedicated investigator could stand in the voting hall to watch the election and note the time of each vote cast on each machine.
"There really isn't an easy solution," he said. And even if the state comes up with one, it certainly won't be in place before November 6, 2007, when county residents will vote for their mayors, council members and judges.
Of course, Moyer noted, you don't have to vote on Election Day.
"The only solution for this coming election," said Moyer, "is to get an absentee ballot." [And that would guarantee your ballot isn't secret.]
---
| EJF Home | Where To Find Help | Join the EJF | Comments? | Get EJF newsletter |
| Vote Fraud and Election Issues Book | Table of Contents | Site Map | Index |
| Chapter 12 — Voting Problems In The 2006 Elections |
| Next — Why Did So Much Go Wrong On Election Day In Athens County, Ohio? by Nick Claussen |
| Back — My Day At The Polls — Baltimore, Maryland Primary 2006 by Avi Rubin |
---