Doofus Too Dumb To Quit In Arapahoe County, Colorado
Denver Post editorials and articles
Reproduced under the Fair Use exception of 17 USC § 107 for noncommercial, nonprofit, and educational use.
---
| EJF Home | Where To Find Help | Join the EJF | Comments? | Get EJF newsletter |
| Vote Fraud and Election Issues Book | Table of Contents | Site Map | Index |
| Chapter 4 — Trust Our Election Officials? |
| Next — Florida Clerk Notes Election Irregularities In Broward County, Florida |
| Back — Human (Or Was It Machine?) Error Delays Florida Primary Results |
---
Index
Clerk's affair dividing office
He's just elected; now recall him
Baker forces commission to do right
Arapahoe has spent $200,000 in effort to oust clerk Baker by Karen Rouse
When allies become enemies by George Merritt
Arapahoe County ousts clerk in a rout
Arapahoe settles with Baker workers
---
Doofus of the Month award
[EJF comments in Courier font]
Wednesday, October 23, 2002 — We had despaired (needlessly, it turns out) of finding a suitable recipient of our uncoveted Doofus of the Month Award for this election season, and as the sands in the hourglass ebbed, we feared that this prize would go unclaimed until Arapahoe County Cluck (er, Clerk) and Recorder Tracy Baker rode to the rescue. [Arapahoe County is one of Colorado's largest with ~500,000 residents.]
Yes, yes, the practitioners of the negative campaigning that has punctuated certain races at the federal level tempted us briefly, but such formulaic billingsgate has become so de rigueur in Colorado elections that we barely arch our eyebrows anymore.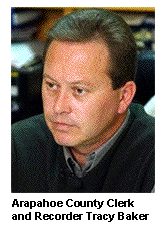 Just as we had nearly abandoned all hope, Baker's unalloyed stupidity earned for him the dubious Doofus honor by dint of an apparent inability to separate his public and private lives, splashing the escutcheon of his office with the stain of scandal. [EJF note: Baker was mentored for this position by Donetta "Dimwit" Davidson, who resigned as Arapahoe County Clerk when appointed Colorado Secretary of State.]
After a three-month probe into allegations of gross improprieties in the clerk and recorder's office, the private investigative firm of Rick Johnson and Associates laid out a lurid scenario involving an affair between the married Baker and a subordinate, lavish expenditures of public funds at a private mountain lodge and for an overnight stay in an executive suite at the upscale Adam's Mark Hotel, double-billing the county for meals and several hundred sexually explicit messages purportedly exchanged between Baker and his alleged paramour while at work.
Most galling of all to other employees in the office was that Baker apparently promoted the woman from a $22,800-a-year post as a motor vehicle clerk to deputy clerk at $63,100, in about 2 1/2 years. (Baker's own annual salary is $63,300.)
The probe turned up numerous allegations of sexual behavior in public, including the accusation that Baker and the assistant engaged in a sex act on a commercial airline flight while returning from a business meeting.
Our hard hearts aren't softened one jot by Baker's sophomoric explanation that his relationship with the woman didn't turn physical until after divorce proceedings to end his current marriage were initiated. How chivalrous!
Arapahoe County commissioners, who'll have to pay the estimated tab of more than $100,000 for Baker's conduct, are powerless under the law to remove this sorry excuse for a public official because he's independently elected. And Baker doesn't have enough class to resign. Further, he's on the November 5 ballot as a candidate for re-election. There's only one solution, which brings us to our next editorial.
---
Clerk's affair dividing office
Reproduced under the Fair Use exception of 17 USC § 107 for noncommercial, nonprofit, and educational use.
Some employees say liaison hurts work environment
Friday, November 15, 2002 — Arapahoe County, Colorado — It wasn't long after news broke of the affair between County Clerk and Recorder Tracy Baker and one of his employees that a man seeking a new license plate announced into his cell phone: "I'm down here with Tracy's girlfriends."
On another occasion, a woman approached the motor-vehicles counter and asked, " So is this Tracy Baker's office?" When the clerk told her it was, the woman asked: "Are you (his girlfriend)?"
Enduring such remarks has become routine in Baker's office, staff members say. And an already tense work environment has grown increasingly distressing since allegations, including sexual misconduct and misuse of public funds, surfaced against their boss, a half-dozen employees told The Denver Post.
On Oct. 21, after a three-month investigation, the Arapahoe County Board of Commissioners released a scathing report about Baker's conduct and asked for his resignation.
The report found that Baker twice promoted Lisa Sale, the assistant chief deputy with whom he is romantically involved, resulting in a raise for her of more than $40,000 over three years. It also alleged he over-billed the county for expenses and sent sexually explicit e-mails to Sale using county text-messaging systems.
Sale has been the second-highest-ranking manager in Baker's office since Mary Whitley, Baker's former chief deputy clerk and recorder, quit. Whitley's allegations to the Arapahoe County board that she was forced to work in a hostile environment triggered the county's investigation of Baker.
The Adams County district attorney's office is investigating the allegations. Baker, whose wife filed for divorce in July, denies any misconduct and has refused to resign.
In the Nov. 5 election — more than two weeks after the allegations against Baker, a Republican, were made public — voters re-elected him to his position with 63 percent of the vote. His only opponent, Libertarian Party candidate Margaret Alia Denny, got 37 percent of the vote.
Baker's employees, meanwhile, say they feel betrayed, sad, angry and embarrassed by the negative attention to their department.
"The mood right now is a combination of embarrassment (and) concern," said Alicia DeVore, who transferred out of Baker's office to the county's finance department last month. "It's 'What's going to happen?"'
In an interview, Baker said his relationship with his employees is "close" and describes them as "117 of the most talented people." He also denies creating a hostile work environment: "I have been nothing but honest and up front with my people from day one."
In the interview, Baker asked that employees who have concerns speak directly to him. But employees interviewed by The Post, while they are talking among themselves, say they have no intention of sharing their concerns with Baker. They say they fear that criticism of Baker's relationship with Sale could result in poor performance reviews, denied promotions, smaller raises or cold-shoulder treatment. Most spoke to The Post on condition of anonymity.
Some experts contend that Baker should turn over functions of his office to an outside supervisor until the district attorney's investigation has concluded.
That would create an "emotionally and psychologically" safe environment for employees, said Dianne Blomberg, associate professor of workplace communication at Metropolitan State College of Denver.
Such situations can leave employees feeling powerless, Blomberg said, and unsure of how to seek remedies. "It's a stress you go through," she said. "It's not a matter of making a phone call and someone comes in like Mighty Mouse and saves you."
While there are laws to protect employees who feel they are working in an unfavorable environment, pursuing redress can feel like "more trouble than it's worth," she said.
Baker, meanwhile, has rarely been seen in his main office in Littleton since the investigation's findings were made public, employees said.
He and Sale have been stationed at the county warehouse where they conducted elections and are now working on counting provisional ballots.
But even in Baker's absence, employees say they are on edge.
They say there is subtle pressure from a handful of Baker's core supporters in the office to rally behind their embattled boss — through office potlucks or by signing group cards.
And in staff meetings, employees say Baker has declared his innocence and encouraged their support.
As representatives of the clerk and recorder's office, staff members said they feel unfairly attached to a situation they find "disgusting," particularly the explicit e-mails Baker and Sale exchanged.
And they say it is inappropriate for the pair to hold the power in the department.
Other employees are angry to learn that Sale collected more than $22,000 in overtime this year — on top of her $63,300-a-year salary — while they got 3 to 5 percent raises.
"I feel like I work hard every day," said one employee. "When I see someone get $40,000 in a three-year period, that hurts."
Sale, who declined to comment for this article, has said in the past that her overtime was earned during long hours helping run elections and doing the work of three people.
Because Baker, 42, is an elected official, he cannot be removed from office unless he is convicted of a crime or recalled by voters.
Baker is not the first member of his family to serve in Arapahoe county government. His father, Phil Baker, served as sheriff from 1973 to 1975 and worked for the county in other capacities for 20 years, said Ann Harden, human resources director for the county.
Tracy Baker started working for Arapahoe County in December 1979 in the clerk and recorder's office, Harden said. He held the titles of assistant deputy clerk and recorder and chief deputy clerk and recorder before he was appointed county clerk and recorder in July 1999 after his predecessor, Donetta Davidson, was named Colorado secretary of state. He retained the job in a 2000 election. His salary, set by state statute, is $63,203 — $97 less than what Sale earns.
He does have loyal supporters on his staff. Kryn Skarda, a motor-vehicles manager, described Baker in a letter to county commissioners as "one of the best individuals that I have had the honor of working for."
In an e-mail to county employees, Karla Bohl, an election specialist, called the investigation of Baker a "witch hunt" and denied that Baker's office is a hostile environment for employees.
"If it was so bad, why are we still here?" Bohl asked. "Because we need a job? Yes, but also, we truly like working for Mr. Baker, some people for many years."
In the interview with The Post, Baker said his family has felt the sting of the high-profile allegations.
His teenage son was taking a current-events quiz in school recently when he came across a question related to the investigation of his father, Baker said.
That is "the saddest part of this whole thing," Baker said. "What sells newspapers is my personal life."
Baker's family is not alone in feeling the emotional strain.
"I have a hard time even sleeping at night," said one employee in Baker's office. "Sunday about 2 o'clock in the afternoon, I get real fidgety."
DeVore, the employee who left Baker's office last month, said the toll is evident on the faces of the former colleagues she passes in the hallway.
"Aren't you glad you got out?" they invariably ask her.
Her reply comes without hesitation. "I would rather quit than go back."
Karen Rouse can be reached at krouse@denverpost.com .
---
He's just elected; now recall him
© 2002 Rocky Mountain News
Reproduced under the Fair Use exception of 17 USC § 107 for noncommercial, nonprofit, and educational use.
December 1, 2002 — It's not even four weeks since the election, so why are we writing an editorial urging the recall of an official in Arapahoe County who won in a landslide on Nov. 5?
Because Clerk and Recorder Tracy Baker has got to go, for the good of the county and to send a message to other officials that there's a price to pay for the abuse of public office. And because, frankly, voters didn't have much of a choice last month. The Democratic Party failed to field an opponent against Republican Baker, while the Libertarians nominated a woman who espoused some fairly exotic views. Yet even she received more than one-third of the votes, suggesting how vulnerable Baker truly is.
We're usually skeptics of recall elections, and especially recalls against officials whom voters supported in the recent past. State law doesn't even permit the recall of a county official for six months after he or she takes office — meaning petitions for Baker's recall couldn't be circulated until next summer. But that's fine. It gives the Arapahoe Republican Party time to debate Baker's scandalous case and draw the inevitable conclusion: that he's an embarrassment and liability to the county and the party, and that it must withdraw its support for him and lead the charge to replace him with someone else. It is a minor scandal in itself that a GOP spokeswoman was urging support for Baker right up to the election, after it was apparent that he was unfit for public service.
Why unfit? Well, set aside for a moment his flamboyant sexual affair with the woman he promoted to his second-in-command, the hundreds of salacious e-mails he generated on county equipment, and the antics that apparently left some employees in his office intimidated and even reeling in disbelief. And ignore, if you can, the extravagant overtime he authorized for his lover — more than $25,000 in the past two years in an office that apparently had paid no overtime to that position during the tenure of Baker's predecessor.
No, for us the incident that really gives away the game so far as Baker is concerned is The Tale of the Presidential Suite. Allow us to quote from a report compiled by a private investigator hired by the county commissioners to look into Baker's use of public money:
"Clerk Baker, [his deputy] and five other members of the Clerk's Office staff attended a conference in Denver, November 26-29, 2001, at the Adams Mark Hotel, a drive of approximately 20 to 25 minutes from the Clerk's Office. Clerk Baker [and the others] ran up a four-day hotel bill, including an upgrade to the Presidential Suite for Clerk Baker's room, that totaled $1,504.75."
We can't help but admire how the investigator uses a mere dozen words to direct the reader's verdict: "a drive of approximately 20 to 25 minutes from the Clerk's Office." Yes, that pretty much says it all, doesn't it, about Baker's regard for the public purse?
The investigator's report contains a number of similar gems, and Republican leaders in Arapahoe County should ask for a copy for review if they suspect that anyone is trying to railroad their clerk.
By the way, the county commission, which to its credit has called for Baker's departure, is composed of four Republicans and a single Democrat. They understand why Baker must not stay. If he won't resign, he must be recalled. It would be best if his own party led the campaign.
---
Baker forces commission to do right
by Jim Spencer, Denver Post Columnist
© 2003 The Denver Post
Reproduced under the Fair Use exception of 17 USC § 107 for noncommercial, nonprofit, and educational use.
Sunday, August 10, 2003 — It was sad and ironic that Tracy Baker forced the Arapahoe County Commissioners to do the right thing.
Baker, the philandering, profligate Arapahoe clerk, is to public service what leprosy was to public health — not fatal, but a blight.
Baker slept with, then promoted, a subordinate. He and his squeeze turned the county e-mail system into their personal cyberporn site.
At municipal conferences, he sometimes charged taxpayers double what he should have, according to a county ethics committee.
But Baker's decision Friday morning to back out of a $325,000 deal that would have led to his resignation kept the Arapahoe commissioners from turning the folks they represent into cuckolds.
A golden parachute for a guy like Baker is a golden shower for the taxpayers, no matter how much it's for.
Yet Arapahoe's governing board stood ready to let it rain. It was Baker who called off the storm by refusing to sign the buyout to which his lawyer and county lawyers had verbally agreed. The settlement was worth more than four times his annual salary of $75,500.
Baker wasn't at a special meeting of the commissioners on Friday morning to discuss why. He wasn't in his office down the hall either.
In a phone interview late Friday afternoon, Baker said he only received the final draft of the six-page agreement at 9:30 AM. Friday.
"They wanted me to sign it by 10 AM," he said. That wasn't enough time to carefully study the document.
Baker's girlfriend and now chief deputy, Lisa Sale, worked Friday. But she wasn't talking. Especially not about a call county officials say they got from her lawyer Thursday night.
"Lisa's lawyer called for the first time (Thursday) night to negotiate something on her behalf," commission chairwoman Debra Vickrey said. "We said absolutely not."
Vickrey speculated that the refusal to cut a deal with Sale caused Baker, a Republican elected in 2000 and re-elected in 2002, to balk on his own bailout.
"There's nothing to that," Baker insisted.
Whatever happened, the Arapahoe County attorney's office got a call around 10 AM Friday saying Baker wouldn't sign the buyout. He wanted another week to think about it.
No way, said the commissioners.
Calling Baker a liar, comparing him to a malignant tumor and promising to "make his life miserable" for as long as he stays, the commissioners shot back that the deal was off.
The troubling thing here is that a deal was ever on.
Commissioner Susan Beckman described it as "a business deal" aimed to "cut our losses." Those losses could come from settlements the county would pay for harassment and hostile work-environment charges filed by four people working for Baker.
"We wanted to close the taxpayers' checkbook," Vickrey said. "We' re looking at millions in suits."
By deciding to settle, they were looking at a blank check's worth of scorn.
Most of the commissioners who spoke at the special meeting Friday referred to conversations with outraged constituents.
Some of those constituents spoke at the meeting.
"I can't justify this payment for — let's call it what it is — blackmail," said Centennial resident Jim Richards.
"It doesn't teach our kids about government as it should be taught," said Larry Grauberger of Littleton.
Democrat Kathy Polhemus called the settlement "an end run around democracy."
Polhemus was not only upset with what she considered a good reward for bad behavior. She was furious with reports that Arapahoe County Republicans planned to appoint Governor Bill Owens' chief financial officer, Nancy Doty, to succeed Baker.
Interestingly, Arapahoe GOP chairman Bruce Peterson continued to back the buyout, even as the commissioners called Baker names. Peterson wanted the deal left open until Monday.
"I was responding more to my business sense than as a Republican," said Peterson, who added that he was speaking as an individual and not for the party.
By most estimates, the cost of the recall election that now must be organized to remove Baker office will be more than $325,000.
Even if it costs twice that amount, none of the money will go to the clerk. That's a critical distinction the Arapahoe commissioners and Republicans officials pushing the buyout seemed to miss.
Ironically, it was Baker who forced the issue.
"Let democracy prevail," Baker said Friday.
That's a pretty brassy challenge from a guy who slept with the help, double-billed taxpayers for rooms and meals and turned his workplace into an emotional war zone.
It's time to call his bluff. People of all political persuasions need to circulate recall petitions and collect enough signatures of registered voters to get this business on the November ballot.
That's not the just best way to put Tracy Baker in his place. It's the only way.
Jim Spencer's column appears Sundays, Tuesdays and Thursdays in The Denver Post. Contact him at jspencer@denverpost.com. Or call 303-820-1771.
---
Arapahoe has spent $200,000 in effort to oust clerk Baker by Karen Rouse
November 30, 2003, Arapahoe County — The county has spent more than $200,000 in taxpayer money for investigation costs, attorneys' fees and employee salaries connected to the scandal surrounding Clerk and Recorder Tracy Baker.
That amount does not include the price of what is estimated to be thousands of hours of legal work by county officials.
And the figure will soar to well over half a million dollars next year if the county conducts an election to recall Baker.
Such expenses have come under criticism from Baker and others who say he is the target of a witch-hunt led by county commissioners. But political scientists say the dollar amounts should come as no surprise to anyone who expects good government.
"If we' re going to have a government of checks and balances...and trying to hold officials accountable, the messiness and costliness are part of it," said Mike Cummings, political science professor at the University of Colorado at Denver.
County commissioners have demanded Baker's resignation since last year, after a 3-month-long private investigation found Baker misused county property and dollars.
The investigation was spurred by a complaint by Mary Whitley, Baker's former chief deputy, who said she was forced to witness inappropriate sexual behavior between Baker and Lisa Sale, his assistant chief deputy and girlfriend.
Baker continually denied allegations of misconduct, and an independent investigation by the Adams County district attorney's office cleared Baker of criminal wrongdoing.
But county commissioners persisted in their efforts to make Baker leave office, and since then, the costs — including paying Whitley's salary while she has been on administrative leave for 16 months — have mounted.
• $60,000 spent to investigate Whitley's claim.
• $10,675 for investigators to retrieve 622 e-mails exchanged on text pagers between Baker and Sale.
• $36,937.50 paid to lawyer Beth Whittier to represent the clerk and recorder's office after county commissioners told Baker he could no longer go to the county attorney's office for advice on office matters. That amount includes an estimated $4,100 the county paid Whittier to represent Baker in August, when they offered him $325,000 to leave office. That deal later fell apart.
• An estimated $119,000 the county paid to four employees it chose to place on administrative leave after the employees filed claims alleging that Baker created a hostile workplace. The estimated pay for the employees so far is $87,584 paid to Whitley, who has been on leave since July 29, 2002; $12,916 paid to Woodrow Barnes, an elections employee who has been on leave since Aug. 4; $15,462 paid to Donita Larson, motor vehicles deputy who has been on leave since Sept. 1, and $3,228 to Vicki Harimon, a part-time elections worker who was paid $16.14 per hour.
• In addition, the county has budgeted $350,000 for a possible recall election.
If the election is held and fails, state statutes allow Baker to recoup up to $10,000 from the county for any costs he incurred.
County officials could not estimate the expense of attorneys' time spent on legal matters that involve Baker. But they say thousands of hours have been dedicated to legal work on claim notices that six current or former Baker employees have filed against the county, alleging he created a hostile workplace; claims filed against the county by Baker and by Sale; and the commissioners' court battle to make public the 622 e-mails exchanged between Baker and Sale.
The county also is battling The Denver Post in court over a recording of a Feb. 19, 2002, closed session in which the commissioners discussed Baker in his absence. The Post, contending the meeting was a violation of Colorado open meetings laws, is seeking to make the recording public.
Bob Loevy, a professor of political science at Colorado College in Colorado Springs, said the money spent is part of the "legitimate cost of government" that citizens should be prepared to pay.
"Democracy costs money," Loevy said. "There are costs to making decisions." The recall process is "simply another cost of the decision-making process."
The money spent on employees who have been placed on administrative leave, he said, is the cost of "honest government."
The county was legally obligated to investigate Whitley's claims, said Andrea Rasizer, county spokeswoman.
But Baker, who said his personal legal bills for fighting the allegations of misconduct have mounted above $50,000, said taxpayers shouldn't foot that bill.
He said county commissioners have "gone so overboard" by continuing to pay employees who filed complaints, then took leave.
"These people just want to jump on the bandwagon and (get paid)," he said.
Debra Vickrey, chairwoman of the Arapahoe County Board of Commissioners, said they tried to end what has stretched into a year-long tug-of-war with Baker by asking him to step down, end his romance with Sale or fire her, and offering him the $325,000 settlement.
Vickrey said there probably are things the county could have done differently, but she said the money spent is "absolutely justified."
She said the county cannot keep someone in office if he is continuing to have an affair with a subordinate. Baker, who is married, denied that his relationship with Sale has created a hostile workplace, or that he has shown her favoritism.
If Baker remains in office, she said, taxpayers will incur more costs from employee lawsuits and management problems.
Vickrey points to a glitch in the county's November 2002 election results that cost the county $16,000 for the secretary of state's office to review.
Vickrey also noted a letter in which a dozen title companies complained about the slow processing of recording documents by the clerk and recorder's office. And last week, county commissioners said Baker's failure to maintain voting machines has cost them $116,000 for repairs.
"All of those speak to the management of his office," Vickrey said.
Baker has said recording has been slow because the number of documents the office receives has grown over the years, and that he asked for new voting machines but was denied.
The recall committee has collected enough signatures for a recall election, but Baker has challenged the validity of those signatures. County Assessor Ed Bosier — the designated election official for any recall of Baker — has until Dec. 12 to decide if a recall election will go forward.
---
When allies become enemies by George Merritt
Besieged Arapahoe clerk Baker now a target for fellow Republicans
Wednesday, February 18, 2004 —For all the accusations and political humiliations that have followed Tracy Baker over the past 18 months, the secretary of state's report was especially crushing.
Before taking over the state's highest clerk position, [Colorado Secretary of State] Donetta Davidson spent years grooming Baker to follow in her footsteps as Arapahoe County clerk and recorder.
Then last May, Davidson's office reviewed Baker's management of the November 2002 elections and pointed out glaring mistakes, including a lack of security and of formal, written procedures. [Emphasis added]
Baker said the report "broke my heart."
It was another example of a one-time ally who has publicly condemned Baker's performance.
Allegations of mismanaging money and the disclosure of hundreds of racy e-mails between Baker and girlfriend Lisa Sale, an employee in the clerk and recorder's office, have fueled Baker's upcoming recall election.
Baker insists he is a worthy public official and is determined to remain in office to prove it.
"(People) know what I stand for," Baker said. "They know this was a personal attack, and they are not swayed just because The (Denver) Post and other media want to report my personal life."
Baker was a native son in a county where the Republican Party routinely pushed favored politicians to the highest levels of state government. GOP leaders such as Davidson, Gov. Bill Owens, Lt. Gov. Jane Norton, Senate President John Andrews and state Treasurer Mike Coffman hail from Arapahoe County.
"We have a highly competitive, grassroots organization in the (Arapahoe County) Republican Party," Andrews said. "It is a pretty good political training ground."
The political clout that once propelled Baker is the same that is driving his removal from office. GOP elite such as Andrews are making regular appearances on behalf of Republican recall candidate Nancy Doty, and some of Baker's one-time Republican peers spit his name.
"He could have eventually followed his predecessors to secretary of state's office," said Mort Marks, founder of the Arapahoe Republican Men's Club. "But he got carried away, and he lost his perspective. Now he is really an embarrassment to the county."
The political backlash is so great that Baker admits he and Sale are unemployable elsewhere.
"These people have done everything they can to burn me," Baker said. "It is not business; it's a personal attack."
The son of former county Sheriff Phil Baker, Tracy Baker entered the clerk's office straight out of high school in 1979. He thought about college, then opted for what he said amounted to an apprenticeship as a clerk.
By the time he was appointed clerk in 1999, he had worked in nearly every division of the office and was at the height of his popularity.
Today, even those pushing hardest for his removal remember his potential.
"He was a very popular elected official," said Susan Beckman, chair of the Board of County Commissioners, remembering the concerns she had when the board decided to ask for his resignation.
Andrews said that assuming Baker would have risen as high as secretary of state is "highly speculative," but he said there is little doubt Baker benefited from the support afforded to Arapahoe County Republicans.
"He faithfully, reliably performed his duties," Andrews said of Baker's early career. "He started from modest beginnings and worked his way up. But somewhere he was turned around."
The Senate president is now one of Baker's harshest critics. He said removing Baker is a "four-alarm situation."
"In this case, it is extremely important for Arapahoe Republicans to insist on accountability," Andrews said. "Our concern is that people not be left in doubt about the standard of decency we expect."
To that end, Andrews has begun referring to candidate Doty as the "Arapahoe County terminator" — referring to fellow Republican Arnold Schwarzenegger's successful recall campaign in California.
Andrews spoke at one of Doty's few public appearances. And he sent out a letter backing Doty and encouraging voters to get to the polls for the recall election scheduled for February 24, 2004.
University of Colorado at Denver political science professor Michael Cummings said that, even if Baker overcomes his recall, the past 18 months have stained his political career permanently.
"It is the kiss of death," Cummings said of Andrews' harsh words.
"There are certain things that happen and stick to you. It becomes the first thing that comes to mind when people hear the name.
"There is a reason Ted Kennedy and Gary Hart will not run for president. I would not go to (Las) Vegas and put a lot of money on Baker's political career."
In Baker's 25 years serving the county, he has journeyed from the lowest rung in the clerk's office to a seat as a popular elected official to the pits of public humiliation.
For his part, Baker said many residents still believe in him. He acknowledged, however, that publicly supporting him would be a perilous move for fellow politicians.
"People will say things (in support) behind closed doors," Baker said. "But publicly, people have their own careers to worry about. There are people out there who support me."
Baker said that is part of why Davidson's report stung so badly.
"She knows I'm a great clerk and recorder," he said. "But I don't take it personally. She has a job to do."
Davidson declined to comment for this story.
---
Arapahoe County ousts clerk in a rout
Abstracted from story by George Merritt and Manny Gonzales
© 2004 Denver Post
87.5% vote to recall Baker; GOP's Nancy Doty to replace him
Wednesday, February 25, 2004 — Voters made it clear Tuesday: Tracy Baker must go. The clerk and recorder was removed from office by an overwhelming margin in favor of Republican Nancy Doty, according to unofficial results.
With all precincts reporting, 87.5 percent of voters supported the recall. Baker said Tuesday that the outcome of the special recall election was not a surprise.
"I'm going to go out holding my head up high," Baker said while surrounded by a small group of family and friends. "Democracy prevailed, but I think people were misinformed."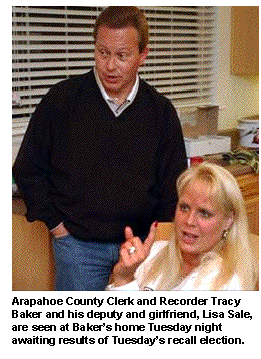 Doty, who received almost three-quarters of the vote among the replacement candidates, promised to "bring integrity back to the office."
Over the past two years, Baker has been accused of misspending public funds and running a "sexually charged" office that prompted several employees to sue the county.
The first complaint out of Baker's office led to an investigation that in October 2002 uncovered hundreds of sexually explicit e-mails between Baker and his girlfriend, Assistant Deputy Chief Lisa Sale.
The affair and racy e-mails sparked intense news coverage, putting an otherwise low-profile office in the limelight. County GOP leaders denounced their fellow Republican, and a petition drive was organized to have Baker replaced. County commissioners, meanwhile, demanded Baker resign.
He refused, accusing the county of contriving personal attacks against him. County commissioners, in turn, claimed Baker was unfit for office. "It has been a long and difficult two years," said Susan Beckman, chairwoman of the county commission.
Two questions were offered on the ballot. The first was whether to recall Baker; the second, who should replace him. Republican Nancy Doty, Libertarian Travis Nicks and Democratic write-in Kathleen Conway were vying for the post.
Of the 337,551 registered voters in Arapahoe County, roughly 47,000 voted in the recall — about 12,000 ballots were absentee.
Doty received 71.8% of the vote, Nicks, 14.5% and the write-in candidates 13.7%, according to county officials.
In all, seven employees in Baker's office filed harassment complaints with the Equal Employment Opportunity Commission and were put on paid leave. Those cases have yet to be settled. But county officials have said removing Baker could reduce the county's liability and save taxpayers untold sums.
But already the county has wasted about $750,000 on Tracy Baker — including the recall election, attorney fees, salary for employees on leave, and two independent investigations.
The latest investigation findings released last week found Baker's office was "unprofessional, sexually charged and uncomfortable for the employees exposed to it."
Baker has been defiant throughout.
He was re-elected in November 2002, just weeks after allegations of misconduct became public. Then commissioners raised his insurance bond from $10,000 to $250,000, but Baker found an company to cover it. And when he was offered $325,000 in August to step down, he turned it down.
After a criminal investigation found there was not enough evidence to charge him, Baker said he was vindicated. "I've made mistakes," he once said. "I'm not perfect. But I'm not the monster the commissioners and the press make me out to be."
Even on Tuesday during the recall election, Baker was still fighting, challenging procedures and phoning in a complaint to his predecessor, Donetta Davidson, now Colorado Secretary of State. "When I went to vote, people there were being disenfranchised," Baker said. "If we had not told the judges how to work the machines, tons of people's votes would not have been counted."
Baker said some voting machines were not turned on Tuesday morning, provisional ballots were not properly stamped and some polling places had no way to contact the election headquarters.
Ed Bosier, who supervised the recall election, said no problems arose Tuesday that went beyond any normal election day. "We had a few small problems. We have plenty of people out here who have worked elections with Tracy Baker, and several of them say this is as smooth as any election they have seen."
Nancy Doty, who will be serving her first elected position, could take office as early as this week. She will oversee about 115 employees with little time for transition, as Colorado's primary looms in August, followed by the general election in November.
All that comes in addition to the daily responsibilities of handling driver's licences, vehicle registration and property titles. The position pays $75,500 a year.
---
Arapahoe settles with Baker workers
Abstracted from story by George Merritt
© 2004 Denver Post
July 1, 2004 — Arapahoe County officials say efforts to appease county employees with sexual-harassment claims against the former clerk and recorder Tracy Baker may have saved taxpayers hundreds of thousand of dollars. However, in all, the Baker saga has cost the county more than $800,000 — including settlements, the recall election, attorney fees, salary for employees on leave and two independent investigations.
The county settled Tuesday with five employees who had threatened to sue, claiming Tracy Baker created a hostile work environment as the one-time head of the clerk and recorder's office.
The county will pay about $170,000. Mary Whitley and Donna Larson — both of whom returned to work after Baker's recall — received $28,783 and $30,431, respectively. Woodrow Barnes, Vicki Harimon and Diane Patterson got $67,362, $12,270 and $32,792, respectively.
To avoid larger settlements or a high-dollar judgment, commissioners decided to put the employees on paid leave and cover some of their legal fees.
The county didn't want to see the case go to trial, officials said.
"In our experience, juries look at what you do to help the employees" when determining damages, spokeswoman Andrea Rasizer said. "It might have saved us hundreds of thousands of dollars."
Similar cases handled by the law firm that represented the five county employees have been settled for as much as $1 million.
That figure was in the minds of county commissioners and other officials as they decided how to handle the conflict in the clerk and recorder's office.
In an August 13, 2003, memo from county attorney Kathryn Schroeder, commissioners received a list of 10 cases with settlements or verdicts of at least $185,000 against local governments.
---
Jokes at 2002 Baker meeting
© 2005 by George Merritt and Karen Rouse, Denver Post
February 24, 2005 — During a 2002 closed-door meeting, Arapahoe County officials joked about the affair between then-county clerk/recorder Tracy Baker and his subordinate, discussed similar relationships among other county officials, and considered ways to shield Baker from public scrutiny.
It does not appear — as Baker's girlfriend once alleged — they were plotting to remove him from office, according to a recording of the meeting released to The Denver Post on Wednesday.
"I would not characterize the meeting the way she did," County Attorney Kathryn Schroeder said Wednesday. "She listened to it with different ears than what I heard."
The meeting — held months before Baker's affair became public — would end with the commissioners deciding to investigate Baker's spending. By the fall of 2002, Baker's affair was front-page news, as details of sexually explicit e-mails between Baker and his lover became fodder for county gossip and, ultimately, led to his ouster.
Baker said the commissioners were hypocritical in that they discussed affairs by other elected officials but focused their worries on him.
"It was a real professional meeting, huh?" Baker said Wednesday. "They spent taxpayer money in a meeting talking about other elected officials this way."
In the end, the county spent close to $800,000 [emphasis added] to settle legal claims from Baker's disgruntled employees and for his recall.
The February 19, 2002, meeting was prompted by an anonymous complaint that Baker misspent county money on liquor and hotels and created an uncomfortable work environment because of his affair with Lisa Sale, who was third in charge in his office.
Commissioners discussed whether they should intervene with an elected official's management, the political climate of an election year and whether the anonymous complaint was even valid.
"You could have a completely disgruntled employee that is looking to nail you, and they know it's an election year," then-commissioner Debra Vickrey speculated at the time.
Commissioners also discussed other county officials who may have been romantically involved with employees in their departments.
"Honestly," Schroeder said, "right now you've got an elected official who has someone working for him that he has an intimate relationship with, and nobody is doing anything about that because it has not been an issue."
Vickrey reminded the commissioners that they didn't have oversight of Baker because he was an elected official.
"Whether we like it or not, he can tell us to go jump off a...cliff, you know, and say, 'Too bad. I'm an elected official.'"
The mood, at times, was lightened at the expense of Baker and Sale's relationship.
"Sleeping with my deputy manager is outside the scope of my job?" Vickrey asked, prompting laughter.
At the end of the meeting, the commissioners ordered an audit. Five months later, the first of seven Baker employees filed a formal complaint. More than 600 sexually graphic e-mails between Baker and Sale were uncovered.
Two independent investigations would find that Baker's office was a hostile environment and "sexually charged." And Baker's Republican brethren turned against him, organizing his recall.
Baker was overwhelmingly voted out of office a year ago this week [in 2004].
In the summer of 2003, The Post sued for a recording of the meeting. A judge ruled that the meeting violated law because Baker — an elected official — could not be the subject of a "personnel" executive session. The county was ordered to pay The Post $22,000 to cover the newspaper's legal expenses.
Sale had said commissioners made crass jokes about her and Baker, and referred to her as a "whore."
While there was a reference suggesting that Sale's salary was connected to the affair, there was no name-calling on the tape.
Of the 43 minutes commissioners discussed Baker, about 38 minutes of conversation was released. A judge redacted names of county employees and comments deemed attorney-client privilege.
Commissioners laughed when — after discussing Sale's increased pay — then-commissioner John Brackney said, "Maybe Lisa performed services."
Reached Wednesday, Sale said she has moved on and would not talk about the meeting, adding that the recording would speak for itself.
Like Sale, then- and current county commissioners said they have moved on, as well. Contacted Wednesday, Vickrey said, "I'm no longer an elected official. I' d like to keep a private life now."
In the end, Schroeder said, the meeting was legitimate and professional. "It was a really hard situation, and tensions were really high."
Staff writer George Merritt can be reached at 303-274-9948 or gmerritt@denverpost.com.
Staff writer Karen Rouse can be reached at 303-820-1984 or krouse@denverpost.com.
---
| EJF Home | Where To Find Help | Join the EJF | Comments? | Get EJF newsletter |
| Vote Fraud and Election Issues Book | Table of Contents | Site Map | Index |
| Chapter 4 — Trust Our Election Officials? |
| Next — Florida Clerk Notes Election Irregularities In Broward County, Florida |
| Back — Human (Or Was It Machine?) Error Delays Florida Primary Results |
---