Summaries
---
| EJF Home | Where To Find Help | Join the EJF | Comments? | Get EJF newsletter |
| Vote Fraud and Election Issues Book | Table of Contents | Site Map | Index |
Other Issues The Equal Justice Foundation Deals With
| Introduction | Civilization | Families, and Marriage | Emerson story | Domestic Violence |
| Courts & Civil Liberties | Prohibition & War On Drugs |
---
In democracy it's your vote that counts; in feudalism it's your count that votes.
---
Index
Click on Chapter heading to go to chapter summary
Chapter 1 — Introduction To Voting Problems
Chapter 2 — Essays On Voting Problems
Chapter 3 — Direct Recording Electronic Voting
Chapter 4 — Trust Our Election Officials?
Chapter 5 — Lies, Damn Lies, And Mail In Elections
Chapter 6 — Pitfalls Of Statewide Voter Registration
Chapter 7 — Building Better Ballot Boxes
Chapter 8 — Voting Problems In The 2002 Elections
Chapter 9 — Voting Problems In The 2003 Elections
Chapter 10 — Voting Problems In The 2004 Elections
Chapter 11 — Voting Problems In The 2005 Elections
Chapter 12 — Voting Problems In The 2006 Elections
Chapter 15 — Election Web Sites And Problems
---
Click on title to go to Chapter 1
The objective here is to bring forward the various problems that have occurred as election officials and Congress have attempted to "improve" voting practices, make it "easier" for people to vote, and "improve voter turnout." I have not attempted to include every rumor of election fraud, or dramatic story of incompetence that is circulating. One story is of special interest, however. The Rev. DeForest Soaries, first chair of the Election Assistance Commission created by the Help America Vote Act, presents his views on electronic voting, and that should be required reading.
Note that an election is not a simple problem. From the perspective of an algorithm it has two mutually conflicting requirements.
• One man, one vote: First, a potential voter must be unequivocally identified, his qualifications to vote, e.g., citizenship, undeniably established, allowed to vote once and only once in an election, and only for those candidates and issues upon which he is qualified to vote by virtue of his residence location.
• Secret ballot: Conversely, there must not be any means or methods, direct or indirect, by which the voter and the ballot they cast can be linked.
Experience has also shown that the ballots must be counted publicly at the polling location where the ballots are cast by at least two representatives of the major political parties under the gaze of representative poll watchers.
Election fraud has always been present and tends to follow quite predictable paths as is clear from the Chicago Rules Of Election Fraud. The basic difference is that electronic voting equipment has now made fraud possible on a scale previously unimaginable. And, in most cases, it is virtually impossible to distinguish outright fraud from gross incompetence in an election.
In working on voting equipment standards it became painfully clear that no one has set forth the basic principles of voting. I cannot claim that my attempt to establish such principles is universal and complete but they do provide a starting point.
---
Click on title to go to Chapter 2
One objective has been to bring forward issues and problems with voting from the perspective of a number of different authors. The chapter Essays On Voting Problems begins this with thirteen essays and articles from such diverse sources as the Moscow Times to Vanity Fair .
---
Click on title to go to Chapter 3
History clearly demonstrates that if one party counts the votes, or the ballots are counted in secret, the results cannot be trusted. Despite this unambiguous lesson, Congress, in the guise of the Help America Vote Act of 2002 (HAVA), is forcing election officials to use black boxes to count ballots by secret methods. These problems are particularly acute with Direct Recording Electronic Voting (DRE) machines. In January 2002 Diebold made the egregious mistake of acquiring General Election Systems, makers of the now infamous AccuVote voting system. More than a dozen articles outline the numerous problems of this disastrous voting method.
While Diebold has emerged as the arch villain in this drama, there is no evidence to suggest that other equipment manufacturers are any more competent or trustworthy. Problems with electronic voting equipment in forty-one states have been tabulated. But that list is hardly inclusive and ES&S and Sequoia are as often found on this shameful list as Diebold. The problems with DRE voting machines are particularly conspicuous when they are compared to Nevada gambling machines.
The raison d'état, and HAVA requirement that DRE voting machines provide unassisted access for handicap voters, has not stood up in practice. Blind voters, let alone the multitude of other handicapped voters, have not given these machines high ratings, or generally found they could vote in private and unassisted as promised.
---
Click on title to go to Chapter 4
The question of human fallibility compounds the problems introduced by electronic voting machines. The question of Trust Our Election Officials? is examined in a series of essays. Note that the word "clerk" isn't one typically associated with an individual at the high end of the IQ bell curve. While no doubt the great majority of election officials are honest and dedicated, in fourteen essays many of them emerge as the blundering, lying, cheating, stealing, incompetent, venal, crooked bunch of grifters Americans have come to so often expect of their "elected" officials.
Yet what the Denver Post called a Doofus Too Dumb Too Quit was entrusted with the integrity of our elections. In Louisiana the State Commissioner of Elections is convicted of accepting kickbacks from voting machine vendors. In Arkansas the Secretary of State pled guilty to felony charges that he took bribes, evaded taxes and accepted kickbacks, but the company representative who was paying him off simply went on to bigger and better things at ES&S. And some clerks just can't seem to get the hang of running an election, no matter how hard or how often they try, as epitomized by Deborah Clark in Pinellas County, Florida. And letting Diebold and other vendors wine and dine these people is comparable to feeding our elections to the wolves.
In Maricopa County, Arizona, election expert Prof. Douglas Jones found that: " Election officials appear to lack fundamental knowledge of how their election machinery operates..." That appears to be nearly universally true.
But let a citizen complain about these actions and try and test the voting machines these dimwit clerks have been conned into buying and Homeland Security threatens arrest. And, though we can't inspect or test the machines, we are told to believe ballots counted in secret by black boxes, whose operation is a complete mystery to these clerks, are absolutely, 99.8% accurate. Just trust them!
Before you trust them, you might want to ask some questions of your local election officials.
---
Click on title to go to Chapter 5
History clearly demonstrates that election fraud becomes a trivial exercise when people are allowed to register and vote by mail. For that reason it was strictly limited and very carefully controlled in the past. But no more, and ballots that are mailed in allow, even encourage, the count to be done in secret. Of course, black box voting machines are used to tabulate the ballots. So why in the name of "voter convenience" are we making such a stupid mistake?
The problems with mail in elections and absentee ballots are examined in a series of essays. From Oregon's Comedy of Errors to Colorado Springs, election fraud history and incompetence is simply repeating itself.
---
Click on title to go to Chapter 6
In its seemingly infinite stupidity, the Congress of the United States enacted the Help America Vote Act (HAVA) in 2002 to "fix" the problems of the election debacle in 2000. It wasn't bad enough that Game Boy voting machines are now seemingly legally required, the problems of which are detailed in Chapter 3, but they also mandated that the problems with voter registration roles be "fixed" by implementing statewide voter registration databases.
Under HAVA the job of deciding who can and who can't vote will fall to a single official in each state. Secretaries of state are notoriously partisan. This is a radical change in what we've thought of as our democracy. With the notable exception of Florida, until HAVA mandated otherwise voter rolls throughout America were maintained by county officials watched over by bipartisan committees. It would be naive in the extreme to believe that the conviction of the Arkansas Secretary of State was an isolated incident and the convictions and removal from office of many election officials are detailed in this book.
There is also the well-known problem that the further a government operation is moved from the citizens involved, the less likely it is that the government program will function. Aside from grave concerns about privacy, and the average citizen's experience, if not well-justified fear of government databases, it seems unlikely that such databases will operate. In working with computers and database administration I pointed out over a decade ago that: "Database development takes about two years; four if you rush it." Faced with that immutable axiom most Secretaries of State have applied to delay the implementation until January, 2006. But simple delay doesn't solve the problem.
Other pitfalls of statewide voter registration databases, which are only considered outside state and national capitols, are outlined in eight essays. It should be interesting, and it will certainly be expensive, to find how yet one more adventure in bureaucratic bungling plays out to the great detriment of American elections.
---
Click on title to go to Chapter 7
Is there any hope? Certainly the bad ideas for voting just keep coming. Motor Voter, absentee ballots and all mail-in elections, toy voting machines, end secret ballots, Internet voting, move to voting centers where the clerk can control the election, eliminate precinct voting, no audit trails, eliminate the ability to do a recount and paper ballots, secret and laughably inadequate testing, don't verify citizenship, questionable poll books, and on and on ad nauseam.
Three essays examine the problems of Building Better Ballot Boxes but the outlook isn't favorable.
---
Click on title to go to Chapter 8
There is nothing like a few real life examples of American voting to make you want to crawl into bed and pull the covers over your head. Largely ignoring the extensively documented problems of the 2000 presidential election, I've picked a few examples from 2002.
For starters, the Arkansas Secretary of State pled guilty to taking bribes, evading taxes, and accepting kickbacks from what is now part of ES&S. Arkansas officials said the scheme involved...then-BRC employee Tom Eschberger...Eschberger got immunity from prosecution for his cooperation. Today, he's a top executive of ES&S.
There were the usual peccadilloes with electronic voting machines, which seem to repeat the same errors year-after-year as even known bugs aren't fixed. Of course, the problem is always with a faceless "technician," never the county clerk or, heaven forbid, the manufacturer bloated with the billions of taxpayer dollars being paid for these Game Boy voting machines.
The re-election of Jim Crow, and problems in addition to those above, are reviewed in five essays in this chapter.
---
Click on title to go to Chapter 9
While you're hiding under the covers you might want to read just a couple of problems with Colorado elections in 2003. One finds repeatedly that the toy voting machines screw up the election, sometimes irrecoverably, and election officials are then forced to do a hand recount of paper ballots, if they exist. Somewhere the reason and logic has escaped me as to why we pay voting machine manufacturers billions of taxpayer dollars to build machines to count ballots in secret and then have to do a hand recount anyway when the machine screws up.
Remember the instructions to use only a No. 2 pencil to mark your test in school? Well optical scan voting machines have the same kinds of problems as became evident in Garfield County, Colorado. Turns out these machines are not only sensitive to whether a pen or pencil is used to mark the ballot, but even the kind of ink in the pen as well as the hardness of the lead in your pencil. And lets not forget problems with paper opacity if the ballot is printed on both sides. These voting machines may be toys, but they're finicky toys that stand in the way of nepotism.
Let's see, if we're going to have to hand count the ballots anyway after the voting machines totally screw up the election, couldn't we mark them in pen (any color or type of ink), pencil (any lead), crayon (choice of colors), Sharpie, Marks-A-Lot, highlighter, or maybe even charcoal, and still get an accurate count? Oops, if you do that Homeland Security can arrest you, as noted above.
---
Click on title to go to Chapter 10
After the passage of the Help(?) America Vote Act in 2002, billions of dollars from federal, state, and county treasuries began to flow into the waiting coffers of voting machine manufacturers in 2004. They offered many of the same old products with the same old bugs they hadn't bothered to fix, and to add to the excitement they incorporated some new problems which just about shutdown a primary election in California.
Apparently Diebold wasn't able to pay enough to bribe the California Secretary of State as was done in Arkansas. So when the effluvium hit the revolving steel blade, he decertified Diebold's voting machines. Then he resigned in February 2005 in a scandal over spending HAVA funds, among other problems.
Elections got even more exciting in 2004 when the presidential election rolled around in November. Though voting equipment problems occurred in many states, North Carolina took a clear lead for election disasters. Florida either didn't live down to its previous low standards, or election officials were better able to cover up, but a few little "glitches" were evident.
The multitudinous voting equipment problems in other states are documented in separate tables. I've ignored the thousands of rumors and scandals circulating on the Internet about voter fraud, exit polls, and etc. I'm quite certain that those black helicopters that fly over us all the time are from nearby Fort Carson and nothing to worry about. However, the documentation presented here should suffice to demonstrate the historic low point of integrity that our elections have fallen to, in large measure as a result of the use of electronic voting machines to "count" our votes.
Of course Ohio swung the election to George W. Bush but the ensuing scandals even made the Government Accounting Office sit up and take notice.
Problems with a September 7th primary election in Maricopa County, Arizona, led Prof. Doug Jones to review the problems with writing instruments used to mark ballots read by optical scanners. A whole lot can go wrong with absentee/mail in ballots and the county election officials made dirt look smart.
---
Click on title to go to Chapter 11
2005 wasn't a letdown for conspiracy theorists, i.e., anyone who isn't an election official or doesn't work for Diebold, ES&S, Sequoia, etc . Looking at undervotes continues to be the first way to recognize potential problems in an election. Of course most election officials don't want you to see the undervote.
In Colorado a recently enacted law required random audits of electronic voting machines. That minimal requirement resulted in ten counties having to do hand recounts of all ballots.
---
Click on title to go to Chapter 12
In 2006 a city in Colorado tried to reinstitute stealth elections. You know, the kind that are held in "special districts" with a single item on the ballot that benefits a special interest. Polling places are obscure and limited, the day of the election is at a very odd time, and advertising and news about the election is strictly limited. Fortunately, Aurora residents caught on and that election was cancelled. But the threat is constant.
A few of the disasters in the 2006 primaries are documented in a separate section this year as the number of problems with electronic voting both continue to increase and are better documented by groups like VotersUnite.
Electronic voting expert Avi Rubin's experience as a poll worker in Maryland is horrifying. What is the average election judge to do?
Arkansas has led the way to the disasters of electronic voting in November with a primary meltdown and a number of other states are doing their worst to not be left behind in this clown race.
One would think that after five or six years of one election disaster after another with electronic voting machines that the manufacturers would begin to improve. Unfortunately for democracy, the opposite seems to be occurring. ES&S iVotronics still can't count votes as a mayoral candidate in Waldenburg, Arkansas, found out when he received zero votes despite voting for himself. And rather than trying to ease the problems election officials are becoming more draconian in their efforts to force voters to use DREs as epitomized by the actions of Herr Valenzuela in Monterey County, California. And the more insistent election officials are on requiring electronic voting the more corrupt they seem to be as evident by Monterey County registrar Tony Anchundo pleading guilty to 43 counts of forgery, misapplication of funds, embezzlement, falsification of accounts, and grand theft of nearly $80,000 of county money.
The problems in Riverside County, California, one of the first to adopt electronic voting, make it plain that the problems don't get better with time. Despite the abrupt mid-term resignation of Mischelle Townsend elections have not improved and blame isn't with voters and election judges as voting companies and election officials so often claim.
Obviously the EJF tabulation of problems in the 2006 elections is incomplete but limitations of time and resources, and an interest in getting the site updated, make it unrealistic to go further until the next update.
Summaries of the 2007 and 2008 elections are in work.
---
Click on title to go to Chapter 13
When the Equal Justice Foundation first began investigating Vote Fraud and Election Issues in early 2001 there were very few other groups interested in these problems and even less media attention. However, interest has mushroomed in the past few years and groups and web sites we're familiar with are tabulated alphabetically.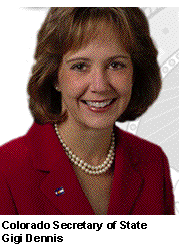 Always ready to jump in and make the problems worse when the public becomes aroused, many government agencies are now actively working on election issues. And then there are the voting equipment manufacturers and a tabulation of some of the election follies they've generated. Just because your state or county isn't listed by no means insures the integrity of your elections hasn't been destroyed by implementation of HAVA.
In the face of this overwhelming evidence only a blithering idiot, or a blonde secretary of state could believe that current elections using electronic voting machines are safe, secure, accurate, or transparent. Either every newspaper, reporter, citizen election observer, and computer expert in the country are wrong, or DRE voting machines should be scrapped immediately.
And this is the conservative view.
---
| EJF Home | Where To Find Help | Join the EJF | Comments? | Get EJF newsletter |
| Vote Fraud and Election Issues Book | Site Map | Index |
Other Issues The Equal Justice Foundation Deals With
| Introduction | Civilization | Families, and Marriage | Emerson story | Domestic Violence |
| Courts & Civil Liberties | Prohibition & War On Drugs |
---